Sands of Fraser Island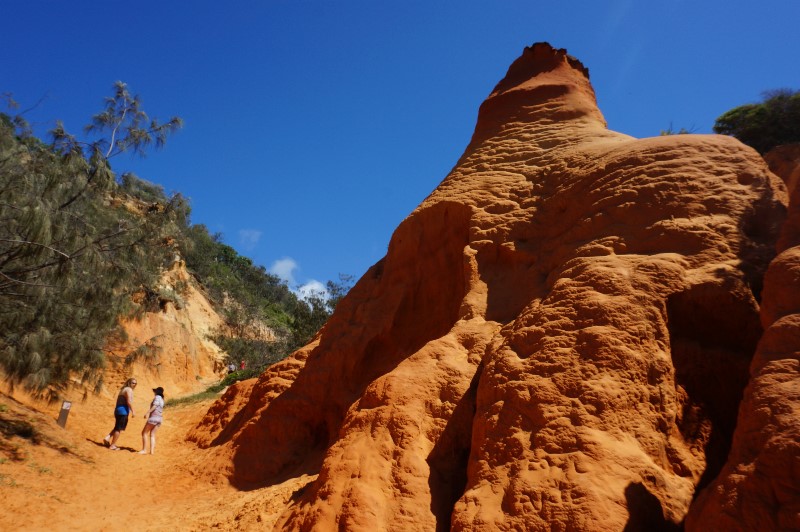 You sunbake on it, you build with it, you walk on it, and now, you will be fascinated by it!
Who would have thought sand could be so interesting... These grainy, seemingly-insignificant particles are fascinating, and it is a bit mind-blowing how these tiny pieces of rocks and minerals can make up an incredible tropical island such as Fraser Island. Take your mind to some of the best beaches in Australia - Whitehaven Beach, Lizard Island, Bondi Beach and Byron Bay.. All of which are known for their sand that have been thousands of years in the making!
But how does sand make an island?
Let's take Fraser Island's Seventy-Five Mile Beach, another 'best beach' listing, for example. It is known for its multi-coloured surface which seems to stretch on forever, that have been thousands of years in the making as it accumulated in mass quantities. Fraser Island is the world's largest sand island and the sand dunes and have the longest age sequence of coastal dune systems in the world. On a bigger scale, the line of sand islands along Queensland's coast, including Fraser Island, continued to form over hundreds of thousands of years with the wind, waves and current shifting sand from all around the world. As a result of the sand grains settling in the hill terrain combined with the effects of erosion and changes in temperatures and sea levels, sand islands such as Fraser Island were created.
And then came the formation of the sand dunes. These interesting mounds were formed through the movement of sand across the island, where it would accumulate in hill-like formations. These mounds eventually became suitable habitat for plants to grow, which allowed them to become stable and more permanent, fixing the shape of the island.
And now?
Fraser Island continues to change each day with the shifting of the sands. Dunes grow and lakes shrink and the landscapes continue to evolve as the wind shifts the sand around the island. The dunes are the foundation of the island and play a vital role in its stability and shape. You can actually tell the order in which the dunes formed by the colour of the sand which form them! The older, and white-coloured dunes are located on the western side of Fraser Island and the younger dunes are behind the eastern beaches, which is an interesting thing to notice when visiting the island.
So next time you are beach hopping on a tropical island, especially one made of sand, take the time to appreciate how long it took for it to form. Sand plays a vital role in many of the ecosystems and landscapes of tropical islands, adding a new environment for both animals and people to enjoy.