East Coast Fiesta
CLOSE
View More Thumbnails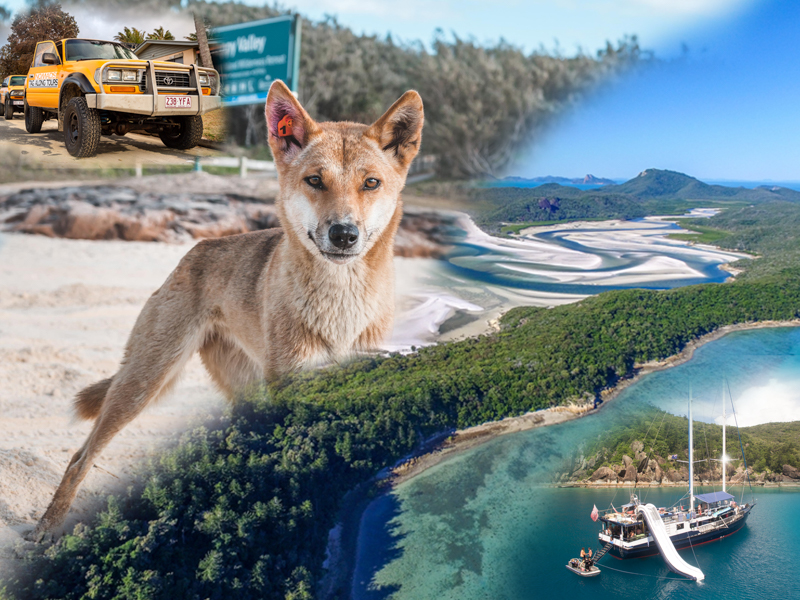 Loading...
Explore the East Coast of Australia on a real fiesta!
Explore the unique Fraser Island for an amazing experience!
Party at KBs bar during your stay at Nomads Noosa
Sail on the funnest boat in the Whitsundays
Enjoy a fun 2 nights on Airlie Beach Nomads and explore the town
See the Great Barrier Reef Marine Park
Snorkel, scuba dive and more!
Explore the east coast of Australia with the fun, wild and action-packed East Coast Fiesta! This tour includes 2 tours along the east coast as well as 4 additional nights accommodation! Explore Fraser Island, the Whitsundays, Airlie Beach and the town of Noosa with this 5 day, 8 night deal.
The East Coast Fiesta Package is the perfect tour for backpackers and travellers looking for a fun and sociable tours with the chance to meet new friends. What do you get when you combine the top two destinations of the East Coast of Australia with the top two tours in the region? The East Coast Fiesta Package! To make things even better, we are including 2 nights accommodation in both Noosa and Airlie Beach without raising the price tag! Explore Fraser Island on a self-drive 4WD tour and get up close and personal with the Great Barrier Reef and Whitsunday Islands as you cruise, snorkel and dive the Whitsunday Islands on board the Atlantic Clipper.
The East Coast Fiesta is the perfect package for the 18-30s and travellers looking to experience the east coast of Australia without missing out on any of the action. The package has been designed so that you may easily fit the two destinations into your travelling itinerary whether you are flying, driving or busing it up or down the East Coast and you can leave just days between the destinations or weeks if like.
Inclusions:
3 days/2 nights Nomads Fraser Island 3 Day self-drive Tour
2 nights accommodation in a 16 bed ensuite dorm at Nomads Noosa
2 days/2 nights Atlantic Clipper, Whitsundays - departing from Airlie Beach
2 nights dorm accommodation at Nomads Backpackers, Airlie Beach

---

---
Nomads Fraser Island 3 day, 2 night
Get a thrill out of driving around the World Heritage listed island in a 4WD on the Nomads Fraser Island 3 Day self-drive Tour. For 3 days and 2 nights, you can spend your time exploring all of the natural beauty it has to offer. Cruise around 75 Mile Beach, which is actually the island's official road! Enjoy bushwalks, refreshing swims at Eli Creek, Lake McKenzie, Lake Wabby and Champagne Pools and see the stunning views from Indian Head. This tour includes 2 nights accommodation in a 16 bed dorm at our Nomads Noosa property and you'll get to enjoy a comfortable 2 night stay in a 4 bed dorm at Eurong Resort on Fraser Island.

Features:
2 nights accommodation in a 16 bed ensuite dorm at Nomads Noosa
2 nights accommodation in a 4 share ensuite dorm at Eurong Resort
4WD Vehicle hire
Professional and knowledgeable guide
Meals while on the Island (Day 1 - lunch, dinner, Day 2 - breakfast, lunch)
Return ferry transfer to the Island
Exclusive post tour party at KB's Bar!

DEPARTURE TIMES
Departs: Noosa 6:30 AM - Tuesday, Thursday, Saturday
Returns: Noosa 4:30 PM - Friday, Sunday, Tuesday
---
Atlantic Clipper 2 day, 2 night
Atlantic Clipper is the largest boat in the Whitsundays, spanning 140ft (34 meters), this mega yacht combines the awesome adventure and fun of sailing and diving with state-of-the-art diving equipment, modern facilities and air conditioning throughout. This mega yacht cruises at a quick 9 knots, giving you more time to enjoy each of the amazing Whitsunday locations that the Clipper takes you to. You will visit breath-taking fringing reefs, Whitehaven Beach and other unique destinations favoured by the crew. As a fully equipped dive boat, The Atlantic Clipper provides you with the opportunity to see the Great Barrier Reefs marine life up close and personal on scuba dives, no experience required but subject to medical conditions. In the evenings, there is never a dull moment with plenty of space for dancing, great music and crew entertainment.

True Blue Sailing have recently partnered with Pioneer Jet to offer guests two new water sport activities to try out: jet boat and banana boat rides! Available on Day 3 of the tour, these optional activities do not need to be pre-booked, and are payable on board the vessel.
Jet boat ride is $35pp
Banana boat ride is $20pp
Check in for the boat trip is in Airlie Beach the day before departure or early on the morning of the trip so best plan is to stay in town the night before and after the boat trip. Nomads Backpackers will give you the chance to see the thriving night life that Airlie Beach is renowned for across the country! Situated in the heart of Airlie Beach, opposite the swimming lagoon and beach, Nomads is no more than 50 metres away from all the facilities on offer making it the perfect place to stay to experience the Whitsundays.


Features:
52 passengers
Fully air-conditioned
3-story high water slide
Huge spa on deck
Hot and Cold Showers
Snorkelling gear and wetsuit hire
All meals, morning/afternoon snacks and teas/coffees

Jet boat rides and banana boat rides available on board (additional cost)

Extra costs are just bringing own alcohol and luggage storage in Airlie
What fantastic value for money this boat is, you will not know what to do first, revel with the other passengers, check out the space and comfort, take to the water slide, on-board spa or just jump in water and start snorkelling!

DEPARTURE TIMES
Departs: 11:45am - 2:15pm - Tue, Thu & Sat
Returns: 12:00pm - Thu, Sat & Mon
---
You can start in Airlie Beach or Fraser Island and use the nights accommodation in both places on whatever nights you like, but we would recommend using one night before and after each trip. Transportation between the two destinations is not included, the distance between Fraser Island and Airlie Beach is 960km (roughly a 12 hour drive), so you need to allow at least one day for travel. Please ensure you allow enough time for travel.
Please note this package may not be suitable if you have existing neck or back problems or are pregnant. Check with your agent to make sure this tour is suitable for you.
---
BOOK WITH US TODAY! CALL (07) 4914 2425 IF LOCAL
You Might Also Be Interested In:
East Coast Build Your Own PackageFraser Explorer + Entice WhitsundaysAll Fraser + Whitsundays DealsAll Whitsundays Tours
More Information
What To Bring
Please refer to each individual product for a full guide on "What To Bring" for each tour.
What's Included
Please refer to each individual product for a full guide on "What's Included" for each tour.
What's Extra
Please refer to each individual product for a full guide on "What's Extra" for each tour.
Terms and Conditions
Please refer to each individual product for the full "Terms & Conditions" of each tour.
Open Date Vouchers / Gift Certificate:
Shipping Costs are in addition to the ticket price and will be added at check-out. Shipping costs are non-refundable and do not makeup part of the ticket value.
E-Vouchers incur no shipping fees.

You have 5 years to use the value of the voucher. Seasonal Price Rises will apply if travelling out the current seasons pricing. Vouchers can be exchanged for free up to the full value of the voucher excluding credit card fees and charges.
Cancellations
Please refer to each individual product for the full "Cancellation Policy" of each tour.
If you have any questions, please get in touch!