Carlo Sand Blow
Why should I visit Carlo Sand Blow?
Carlo Sand Blow is a beautiful and vast sandscape that is accessible via a short 5-minute walk from the Carpark through the dense bushland that surrounds this magical lookout. Once you arrive, take in the expansive 15 hector sandscape that makes up Carlo Sand Blow. Enjoy the beautiful views of Queensland's coastline, and marvel at the beauty of Cooloola Bay and Tin Can Bay. It is the perfect spot to watch the sunrise or sunset with friends, family or loved ones!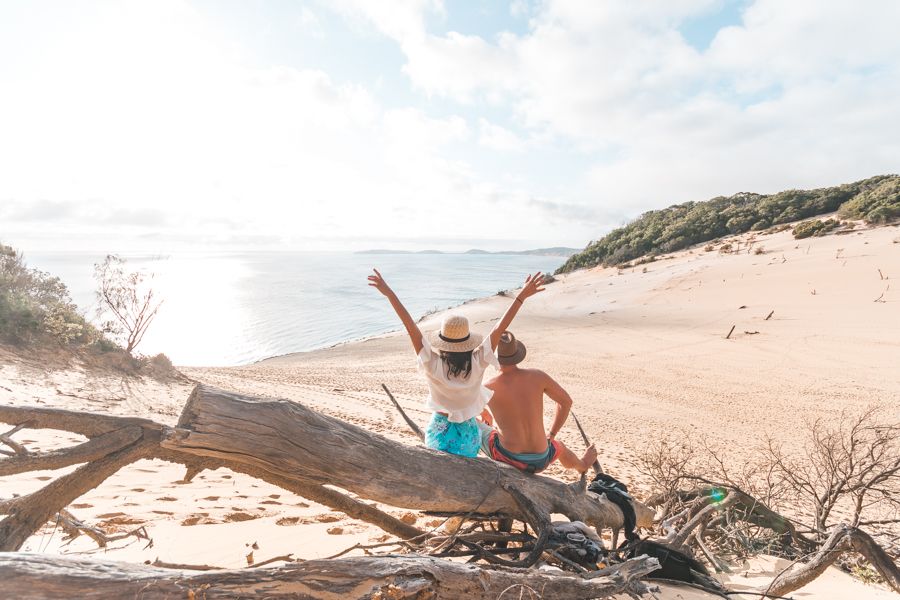 How do I get there?
Getting to Carlo Sand Blow from Rainbow Beach is quite easy via car or by walking from town. The Greyhound stops at Rainbow Beach, which makes this beautiful place accessible to all who want to visit. It is only 1.5 km from the centre of town but you will need to walk up a steep hill if you do not have a car. If you do have a car, you can drive right into the Carlo parking lot!
Once you have arrived at the parking lot, it is only a 5-minute walk (600m) on the well-marked path to the viewing platform. The path is quite easy but there are a few stairs at the end of the path that you need to go up so plan extra time if you are travelling with young children or older family members.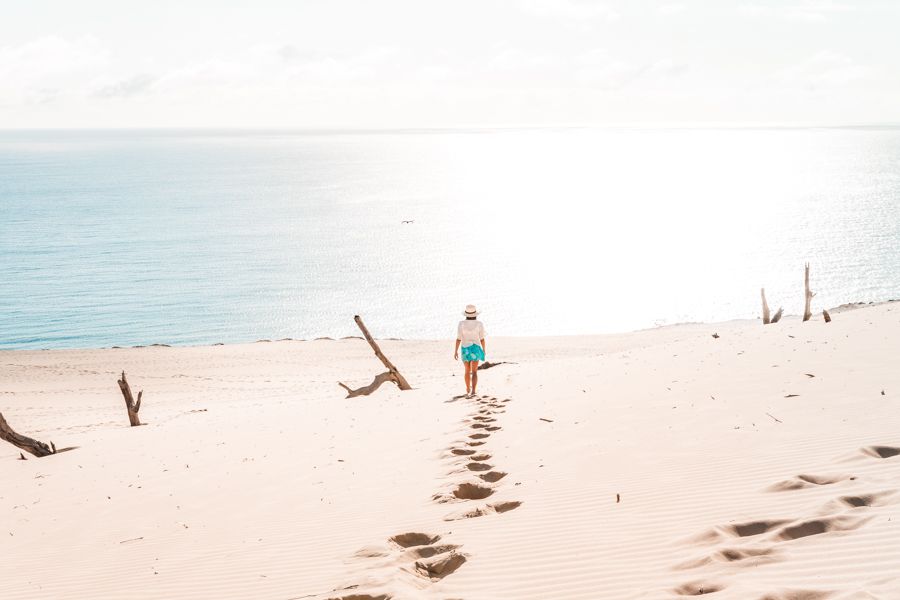 What should I bring?
The sand at Carlo Sand Blow can get quite hot so don't forget footwear so you don't burn your feet! Even though the bushwalk is very accessible, you will want to stay hydrated, so don't forget to bring plenty of water so you can enjoy your adventures at this sand filled playground.
You will also want to bring your camera to capture this beautiful wonder of nature. As with any beach, be careful when you set your camera down as the sand might scratch up the lens on your camera!
Bring a bodyboard or sandboard and enjoy sand surfing if you're up for it! If you're staying at Dingos Backpacker Hostel, you can utilize the free use of their bodyboards and bring them to the sand blow with you. If not, you can purchase one for a reasonable price in town.

Tours that leave from Rainbow Beach-

Click

HERE