Carlo Sand Blow, Rainbow Beach
Updated Wed 29 Nov 2023
Carlo Sand Blow is one of the top attractions in Rainbow Beach. Known for its otherworldly, mysterious towering sand dunes that overlook the ocean, this beautiful place is well worth a visit while you're in Rainbow Beach. Though most travellers use Rainbow Beach as a jumping-off point for tours to K'gari (Fraser Island), definitely try to spend at least a day in this charming beach town and visit the Carlo Sand Blow.
---
Everything you need to know about visiting Carlo Sand Blow, Rainbow Beach
Here are some things to know for visiting the iconic Carlo Sand Blow in Rainbow Beach. From the history of the sand blow to the best ways to get there, these tips will help you plan your visit to this photogenic spot on Australia's East Coast.
Try some of these other fun activities while you're in Rainbow Beach!
---
How was Carlo Sand Blow formed?
Supposedly, the Carlo Sand Blow was formed around 50,000 years ago due to natural movements of the wind and Earth. There is a gap in Earth's surface here where wind has carried sand and deposited it into this massive, towering sand blow. Mother Nature has created this so-called "moonscape" that captivates all who visit.
Carlo Sand Blow was named in 1770 by Captain Cook. He saw the incredible moonscape and dubbed the location "Carlo Sand Blow" after one of his deckhands who was named Carlo. Nowadays, it is one of the most famous sights in the Rainbow Beach area!
---
Why should I visit Carlo Sand Blow?
Carlo Sand Blow is worth visiting because of its majestic views of the desert-like sand blow and its vantage point of the coastline. It is a beautiful and vast landscape that is accessible via a short 5-minute walk from the car park through the dense bushland that surrounds this magical lookout. Once you arrive, take in the expansive 15-hectare sandscape that makes up Carlo Sand Blow. Enjoy the beautiful views of Queensland's coastline - you can see all the way out to K'gari (Fraser Island) and other nearby locations like Cooloola Bay and Tin Can Bay. It is the perfect spot to watch the sunrise or sunset in Rainbow Beach.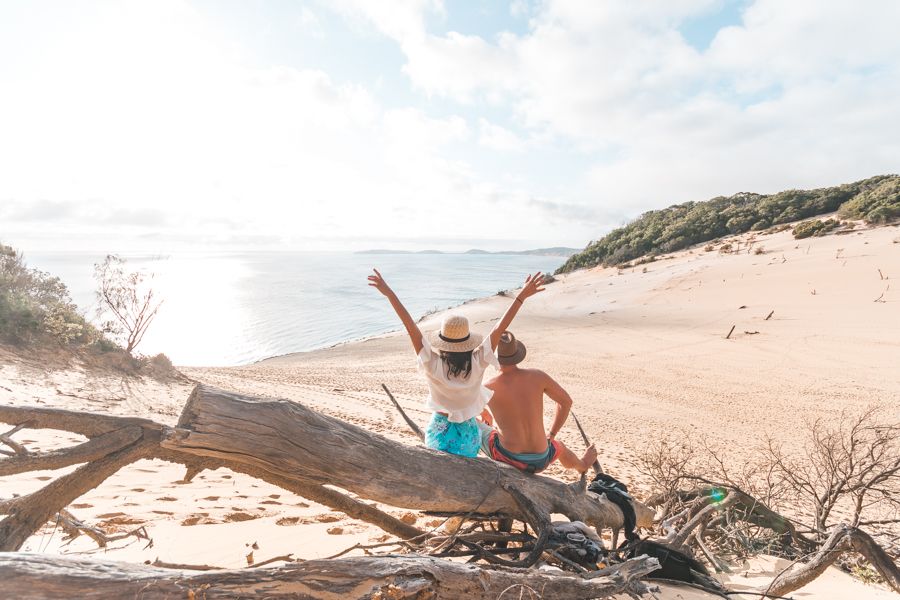 ---
How to get to the Carlo Sand Blow?
Getting to Carlo Sand Blow from Rainbow Beach is quite easy via car or by walking from town. It is only 1.5 km from the centre of town but you will need to walk up a steep hill if you do not have a car. If you do have a car, you can drive right into the Carlo Sand Blow parking lot! Enquire about the best car or campervan rentals in the area, our team can help you organise an affordable vehicle for your Queensland adventure!
Once you have arrived at the parking lot, it is only a 5-minute walk (600m) on the well-marked path to the viewing platform. The path is quite easy but there are a few stairs at the end of the path that you need to go up so plan extra time if you are travelling with young children or older family members. The walk is considered Grade 3 because it is a bit steep.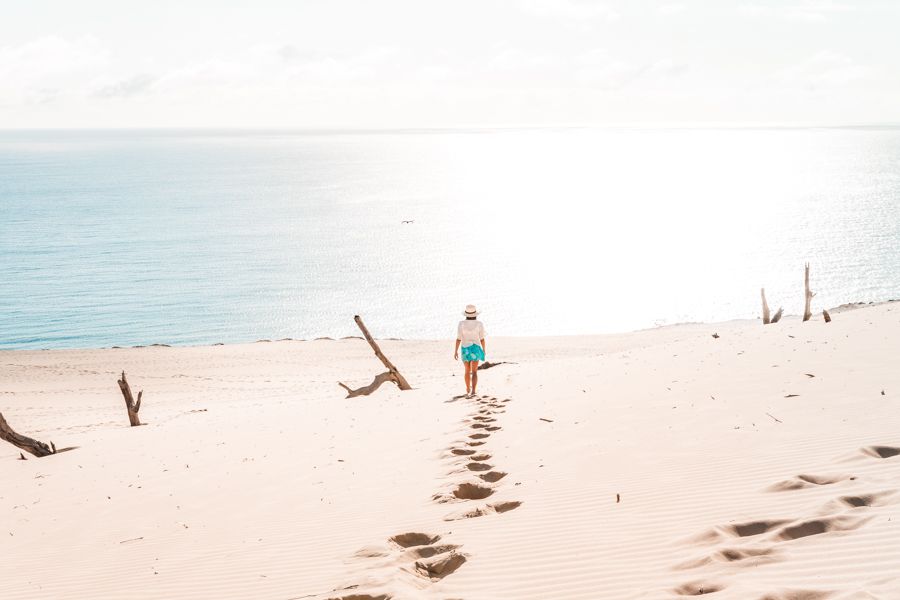 ---
What should I bring to Carlo Sand Blow?
There are a few things to bring with you on your visit to Carlo Sand Blow, namely sandals, water, a camera, and sun protection. The sand at Carlo Sand Blow can get quite hot so don't forget lightweight footwear so you don't burn your feet! Even though the bushwalk is very accessible, you will want to stay hydrated. Bring plenty of water so you can enjoy your adventures at this sand-filled playground, and don't forget sun protection like a hat, sunglasses, and sunscreen.
You will also want to bring your camera to capture this beautiful wonder of nature. As with any beach, be careful when you set your camera down as the sand might scratch up the lens on your camera!
Bring a bodyboard or sandboard and enjoy sand surfing if you're up for it! If you're staying at a local hostel, ask the staff about board rentals or you can purchase one for a reasonable price in town.

---
Ready to visit Carlo Sand Blow while you're in Rainbow Beach? Live chat with our travel experts online or call us at +61 7 4128 4479 if you need help with any bookings!