Fraser Adventure Nature Day Tour
CLOSE
View More Thumbnails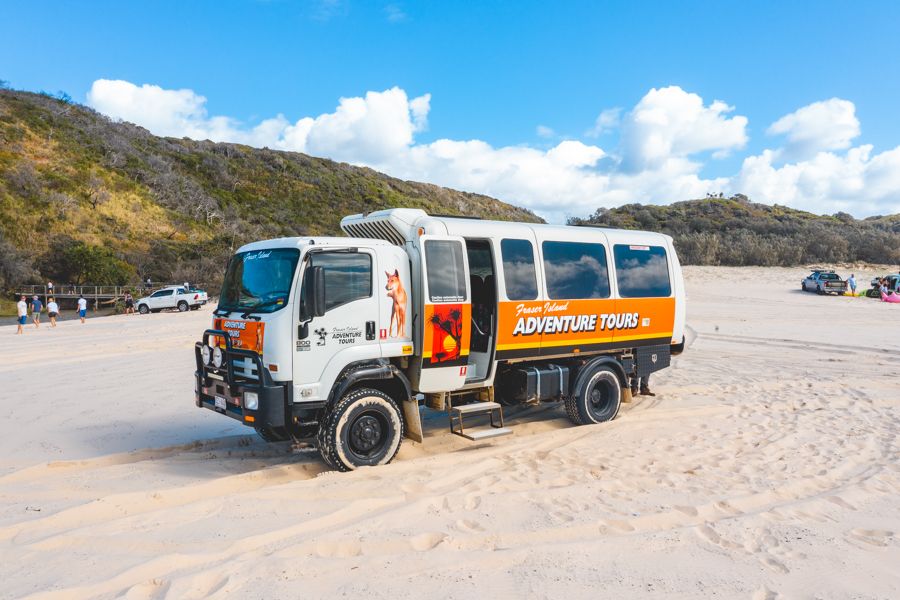 Loading...
Departure Times
Departs: From 5:45am - Mon, Tue, Wed, Thu, Fri, Sat
Returns: Approx. 5:45pm - Mon, Tue, Wed, Thu, Fri, Sat
Pricing Options
$225 AUD / Person
- ADULT departs Rainbow Beach
(Between: 01 Dec 2022 and 31 Mar 2024)
$240 AUD / Person
- ADULT departs Noosa
(Between: 01 Dec 2022 and 31 Mar 2024)
$140 AUD / Person
- CHILD (4-14yrs) departs Rainbow Beach
(Between: 01 Dec 2022 and 31 Mar 2024)
$150 AUD / Person
- CHILD (4-14yrs) departs Noosa
(Between: 01 Dec 2022 and 31 Mar 2024)
Join a nature tour of Fraser Island to experience the island in all of its natural beauty
Explore Fraser Island from on board a comfortable 4WD bus
Immerse yourself into Fraser Island's natural environment and see its many sites, enjoying its beauty!
Stop at one of Fraser Island's gorgeous perched lakes, the stunning Eli Creek and the historic Maheno Shipwreck
Rainforest walk in an ancient rainforest
For Lake Mckenzie & Central Station - Fraser Adventure Tour
Visit Fraser Island and see it in its natural beauty with this fun one day guided tour! Stop at some of the island's highlights where you can explore, take photos and just enjoy your stunning surroundings. With a comfortable bus, completely with panoramic windows and air-conditioning, you can look forward to an excited day with all the comforts you could want on a 4WD adventure!
Features
Visit Eli Creek and Maheno Shipwreck on 75 Mile Beach
Go swimming in Lake Birrabeen
Enjoy a rainforest walk
Individually packed lunch + morning and afternoon tea included
Ferry crossing and pickups included
All fees included

---
Guided tour

Sit back and enjoy the ride as your guide takes you around from place to place, seeing some of the best parts of Fraser Island! From our comfortable 4WD bus, you will get to enjoy the amazing views of your surroundings, stopping along the way to take photos and make memories! Your guide will tell you all about the island and each place to visit, from its delicate ecosystem, to its lakes, streams and history.
---
Vehicle
Custom built
Air-conditioned
Coach seating
16-24 passengers
Panoramic windows for best views!

---
Sample Itinerary
Spend a day on Fraser Island with this 1 day nature tour that will take you to some of its highlights! You will get to stop at Eli Creek and Maheno Shipwreck where you will get to explore and take some photos. Take along a floatie to enjoy Eli Creek at its best, taking the time to enjoy a float down the clear creek through the green rainforest! You will also get to stop at either Lake Birrabeen for a swim, taking time to enjoy the cool, clear waters of a perched lake.
---
Departs/returns
Departure: 6:00am Noosa and 7:30am Rainbow Beach
Return time: 4:30pm Rainbow Beach and approx 6:00pm Noosa
Please note this tour is not suitable for young children, people with back or neck problems or women who are over 6 months pregnant.
---
BOOK WITH US TODAY! CALL (07) 4914 2425 IF LOCAL
More Information
Show Less
What To Bring
Swimsuit
Towel
Hat
Sunscreen
Bottle of water
What's Included
A modern, comfortable air-conditioned 4WD bus
Courtesy pick-up included from a number of designated locations
Expert tour guides with plenty of knowledge
Morning and afternoon tea
Individually packed lunch
Complementary beer, wine or soft drinks
National Park Fees included
Barge
What's Extra
Please note, surcharges may apply for peak season.
Terms and Conditio...
Read More
What To Bring
Swimsuit
Towel
Hat
Sunscreen
Bottle of water
What's Included
A modern, comfortable air-conditioned 4WD bus
Courtesy pick-up included from a number of designated locations
Expert tour guides with plenty of knowledge
Morning and afternoon tea
Individually packed lunch
Complementary beer, wine or soft drinks
National Park Fees included
Barge
What's Extra
Please note, surcharges may apply for peak season.
Terms and Conditions
---
Important Information:
Please note this tour may not be suitable if you have existing neck or back problems or are pregnant. Check with your agent to make sure this tour is suitable for you.
---
Your Responsibilities:
Please advise us before booking if any passengers are under 18 years old to ensure this is the appropriate trip.
You must reconfirm all booked tours prior to travel as specified on your voucher. If applicable, notes such as dietary requirements, pick-up locations and additional fees should also be confirmed at this time. Reconfirmations cannot be actioned through Fraser Tours / Mr Travel, and must be done so directly through the Service Operator as specified on each ticket.
It is your responsibility to notify us of ticket discrepancies. Please read through the details on your voucher thoroughly to ensure all details such as passenger names, ages and dates of travel on vouchers are correct.
It is the responsibility of all passengers travelling to advise both your travel agent at the time of booking and vessel check-in agent before boarding of any medical conditions including food allergies you may suffer from.
You need to allow adequate time to check-in prior to the specified departure time.
---
Prices/Extra Costs:
All prices are stated in Australian dollars and include GST. Surcharges over peak holiday seasons may apply.
The Service Operator reserves the right to alter prices and extra costs. Extra costs may include EMC fees, Stingersuit/Wetsuit Hire, Luggage Storage, Insurance, Linen Hire, National Park Fees, Fuel Levies, Dietary Fees, etc. Bonds may also apply.
We will also endeavour to communicate these extra costs with you at the time of booking, and on your ticket. However, it is your responsibility to confirm which (if any) additional costs apply with each Service Operator upon reconfirming your trip.
---
Travel Risk/Insurance:
It should be noted that adventure travel involves risk. Whilst we make every effort to safeguard clients, we cannot be responsible for personal injury or loss due to the actions of our clients which are beyond our control. All departures and itineraries are subject to weather. Tours may be changed or cancelled for any reason at the discretion of the Tour Operator. We highly recommend that all clients have travel insurance covering illness, injury, loss or damage to personal belongings and not being able to travel on the confirmed date of departure. You should also ensure your travel insurance will cover special circumstances including weather events preventing guests from travelling to their tour departure destination and cancelled flights due to unforeseen circumstances.
---
Merchant Fees:
Please be aware operators pass on credit card merchant fees so there is a non-refundable 1% surcharge for VISA and MASTERCARD card purchases.
---
Other:
Terms and Conditions (including the Cancellation Policy) are subject to change. The most recent versions can be found online on the relevant product pages.
All ticket/voucher reissues attract a $20 administration fee.
Open Date Vouchers / Gift Certificate:
Shipping Costs are in addition to the ticket price and will be added at check-out. Shipping costs are non-refundable and do not makeup part of the ticket value.
E-Vouchers incur no shipping fees.

You have 5 years to use the value of the voucher. Seasonal Price Rises will apply if travelling out the current seasons pricing. Vouchers can be exchanged for free up to the full value of the voucher excluding credit card fees and charges.
Cancellations
Client Cancellations:
All cancellations forfeit 25% of the recommended retail price (RRP) - not the discounted/sale price. No shows or client cancellations made within 72 hours of departure forfeit 100% of the total ticket price.
Transfers between tours can be made at the suppliers discretion, however, it should be noted that supplier fees may apply. Tour transfers also incur a $20 administration fee.
It is compulsory that all cancellation requests are in writing and sent via email to admin@mr-travel.com. Cancellations attempted via online chat or phone will not be actioned.
---
Supplier Cancellations:
The Service Operator reserves the right to alter prices, alter itineraries, apply a fuel surcharge, cancel departures, arrange alternative transport and vary itineraries and services if necessary.
All departures and itineraries are subject to weather. Tours may be changed or cancelled for any reason at the discretion of the Service Operator. If the Service Operator has to cancel the trip or activity (prior to departure) and we cannot offer a suitable alternative, then a refund will be given minus a 20% administration fee and any associated card fees. We strongly recommend that you have travel insurance, especially during the wet season.
In the unlikely event of your trip being cancelled or stood down, all guest communication is required to go through our Online Store via telephone or email. While there is a Sailing Whitsundays retail outlet located Airlie Beach, please be aware that they operate as a separate entity and are unable to access reservations made by the Mr Travel online department.
---
Refunds:
All refunds are in Australian Dollars and must be made to the card of payment. Sailing Whitsundays/Mr Travel is not liable for exchange rate fluctuations or fees, or any other merchant/bank fees associated with domestic and/or international transactions.
Where a full refund is applicable, there is the option to transfer the whole cost of the tour to another tour or "Credit" to avoid the administration fee. A transfer fee of $20 will apply.
You will be emailed confirmation once the refund has been processed. Once the refund has been processed, it may still take time for the banks to clear the amount. Please allow 7-10 business days for the funds to clear into Australian accounts and up to 21 business days for international accounts.
---
Accountability/Misconduct:
All Service Operators have the right to provide client feedback and to cancel bookings based off of feedback from other Service Operators.
Please enjoy your travel experience in a kind and responsible manner.
Sailing Whitsundays/Mr Travel will treat this as any normal client cancellation and therefore the cancellation fees stated in the Client Cancellation Policy will apply.
---
Thank you for booking with our East-Coast travel experts here at Mr Travel / Fraser-Tours.com . If you would like any further advice, assistance in arranging accommodation, transfers or additional tours please get in touch.
---
Reviews
Overall Rating
4.9 / 5.0
Based on 64 reviews
Reviews by our Fraser Tours customers
Karl Steinocher
, 17 Sep 23
Very nice and interesting.
We had a fabulous day, our thanks to Roger for his informative talk of the history of Fraser Island! Thank you very much, Bill and Dot Massey NZ
Wonderful location and the driver provided lots of great information for us to better appreciate the history of the island
It was a great day. We had overseas visitors staying and they loved the experience. The commentary and knowledge was on point, food and drinks were perfect for the day. The vehicle was comfortable for the trip. Keep up the good work. Thanks
Greg was fabulous, he knew the place and the history around it. Was very good, start on time pickup to finish on time drop off.
Kerry Halloran
, 13 Aug 23
Fantastic day with a very knowledgeable tour guide..
Eduardo Gorron
, 18 Jul 23
I went with my family and the trip was amazing, well organised and comprehensive. The guide, Jason, was very knowledgeable of the story and the importance of the place both historically and as ecosystem. I do recommend this tour for anyone visiting Fraser island!
Took the tour to K'Garri/Fraser Island in april before leaving Australia - great day trip, lunch was a very good packed lunch, great experience only made possible by our driver. Highly recommended.
A fantastic day out - we saw more and learnt more than we could ever have done in one day in our own 4WD. Our driver & guide Jacob had an incredible knowledge of flora, fauna, history and geology of the island. We got to all the places promised and had plenty of time to enjoy each location.
The whole day was amazing. What a great way to see the island, our tour guide Jacob was full of knowledge and kept us entertained all day.
Robert Sciberras
, 04 Jun 23
This was a great day out on Fraser Island. The driver was awesome. Lunch and morning tea was also good.
Natalie Hoyle
, 29 May 23
Great day trip saw a lot of the island in one day would recommend
Rebecca Robertson
, 29 May 23
Amazing experience! Jason was a great guide, so knowledgeable & entertaining. Driving on the beach & visiting McKenzies lake were so beautiful. Highly recommend this tour and company
Emily Birchall
, 26 May 23
An awesome, jam packed day out. Friendly guide with some very helpful advice and life stories. Would so recommend.
Jane Williams
, 24 May 23
The best experience in years
Belinda Hotchin
, 15 May 23
Perfect day seeing the highlights of K'gari. Our guide/driver was so knowledgeable and had many great stories through the day which made things even more enjoyable. Thankyou!
Great Tour and Jason as Tour Guide was simple amazing.
Marian Stefan Wollinger
, 12 May 23
It was nice and our guide was fabulous
Peter Roberts
, 10 May 23
The day was brilliant, made more so because of Jason, our tour guide: his knowledge, navigation and driving skills, his attention to detail, and his care and concern that his passengers should have a great experience were all second to none!!! It was a truly fabulous day!! Thank you Jason!!!!
Our tour guide Greg stole the show, incredible knowledge of the island and a top storyteller!
Keith did a great job guiding us through the day and making sure that we were entertained and learning about K'gari in the process. The island was beautiful and unlike any of the other places we visited while in Australia. Thank you for a great day.
Willeke Kraaijmaat
, 27 Apr 23
Absolutely brilliant! Our guide was so informative and full of interesting background details everywhere we went. Even though the island was breathtakingly beautiful, I reckon he made the day without a doubt! Great value for money and would happily do it again!
We had a wonderful time. Our tour guide, Greg was fantastic, in particular his stories and knowledge of the island.
Isolde McKenna
, 25 Apr 23
Jason is a treasure. Potted history of the island and its environs complete with a guide to its flora and fauna. I highly recommend this Fraser Island Nature Tour
My partner and I really enjoyed the tour and the guide was great. The only thing I would suggest is having more options for toilet breaks
It felt really rushed. I was disappointed that we spent so much more time on the bus than off it. I'm not sure why we arrived back 45 minutes earlier than expected, it really would have been nice to spend more time at Eli Creek.
Outstanding trip. Our guide Jason was so knowledgeable about the island. It was amazing to learn about its people, the wildlife and the trees. The lunch was very tasty. Overall, it was the highlight of our visit to Australia.
Michelle Holly
, 10 Apr 23
Driver Jason's level of authenric respect for Fraser k'gari made my day.Food was very good. An hour swim great idea.lived it.comfy,fun,informative,repectful.
Amazing experience, can't thank Jason enough. Very informative, made the day!
Absolutely loved the trip! Jason was excellent tour guide and driver - he made the day a very special Australian experience with local history and interesting wildlife information. Thank you for a memorable day!
We loved Murray. He was funny and cheerful the whole day. Highlight of our trip so far!
Stephen Bennett
, 02 Apr 23
This was a fantastic experience. It was a full-on day of adventure on Fraser Island/K'gari. I had a great time and the tour was led by a very knowledgeable and friendly driver. I would definitely do this again and only wish that I had spent longer on the island.
Really interesting and Jason was fantastic. His passion and knowledge put the experience to the next level. A lovely bunch of people on the tour also helped to make for a superb day. We will recommend.
It was a really cool experience, our guide Jason was amazing. I was blown away by his knowledge of the area, and of biology in general. He seemed just as excited to be exploring the island as we were. It made the experience a lot memorable. Would recommend to anyone passing through rainbow beach .
Riina Pakarinen
, 24 Mar 23
The stops were quite short, most of the day was spend in the car. I enjoyed all the activities: beach drived, walking in the creek, swimming in the very clear lake, driving on the bumby road. The scenary looked very unique to me. The guide gave good and interesting information about the island.
Martin Rowbotham
, 07 Mar 23
A brilliant full day experience transported around the island.Fabulous beach drive, saw dingos and dolphins as we were driven, and then around, up and down the internal dirt roads of the island to the lake. Stunning views, swim and a very tasty lunch. All in the hands of a wonderful driver.
Margarete Ruhnke
, 05 Mar 23
IT was gorgeous! Pur guide Jacob was absolutely super! WE enjoyed the trip very mich!
Hubby & I loved the Nature Day Tour. Greg was a fantastic host/guide & we would highly recommend anyone to book a day trip with Fraser Tours. Can't wait for next time!
Suzanne Reichenbach-Sisk
, 04 Mar 23
Fraser Adventure Nature Day Tour was an incredible experience that I will never forget. It was informative, and fun, and gave me a deeper appreciation for the natural and cultural wonders of Fraser Island. I highly recommend this tour to anyone.
Jeffrey Hartono
, 03 Mar 23
It was an incredible experience. The tour guide himself was very knowledgable and fun, with some great jokes along the side. The tour felt a bit slower when they swapped drivers, however it was still an amazing experience!
Michael Gerring
, 22 Feb 23
Fantastic day out to a beautiful place. Loved our tour guides, named Greg, passion and understanding of Fraser Island. I finished the day with a lot more knowledge, and plenty to think about, about this mysterious place.
From the ferry trip over to the island and the exciting ride along the beach to the fascinating road and scenery in the rain forest, it was an unforgettable experience. Swimming in Lake Mckenzie and Eli Creek, as well as having a knowledgeable and fantastic guide seeing to our needs, were bonuses!
Great day out led by Jacob who was very knowledgeable about the area.
Paterlini Emilia
, 21 Jan 23
Great island. Great driver
Well organised and friendly staff
We all loved the trip! The driver was knowledgable and kind, the food was good and Fraser Island just amazing. Although it was a long day, even the kids loved it and never got bored. Would def recommend it!!!
Fraser Island is one of the best places I have been In Australia, our tour guide was amazing, the stories and history that he told us was so insightful. The only reason I gave 4 stars instead of 5 would be the food provided was very mediocre and the time we spend at each spot was just not enough.
Amazing Day out with the Fraser Adventure Nature Day Tour. Would highly recommend. See all the best bits of the island and back in Noosa for dinner.
Belinda Cummerford
, 07 Jan 23
Ren was a FANTASTIC guide for the day. Knowledgable, great driver and made the day very enjoyable. Got bogged and that was a blast too. We had a fantastic day. Maybe when leaving Lake Mackenzie you could give everyone a small bag of chips as others were not organised and were a bit hungry.
Mrs Felicia Burgess
, 01 Jan 23
Awesome day! Lots of driving, but that's the only way to see the Island. Lake Mackenzie and Eli Creek make it all worth it. Loads of time at the lake - it's beautiful. Could spend a whole day there. Our guide was very knowledgeable and informative.
Frances Eberbach-Cardwell
, 30 Dec 22
An amazing trip with our guide Darrel. His commentary was so knowledgeable and he made sure we got to see the best of each place we visited. Food and drink provisions were terrific - catered to dietary requirements and fresh. The 4WD van was very comfortable. Highlight - Lake Mackenzie.
Excellent tour with an very informative and friendly driver Daryl
A wonderful trip! The guides are informative and friendly. Love the pristine clear Lake Mckensie! The soft sand there made everybody do a body spa! Swimming in Eli Creek is an interesting experience! Seeing police in the Sandy island when exploring the miles of sandy beach is also unimaginable!
A wonderful day on Fraser Island! Roger was a great guide - full on knowledge and ensured we had a great day. Can't wait to come back!
Such a Great tour with a professional guide. ????
The tour guide was excellent. Knowledgeable, funny and friendly. However, people ought to know what they will experience. A total of 8+ hours (if you depart from Noosa) in a specially designed vehicle that is comfortable when it's not moving but it throws you about terribly. You've been warned!
We had such a great day on the Nature Tour with Murray. He was extremely knowledgeable and ran the day smoothly, even with the high tide entry on to the island.
Brooke Campbell
, 13 Nov 22
Bus air conditioning was not working effectively enough,!it was extremely uncomfortable . The driver was very knowledgeable
The itinerary was jam-packed and we saw loads! The pick up from Noosa was 6am and we got back at 6pm.. having a solid 12hours of seeing the sights.. We drove up along Noosa N Shore, past DI Point and along past the Rainbow Beach sands. Before 9am we had already seen whales, dolphins, dingoes and the amazing coloured sands! The rest of the day on the island was brilliant and we felt really informed at all times. Our tour guide was Darryl and he was extremely knowledgeable, along with a good eye for whale spotting.