Eli Creek on Fraser Island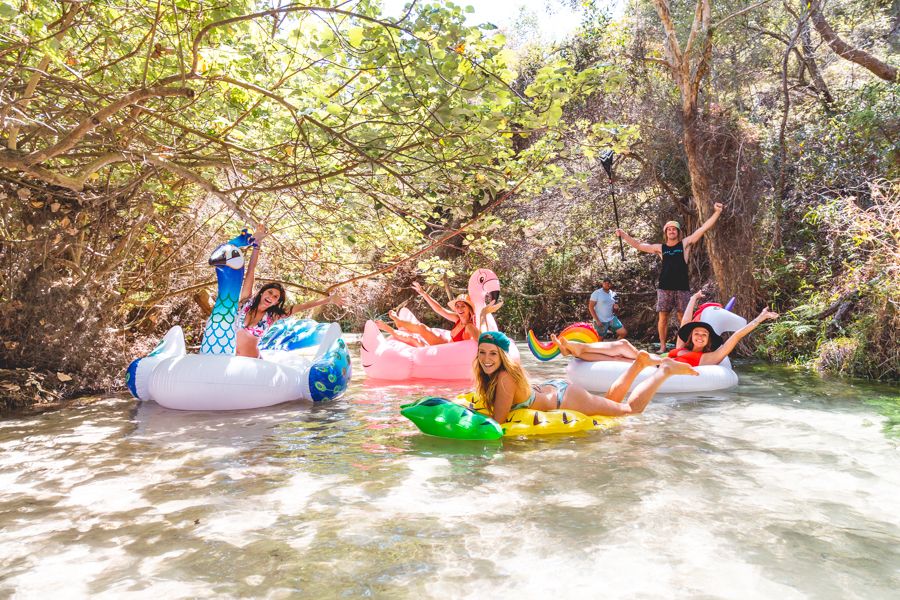 Eli Creek is Fraser Island's most well-known creek and is the largest on the eastern side of the island. Forming a river of freshwater through the rainforest and sand dunes. It is a popular stop for anyone coming to Fraser Island and certainly a refreshing one!
The area of Eli Creek sits on the eastern side of the island, coming out on 75 Mile Beach and is great for both swimming, having a picnic or simply sightseeing. The creek itself begins a number of kilometres inland in sand dunes that sit high above sea level and flows out into the sea. It amazingly moves around 80 million litres of freshwater a day, pouring about four million litres into the ocean with each hour. The soft fine sand filters rainwater that has been accumulating for over 100 years, and you can even drink it! The naturally filtered water makes it one of the purest water sources on the island.
There is a boardwalk from the base of the creek to the top end where you will begin making your way back down if you do choose to go for a swim or float. The flow of the river is great for floating, so it's always best to bring along a tube or floatie and enjoy the ride. The water itself isn't very deep in the creek, meaning you can always walk down to the base as well if you do so choose.
The creek is important to the ecology of the area, meaning when walking you must stay on the boardwalk and refrain from going to the 'no-go' areas. It is a sanctuary for all of the living creatures that call it home including fish, turtles and eels.
To learn more about Fraser Island's icons, click here, or chat live to us online if you'd like more information on how to visit this incredible ancient creek!