Top 15 Things To Do On K'gari (Fraser Island)
There are so many incredible things to do on K'gari (Fraser Island) that it's hard to narrow down the list! But for travelers wondering what attractions and activities they should prioritize on the World Heritage Site of K'gari (Fraser Island), these are the top 15. From swimming in perched lakes, to hiking through the rainforest, to camping under the stars, here are the best things to do on K'gari (Fraser Island)!
---
Top 15 Things To Do On K'gari (Fraser Island)

Admire Lake Mckenzie
First on the list of the best things to do on K'gari has to be Lake McKenzie. This is the most famous of all the perched lakes on K'gari, which means the lake contains only rainwater and doesn't connect to the ocean or to any creeks or streams. The water is crystal clear and extremely pure!
Not only is Lake McKenzie an impressive natural phenomenon, but it is also one of the most gorgeous places in all of Australia. With super fine, white sand and clean waters, this pristine lake is a stunning place to go for a swim or capture some jaw-dropping photos.
---
Visit the S.S. Maheno Shipwreck
The S.S. Maheno was a massive ocean liner that washed up on the shores of K'gari in 1935 due to a cyclone. The ship itself was built in 1905, but now it is just the shell of its former self. Still, this colossal shipwreck on the sandy shores of K'gari is a top tourist attraction! Maheno Shipwreck is a popular spot for sunrise or sunset when the golden hour hues hit the beach.
---
Float down Eli Creek
On a hot summer day, one of the best things to do on K'gari is float down the peaceful Eli Creek. As the largest creek on the eastern side of the island, there is plenty of space for swimming, wading, and floating down the fresh waters. The waters here are some of the purest on the island and you can even drink right from the creek! There is also a boardwalk and a picnic area near Eli Creek.
---
Go Hiking
Outdoor lovers and fitness enthusiasts will have a blast on K'gari! There are lots of amazing hiking trails that wind through the dense, untouched rainforest. If you're visiting K'gari (Fraser Island), pack some good walking shoes so you can explore the wilderness on foot.
K'gari is home to plenty of short day walks that are suitable for people of all fitness levels. Walk along Valley of the Giants to admire the unique flora and fauna, or enjoy a leisurely walk on the dunes to Lake Wabby. There are also plenty of longer day walks for those who want more of a challenge. Real adventurers can take on the K'gari Great Walk! This epic trail stretches on for 90km and brings hikers to all the best locations through the island's center.
---
Drive along 75 Mile Beach
The 75 Mile Beach, also known as the Sand Highway, is a vast stretch of sand that runs along the eastern side of K'gari. The beach does actually function as a highway for the island! You can cover long distances along the beach, though driving here is only suitable for 4WD vehicles.
If you're not bringing your own car over to K'gari, there are plenty of tag-along tours that allow you to drive on 75 Mile Beach during the tour! Driving a 4WD on the dunes of K'gari is a classic Australian experience that should not be missed.
---
Swim in the Champagne Pools
One of the most beautiful and refreshing places to swim on K'gari is the Champagne Pools. These relatively shallow, naturally-formed rock pools sit right on the edge of the ocean. This is a cool place to visit because it's one of the only places on the island where you can swim in the salty sea water without any danger!
K'gari's beaches are unsafe for swimming due to strong currents and sharks. But the Champagne Pools create a calm, safe environment for swimming in the ocean. That being said, always be aware of your surroundings! Look out for big waves and be careful on the rocks, and definitely don't swim in the pools in intense weather conditions or large swells.
---
Visit Lake Boomanjin
Another one of the most popular perched lakes on K'gari is Lake Boomanjin. Sometimes referred to as the "tea tree lake", the waters here are tinted red due to deposits from surrounding creeks and tea trees. The odd color may deter some travelers from swimming here, but the water is extremely clean and pure! It's a lovely place for a swim, and there aren't nearly as many tourists here as Lake McKenzie.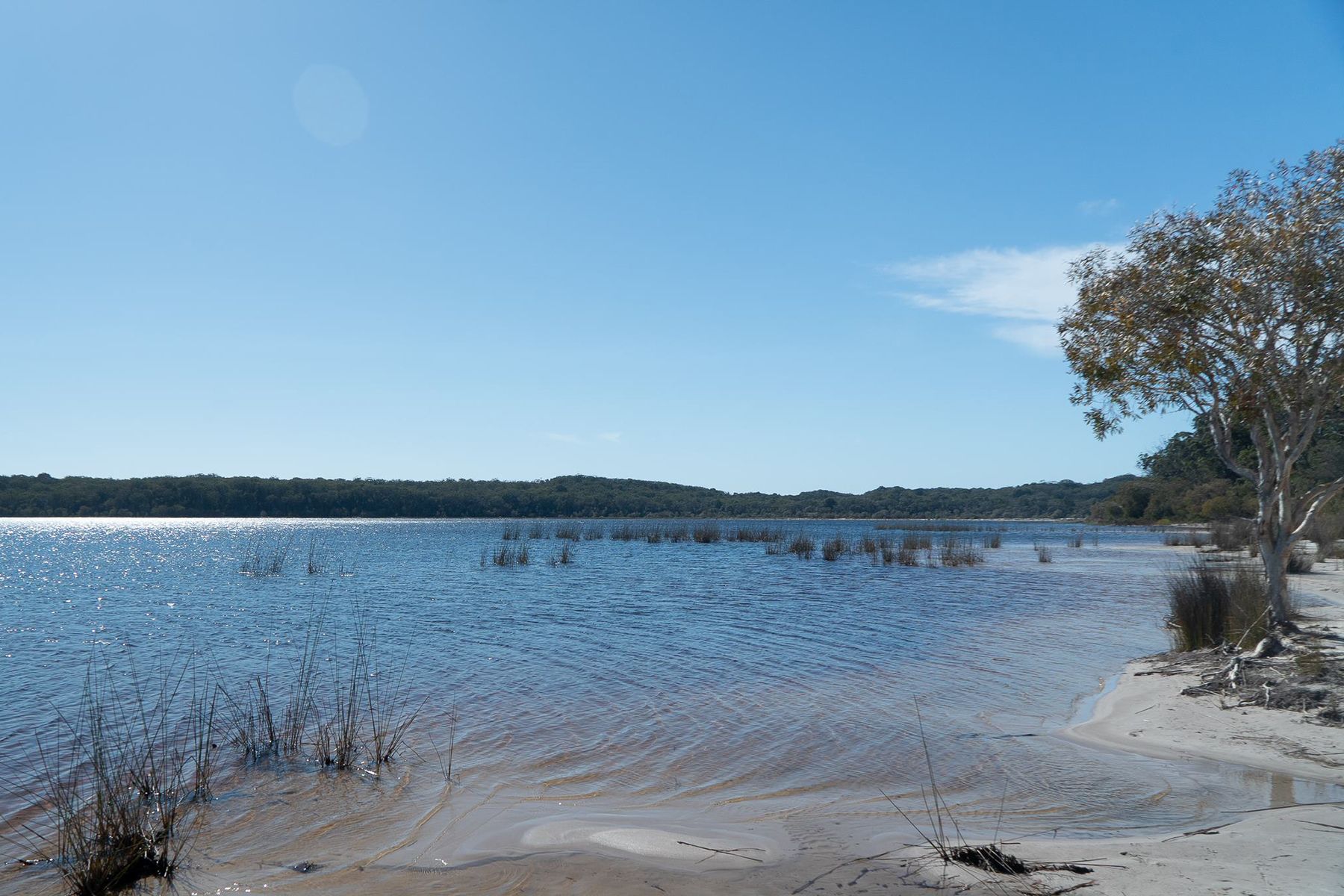 ---
Go for a stroll at Central Station
Central Station is an interesting place to stop while exploring K'gari. Located right in the heart of the island, the area used to be the home of settlers who moved to the K'gari for logging. Because the island is a World Heritage Site, logging is no longer allowed. But exploring the majestic rainforest along the short walking trail at Central Station is now one of the best things to do on K'gari!
---
Go Whale Watching
K'gari (Fraser Island) and the nearby Hervey Bay are some of Australia's top whale-watching destinations! During the months of July through October, the Queensland coast sees thousands of humpback whales during their migrations up and down the coast. These magnificent creatures head north every year to breed in the warm waters of Queensland's tropical north. Hop on a whale-watching tour from Hervey Bay for the best chance of spotting some whales near the Fraser Coast!
---
Watch the Sunrise or Sunset
Whether you're visiting K'gari as a day trip or a weekend trip, or you're lucky enough to stay for longer, watching the sun rise or set is a must! With stunning coastlines, untouched natural beauty, and both an east and west coast, K'gari boasts spectacular views of the sun's daily dance. Grab a blanket, some tunes, and some friends, and seek out an epic sunrise or sunset on K'gari.
---
Swim in Lake Wabby
Another one of the top things to do on K'gari is visit Lake Wabby! This beautiful perched lake is the deepest lake on the island. With its half-moon shape, emerald green hue, and surrounding mountains of sand, it is one of the most interesting natural landmarks on K'gari. Go for a walk on the soft sand dunes or go for a dip in the refreshing water!
---
Stop at Indian Head Lookout
Those looking for an epic panoramic lookout on K'gari should head to Indian Head Lookout. This is the most easterly point on the island and is located near the north. Head here to soak in the views of the surrounding ocean, beaches, and forests. Keep your eyes peeled for wildlife such as dolphins or whales!
---
Go Camping
If you have time to spend at least one night on the island, camping is one of the best things to do on K'gari. Immerse yourself in the natural beauty of this spectacular sand island by spending a night in the forest. Stargaze, have a BBQ, and let the peaceful sounds of nature lull you to sleep. There are 45 different camping areas on the island! Just make sure you pay any fees and obtain any necessary permits before pitching a tent.
---
Visit a Local Bar
Though most of the best things to do on K'gari take place in the great outdoors, there are some great tourist amenities on the island such as hotels, restaurants, and even bars! After a day of exploring out in the sunshine, you deserve to kick back and sip on an ice-cold beer or cocktail. Sand Bar & Bistro, Sunset Bar, and Maheno Bar are some of the best bars on K'gari!
---
Book a Tour
After reading about these amazing things to do on K'gari, you may be wondering how to actually see it all! That's why one of the best ways to see the island is by booking a guided tour. K'gari is a magical place with so much to do. Having an experienced local guide will help you make the most of your time there!
Fraser Island day tours are popular for travelers who are short on time. You can book tours from Noosa, Rainbow Beach, and Hervey Bay. If you have a few days to spare, definitely try to do a 3-day tour, especially one that offers tag-along or camping. These adventurous tours allow you to really see the highlights of the island and experience the thrill of camping and driving on K'gari!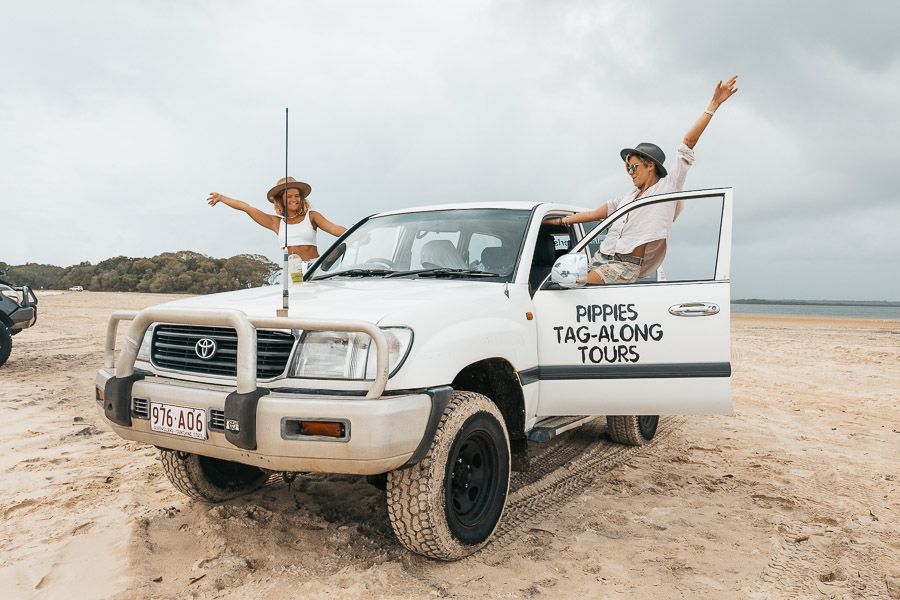 ---
Ready to explore the best things to do on K'gari (Fraser Island) on an epic guided tour? Live chat with us online or call us at +61 7 4128 4479 with any questions!