Lakes On K'gari (Fraser Island)
Updated Wed 08 Mar 2023
The lakes on K'gari (Fraser Island) are just one of the natural features that this stunning island is known for. From ancient sand dunes, to towering rainforests, to creeks, hiking trails, beaches, and more, K'gari is packed with natural beauty. If you're wondering what are the best lakes to visit on K'gari, as well as what types of lakes there are on this fascinating island, read on!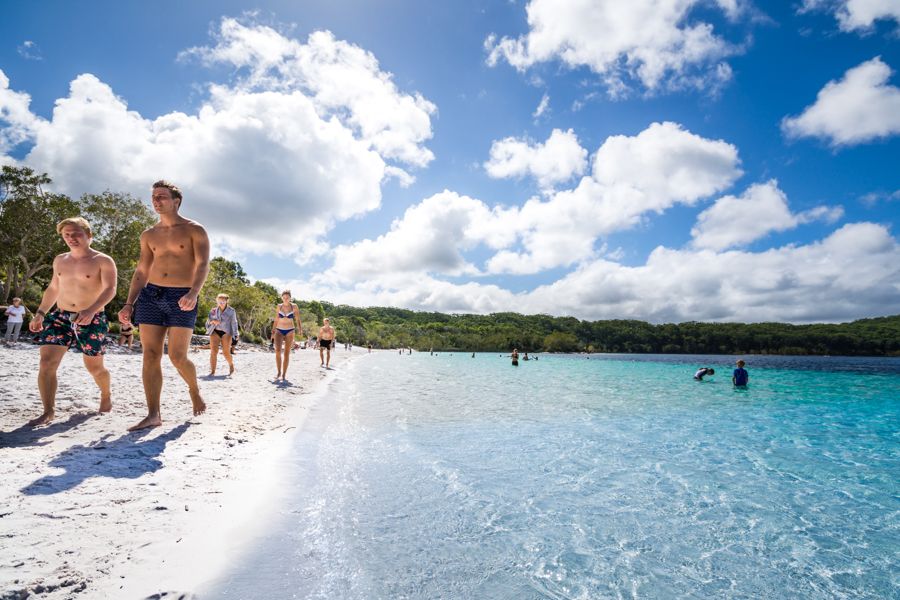 ---
Types Of Lakes On K'gari (Fraser Island)
K'gari (Fraser Island) has over 40 lakes that can be found all over the island. With perched lakes, barrage lakes, and window lakes, there is a unique range of lake varieties on K'gari's sandy shores. You can find a much more detailed analysis of the different types of lakes here, but we'll quickly summarize them for you:
Perched Lakes: When rainwater fills natural depressions in sand dunes
Barrage Lakes: When a sand dune shifts and blocks a stream from reaching the ocean
Window Lakes: When a natural groundwater lake forms and is continuously filled with rainwater
These are the different types of lakes you may find on K'gari. Each one is fascinating in its own way. Due to the lakes' locations on sand dunes, the sand filters the water and created lakes that are incredibly clean and pure. K'gari is also home to over half of the world's population of perched lakes, making it a unique and sought-after destination!
---
Popular Lakes To Visit On K'gari (Fraser Island)
Of all the 40+ lakes on K'gari (Fraser Island), some are more popular than others. Whether they are easy to access, or they're just gorgeous to look at, some lakes are a must-see when you visit K'gari. Here are some of the most visited lakes on K'gari!
---
Lake McKenzie is definitely the #1 lake to visit on K'gari (Fraser Island)! It is known for its crystal clear waters and soft silica sands, appealing to visitors from all over the world! Most day trips and overnight tours visit this iconic location, which is a great place for an afternoon swim. Take along your swimmers and plenty of water, this is a destination you will not want to leave!
---
Another one of K'gari's most precious lakes is Lake Wabby. The half-moon-shaped lake is special in that it is both a window lake and a barrage lake and the only one of its kind found on the island. Lake Wabby was created by the Hammerstone Sandblow, a huge sand dune that looks like it has come straight out of the Sahara Desert. Lake Wabby hosts a variety of fish and is the deepest lake on the island! However, Lake Wabby won't be around forever. This lake is slowly being swallowed back into the sand dunes of K'gari, meaning its existence is limited. Go and see it while it's still here!
---
Lake Birrabeen is another local favorite lake on K'gari (Fraser Island). This gorgeous lake offers the perfect place to spend an afternoon swimming, relaxing and enjoying the beauty of K'gari. Lake Birrabeen is also a perched lake and has soft sands surroundings its shore, but is often less crowded than other lakes. After it rains heavily, the two lakes next to Lake Birrabeen join the larger lake, creating one huge body of water!
---
Another interesting lake to see on K'gari (Fraser Island) is Lake Boomanjin. This lake is known as the tea tree lake because it is surrounded by tea trees. Rainfall causes tannins from the tea trees to run off into the lake, which can stain the water red. Despite the reddish hue, the water is perfectly clean and safe for swimming!
---
Commonly known as Turtle Lake, Lake Allom is another unique place to visit on K'gari (Fraser Island). The lake gets its nickname from the resident population of freshwater turtles which are easily spotted from the water's edge. This is a lake for those who love nature and there is a great viewing platform for wildlife spotting. This delicate lake is found inland from the Cathedrals on Fraser campsite and is reached by an inland 4WD track.
---
Basin Lake is another one of the most special lakes on K'gari (Fraser Island). Basin Lake is considered to be both a perched lake and a window lake - a combination that is rarely found. This is another excellent swimming spot on the island that doesn't get too crowded and is visited by several overnight tours.
---
Ready to see these K'gari lakes for yourself? Chat with our local travel experts online or call us at +61 7 4128 4479 if you need any help planning your trip!