Lake Birrabeen on Fraser Island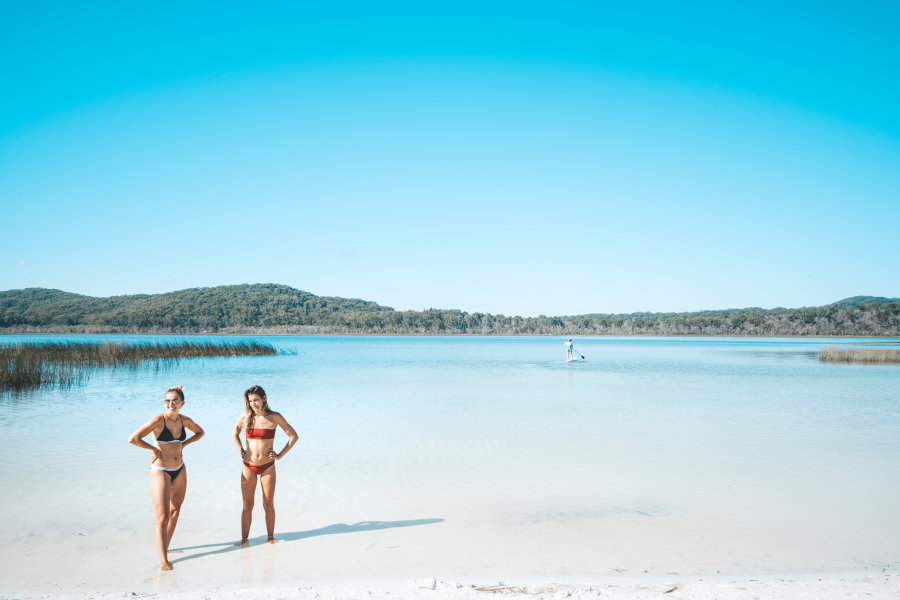 Lake Birrabeen is a famous lake that can be found on Fraser Island off the East Coast of Australia. Much like the island's most famous lake, Lake McKenzie, Lake Birrabeen is surrounded by white sandy shores and is brimming with cool crystal clear waters. Lake Birrabeen is a perched lake, meaning it is a contained lake that sits above sea level, made up of only rainwater and has no streams or rivers running in or out of the lake. All organic matter is filtered out through the sand, allowing it to maintain its astonishing crystal clear appearance, making it a sought after swimming destination on the island. The pure water is unable to sustain much life, as all impurities and nutrients are filtered out through the silica sand, so you will not find any fish or plants within its depths. The bright white sands and clear, shimmering blue water make it a photographer's paradise, with many flocking here for the amazing view.
And while it is often compared to the more well-known Lake McKenzie, Lake Birrabeen is often less populated than its counterpart, making it one of the more relaxing and isolated places to visit on the island. Its isolated and extensive beach make it the perfect place to sunbathe, build sandcastles or lay back and read a book.
The lake is located on the southern end of the island, inland of Central Station and south of Lake McKenzie. As with all attractions on Fraser Island, the lake is only accessible by 4WD using the island's designated tracks. The best ways to visit the lake are by taking your own 4WD tour of the island, or by joining in on one of the many day tours or overnight tours to Fraser Island and its attractions. Lake Birrabeen has public toilets and picnic tables, making it the perfect midday stop for any Fraser tour.
Read more about the lakes on Fraser Island here!
Ready to book your perfect Fraser Island holiday? Chat live to us online or call +61 74914 2425 today!