Fraser Island: The Largest Sand Island in the World
Fraser Island, or as it's known to its traditional owners, K'Gari, is the largest sand island in the world, stretching over 123 kilometres long and 22 kilometres wide. Queensland Australia is home to four of the largest sand islands in the world, and following Fraser Island is Stradbroke Island, Moreton Island, and Bribie Island.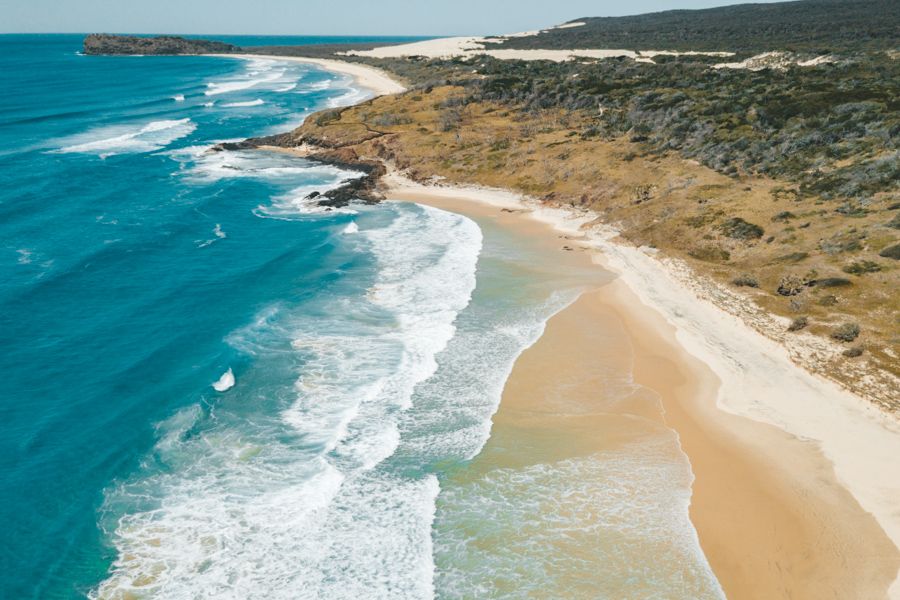 Nestled in the Great Sandy National Park in the Fraser Coast region, Fraser Island has one of the most exquisite rugged natural terrains, and it's 7 different types of ancient forests, over 100 lakes, and abundant sand dunes make it one of the most unique landscapes in the world. Travelling from coast to coast on Fraser Island will result in dramatic scenery changes as you travel from largely untouched beaches to thick emerald green canopies, all through their soft sandy trails that only 4WDs can handle.
This UNESCO World Heritage Site's sand has been recorded as reaching heights of up to 244 metres above sea level, and up to 100 metres below. Much of the sand comes from quartz, or in ground-up form, silica. Fraser Island's Lake McKenzie is famous for its pure white beaches, similar to Whitehaven Beach to the north of Fraser Island in the Whitsundays. Forming for hundreds of thousands of years, Fraser Island's terrain is constantly changing with the tides, waves and wind. Areas like Hammerstone Sandblow and Lake Wabby are an example of the gradual erosion the island experiences. Lake Wabby is a barrage lake and Hammerstone prevents water from escaping to the sea. Eventually, Lake Wabby will cease to exist as Hammerstone will fill the lake from tidal and wind erosion.
Fraser Island's foundation is unique, as forests are able to grow through the sand to reach a layer of nutrient-rich fungi and lichen. This and rainfall create the optimal environment for forests to thrive on the island. The inland track conditions will vary from season to season, the annual rainfall will determine the density of the sand. In particularly dry seasons, the sand is soft making it difficult to drive through, while wetter seasons will pack the sand offering more traction to drivers.
Seventy-five Mile Beach is one of the most iconic attractions Fraser Island offers. Stretching along the east coast of Fraser Island, this area has the heaviest traffic as most of the tourist attractions, such as the S.S. Maheno shipwreck lie on (or are accessible by) this road. Acting as an airstrip too, you'll find scenic aeroplanes in addition to 4WDs and tour buses cruising along this incredible stretch of sand. Accessibility is dependent on the tides, and it is crucial you check a tide timetable before heading out on your adventure.
---
With so much to see and explore on Fraser Island, isn't it time you paid a visit? Our friendly team of Fraser experts are online to answer all your questions! Chat to us now and ask about our current specials!