Why is Fraser Island called K'gari?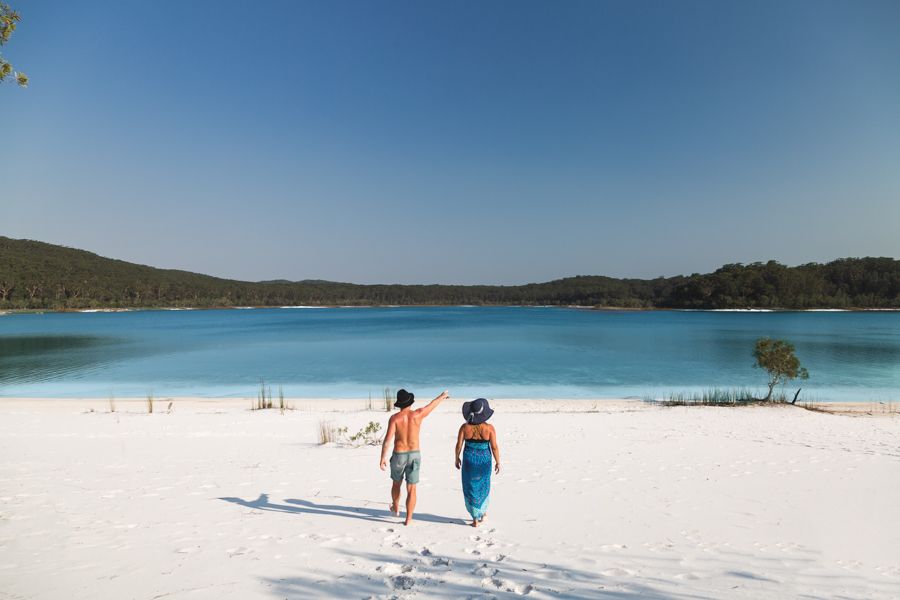 Fraser Island is the world's largest sand island. It's unique in more ways than one and holds a special place in the heart of her traditional owners, the Butchulla people. The island that we know to be Fraser Island was originally known as K'gari, which is its traditional name. Named by its people thousands of years ago, K'gari means 'paradise'. The name is derived from an Aboriginal Dreamtime story about a goddess named K'gari who fell in love with the earth and never wanted to leave. According to the story, the gods set out to find a place for humans to live, who had newly been created. K'gari, alongside Yendingie, the messenger of the great god Beeral, were sent down to earth to find such a place, but K'gari herself fell so in love, she never wanted to leave. She was then changed her into the great sand island so that she could stay on her beloved earth forever. Beeral placed lakes, forests, flowers, animals, birds and people there to keep her company.
Such Dreamtime stories are an important part of the history of the Butchulla people and all aboriginal people in Australia. Stories are passed down for generations and record the history and beliefs of the people to preserve their memory. The Dreamtime is a way for the Butchulla to understand the creation of the world and its meaning. It is also a way for us to understand the meaning and significance of places and animals in Australia, including the great sand island of K'gari.
The Butchulla people have lived on K'gari for at least 5,000 years but studies show it could be as much as 50,000 years. They have been an integral part of the island's history and past, and are still the traditional owners of the island. K'gari is their homeland and has special spiritual significance to their traditions and customs. Different parts of the island have different functions and provide them with places to carry out their traditional way of living.
The lives of the Butchulla people on K'gari were forever changed hundreds of years ago when Europeans began to colonize Australia. The first official sighting of Fraser Island and its people was in 1770 when explorer James Cook (later known as the famous Captain Cook) sailed by and noticed people standing on what he named 'Indian Head.' This began a series of events which changed the face of the island and its people forever. Contact with the island people didn't happen until later when Matthew Flinders landed on the northern edge of the island around 1799, talking with them in a series of peaceful meetings. For a time, the island was known as Great Sandy Island but was later named Fraser Island.
Fraser Island got its modern name from the Fraser family, namely from Eliza Fraser, who shipwrecked on the island in 1836. She was accompanying her husband on a voyage from Sydney to Singapore when they hit coral and had to abandon their ship. Resorting to their lifeboats, their journey became more and more perilous until only Eliza Fraser was left, wrecked on the shores of what we now know as Fraser Island. The story goes that she spent several weeks on the island amongst the aboriginal people until she was rescued and returned to her native land in England. Her story of survival inspired the name for the island, which then became Fraser Island.
Today the island is referred to by both names of Fraser Island and K'gari and is listed as a World Heritage site. A half a million people visit the island each year to see its many amazing natural attractions including Lake McKenzie, Eli Creek, Indian Head, Champagne Pools, Central Station and Lake Wabby, as well as many other lakes, creeks, beaches and lookout points. Guided tours are available to visitors, as well as vehicle rentals for a self-drive option and tours range from 1 day to 3 days.
There is much to see and do while on Fraser Island, as well as plenty to learn about the island's history and the history of its name and people. Chat to our friendly travel experts for more information today!