Indian Head Lookout On K'gari (Fraser Island)
Updated Thu 23 Nov 2023
Indian Head Lookout is one of the top tourist attractions on K'gari (Fraser Island). K'gari is the largest sand island in the world and therefore is packed with interesting things to see and do. From towering rainforests, to layers of golden sand dunes, to unique ocean pools, creeks, lakes, and more, there is no shortage of incredible sights on K'gari.
Travelers love to visit Indian Head Lookout because it is one of the best coastal viewpoints on K'gari. It's easy to spend lots of time inland, hiking in the rainforests and swimming in the lakes, but the coastal views of K'gari are also spectacular. Let's discuss some things to know about Indian Head Lookout on K'gari (Fraser Island)!
Note: As of November 2023, Indian Head Lookout is currently closed due to erosion. Check the QLD national parks website for updates!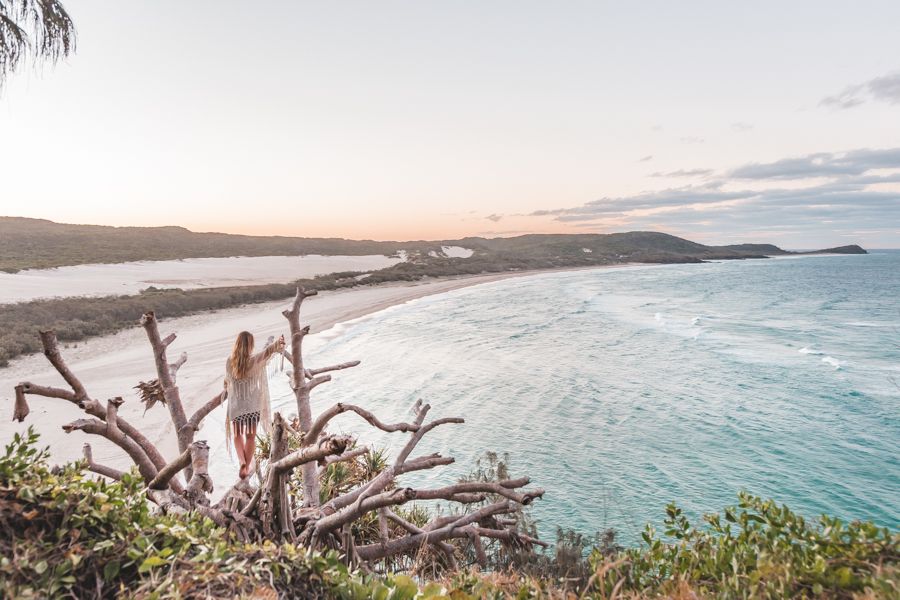 ---
Visiting Indian Head Lookout
Indian Head Lookout is the most easterly point on K'gari (Fraser Island). It is an incredibly popular location because it offers stunning, panoramic views of the coastline and ocean. From this rocky outcrop, you can often spot turtles, dolphins, manta rays, and sharks swimming in the water below. During the winter months, you can also spot whales as they migrate along Australia's east coast!
Indian Head Lookout is made up of volcanic rock that formed millions of years ago. It is one of the few places on the island that isn't made of sand! Although K'gari is the largest sand island in the world, the island was formed when sand settled on top of a volcanic landmass. So there are a few places where you can see the remaining volcanic rock that still lingers on this sand island - Indian Head Lookout being one of them! The beautiful red rhyolite rock makes this painted peninsula light up at sunrise.
---
How To Get To Indian Head Lookout
Indian Head Lookout is an easily accessible landmark on K'gari (Fraser Island). If you follow 75 Mile Beach north until you reach the headland. You can't miss it - it sticks out right next to the beach! Park your 4WD and follow the short walking track up to the top. Indian Head Lookout is located right at the northern end of the Sand Highway on K'gari's east coast. Other nearby attractions include the Champagne Pools and Waddy Point. Or you can continue driving south along the beach towards Maheno Shipwreck and Eli Creek.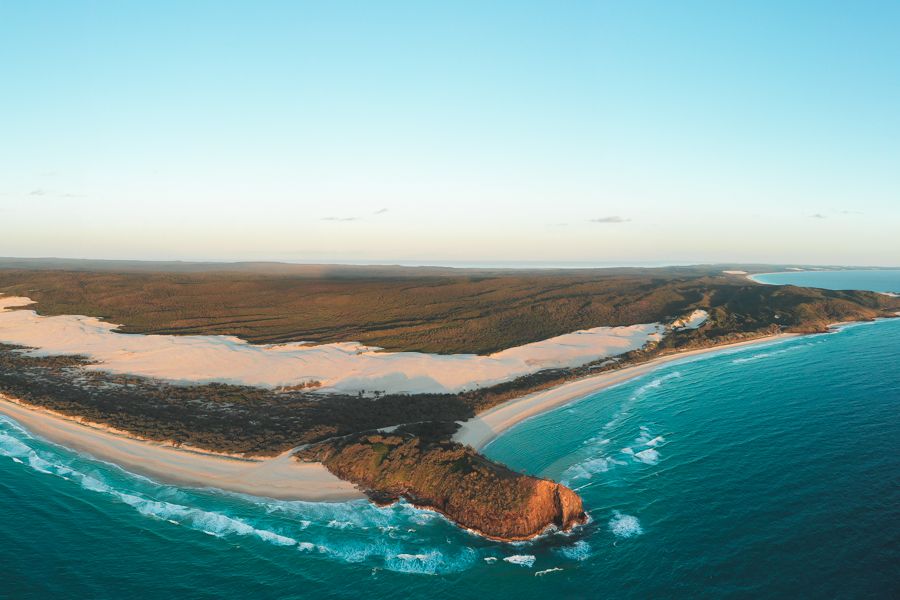 ---
What Is The Significance of Indian Head Lookout?
Indian Head Lookout is a rocky headland that juts off the eastern coast of K'gari (Fraser Island). So why is it called Indian Head Lookout? It's hard to find an accurate description of exactly why the headland has that name, but it was a name given by the European colonists. The native people who thrived on K'gari for at least 5,000 years, the Butchella People, originally named the landmark "Tuckee" which means "stone".
The Butchella people also named the island K'gari because it means "paradise". Then the European colonisers renamed the island "Fraser Island" in 1836 and the name has only just recently been changed back to K'gari. Unfortunately, Indian Head Lookout is still usually referred to by its European-given name. Either way, the headland is one of many sacred Aboriginal sites on K'gari where the native people were sadly decimated by European colonists. If you do visit Indian Head Lookout, try to pay your respects to the indigenous people who once called this place home.
---
Ready to plan your visit to K'gari (Fraser Island)? Chat with our friendly travel experts live online or call us at +61 7 4128 4479!