Sand Dunes On K'gari (Fraser Island)
Ever wondered why the sand dunes on K'gari (Fraser Island) are so special? There are many reasons! K'gari is the largest sand island in the world. Despite having a surface area made of mostly sand, this island is rich with life. There are dense rainforests with towering trees, a wide variety of plant and animal species, and fascinating geological features like perched lakes and colored sand formations.
K'gari is an incredibly special place, largely thanks to its sand dunes! Let's discuss some fun facts about the sand dunes on K'gari (Fraser Island), and hopefully, you'll gain a new appreciation for them when you visit this gorgeous island!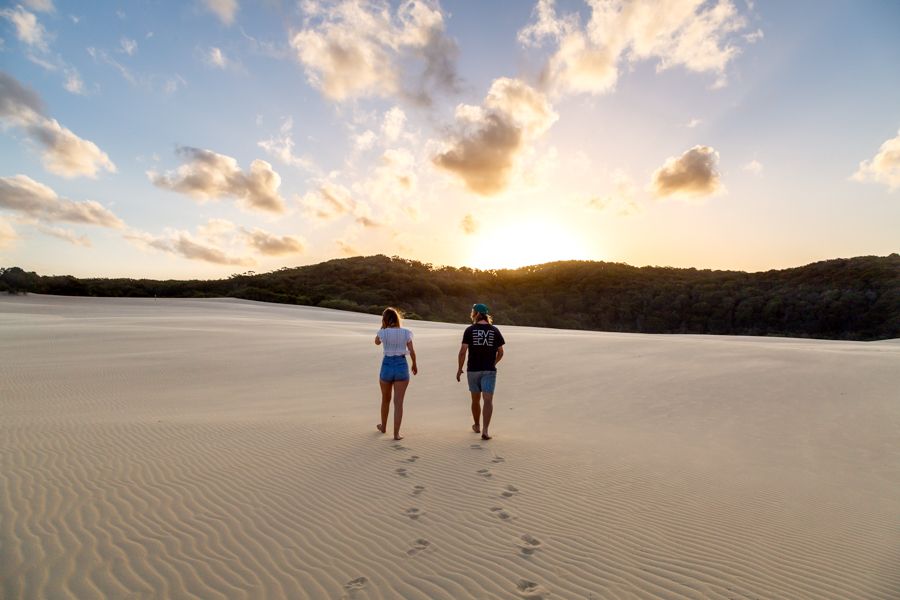 ---
The History Of Sand Dunes On K'gari (Fraser Island)
As the world's largest sand island, K'gari (Fraser Island) is a fascinating expression of nature. The terrain around K'gari was originally low, rocky, and hilly, and was formed by volcanic activity millions of years ago. Remnants of this rocky land can still be seen today in landmarks like Indian Head Lookout and Waddy Point. Over time, ocean currents and the wind pushed sand up the Australian coast, where it landed on the rocky volcanic terrain.
And thus the sand dunes of K'gari began taking shape! The exact time frame of K'gari's formation differs, but research suggests that the island was formed somewhere between 750,000 and 1 million years ago! During this time, the base of the world's largest sand island was created.
Studies even show that the formation of K'gari helped create the world's largest coral reef system, the Great Barrier Reef! Because much of the sand drifting through the Pacific Ocean accumulated around K'gari, these dunes created a barrier preventing more sand from traveling up the coast. This made the waters in central and southern Queensland much clearer, which allowed the growth of the Great Barrier Reef's lower sections.
---
How The Sand Dunes Sustain Life On K'gari (Fraser Island)
As the sand dunes continued to pile up, they created the base for the amazing island of K'gari (Fraser Island). The island eventually settled into its current size, which is around 120km long and 25km wide. One of the most interesting facts about K'gari is its ability to sustain life. Sand is known for its lack of nutrients compared to regular soil, so how do plants and animals thrive on K'gari?
The first plants on K'gari would find nutrients in beach sand by stripping away the mineral-rich coating. That is why so much sand on K'gari is white and fine, because the golden outer layer has been stripped away! Rain would also leave trace minerals from the atmosphere in the sand, and plants could use those minerals to grow.
Over time, as plants completed their life cycle, the dead plant matter would decompose on the ground, creating fresh nutrients for new plants. Fungi played a huge role in this as well. As animals began to thrive on the island, decaying matter from dead animals and plants together helped promote new life and create the incredible biodiversity that exists on K'gari to this day!
---
Sand Dunes And Sand Blows On K'gari
Despite having a relatively small surface area, K'gari is very diverse and its sand dunes take numerous different shapes and forms. Some sand dunes have turned into woodlands and rainforests. These are the oldest sand dunes in the center of the island. They are the most stable and compact, hence why they can hold entire forests.
Some sand dunes have also created perched lakes, where debris hardens at the bottom of a sand pit and fills with rainwater to form a freshwater lake. Lake McKenzie is the most famous of the perched lakes on K'gari. The sand dunes around the coasts of K'gari are newer, fresher sand dunes. They are still susceptible to movement from the wind, and coastal grasses and shrubs make up the majority of the plant life here.
Other parts of K'gari are made up of sandblows. Sandblows occur when strong onshore winds shift large amounts of sand, covering up vegetation in the process. One of K'gari's most well-known sand blows is Hammerstone Sand Blow, right next to Lake Wabby. This is the deepest perched lake on K'gari, and because it is right next to a sandblow that is susceptible to movement, the lake may disappear over time!
---
K'gari: A World Heritage Site
In 1992, K'gari (Fraser Island) became a UNESCO World Heritage Site, largely due to its ancient and impressive sand dunes. The sand dunes on K'gari not only make up the largest sand island in the world, but they are also part of the longest and most complete dune system in the world. Not only that, they are some of the oldest dunes in the world, making them a mindblowing area of natural beauty for scientists and historians to study.
The sand dunes on K'gari have created and sustained so much life for thousands of years, and this diverse and resilient ecosystem is a true natural wonder. Thanks to its mesmerizing perched lakes, its lush forests, and its unique, ancient sand dunes, K'gari is one of the most amazing places to see in Australia!
---
Check out our top-rated tours to K'gari so you can plan your visit to the world's largest sand island!
Call us at +61 7 4128 4479 or live chat with us online if you need help planning your trip!