Lake Wabby On K'gari (Fraser Island)
Lake Wabby is one of the top attractions on K'gari (Fraser Island). What makes Lake Wabby so special? This fascinating area combines two of K'gari's most treasured natural features: ancient sand dunes and barrage (or barrier) lakes. When bodies of water combine with the shifting sands of K'gari, beautiful places like Lake Wabby are formed!
Whether you're visiting K'gari on a guided tour, or you're doing your own 4WD adventure, a visit to Lake Wabby is a guaranteed hit. Let's discuss some of the fun facts about the magnificent Lake Wabby!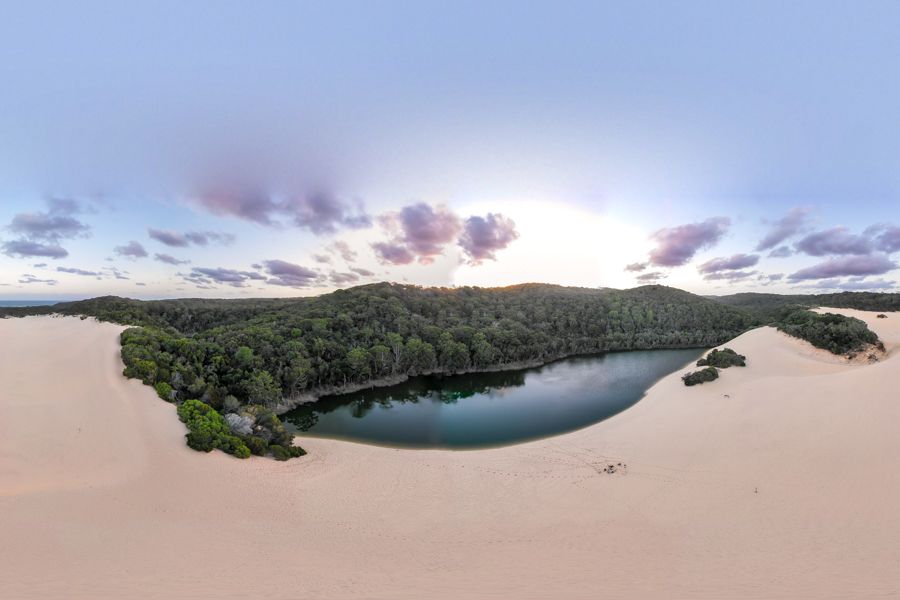 ---
Lake Wabby On K'gari (Fraser Island)
Lake Wabby is one of K'gari's most impressive lakes. It is the deepest lake on the island, measuring at 11.4 metres deep at its lowest point. Famous for its half-moon shape and rich green color, Lake Wabby is one of the most interesting natural sights on K'gari (Fraser Island).
K'gari is home to three types of freshwater lakes: window lakes, barrage lakes, and perched lakes such as Lake McKenzie and Lake Birrabeen. Lake Wabby is a barrage lake, which is formed when sand dunes shift over time and block a body of water from reaching the ocean. Migrating sand dunes on K'gari blocked a coastal creek from moving, and thus Lake Wabby was formed.
---
Hammerstone Sand Blow
The Hammerstone Sand Blow is the massive collection of sand dunes that are situated right next to Lake Wabby. These dunes have shifted over time and helped create the beautiful Lake Wabby, and you have to walk across the golden sands to reach the lake. You'll feel like you're trekking across the desert as you stroll over the rippling layers of golden dunes. It's a truly surreal scene!
Though the massive Lake Wabby is the deepest lake on K'gari right now, the Hammerstone Sand Blow continues to move west over time. That means the dunes will eventually swallow the lake whole and Lake Wabby will cease to exist. So if you need the motivation to book your trip to K'gari and swim in Lake Wabby while it still exists, there it is!
---
Can You Swim In Lake Wabby?
Yes! Lake Wabby is one of the best places for swimming on K'gari (Fraser Island). The heavenly freshwater is calm and surrounded by the dense, ancient rainforests of K'gari. You can float around in this massive lake while gazing up at towering sand dunes on one side and rich green forests on the other. It's a beautiful place for a swim!
Unlike most of K'gari's other lakes, Lake Wabby is home to several species of fish, turtles, and birds. Lake Wabby has an ideal PH for life to flourish, whereas K'gari's other lakes tend to be too acidic for life. Because the lake is so deep, you can dive in without hitting the bottom. You have to walk down the steep sand dunes to get to the lake, but the sand is soft so your feet will sink right in! And despite the emerald green color, the water is very clear and refreshing when you get in.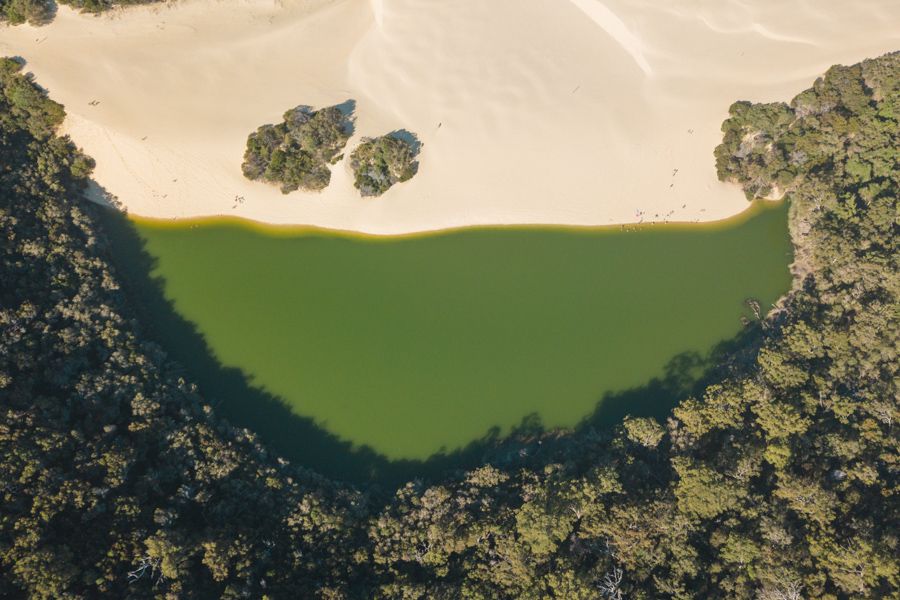 ---
How To Get To Lake Wabby
You can access Lake Wabby via a walking track that winds through the bush. Like everywhere on K'gari, you can only access the lake with a 4WD. Drive along 75 Mile Beach, also known as the Eastern Beach Scenic Drive, and park your car off to the side near the signs for the Lake Wabby Walk. It's about 4.1km north of Eurong Resort.
The walk is relatively easy and takes about 20-40 minutes one way depending on your speed and fitness level. The trail winds gently through the forest and isn't too steep. You can hike the trail barefoot if you wish since the tracks are sandy, but most people opt for sandals or even sneakers. You'll know you've arrived when the forest opens up and you're facing a huge field of rippling sand dunes!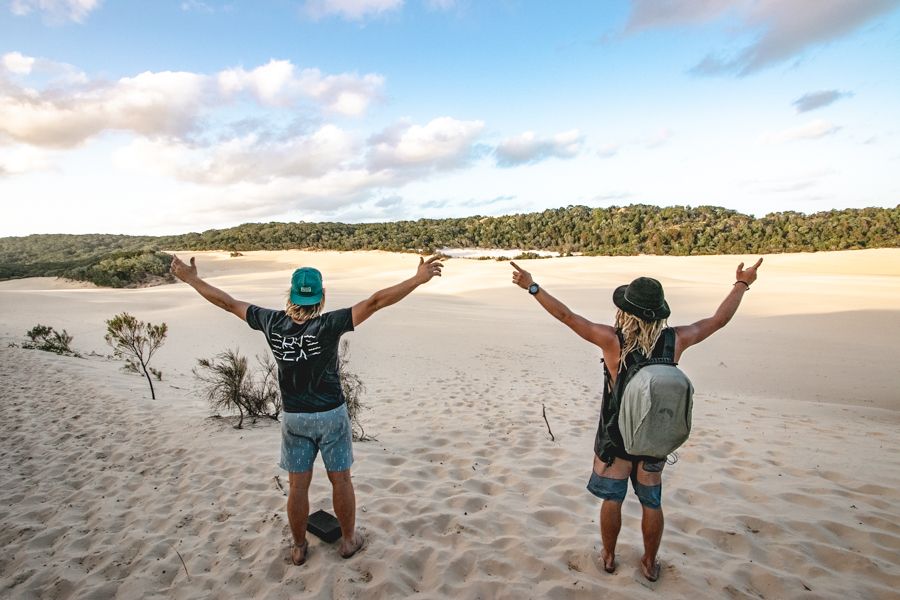 ---
What Tours Visit Lake Wabby?
Lake Wabby is included in many 2 and 3 day K'gari itineraries. Day trips to K'gari generally don't visit Lake Wabby because there isn't enough time. But there are quite a few 2 day tours that visit this fascinating lake, and almost all of the 3 day tours will visit Lake Wabby! There is a combination of tag along tours, camping tours, and guided resort tours to choose from!
2 Day K'gari Tours That Visit Lake Wabby:
3 Day K'gari Tours That Visit Lake Wabby:
---