Tag Along and Guided Tours, What Are They?
Updated Wed 22 Feb 2023
If you're planning a trip to K'gari (Fraser Island), you may have noticed that tag along tours and guided tours are the two most popular options. Of course, there is also the option to drive yourself on K'gari! If you have your own 4WD or you want to hire a 4WD, you can easily embark on a self drive itinerary of the world's largest sand island!
But tours are attractive for a number of reasons. They're more affordable for solo travelers, they're social, and they take a lot of the planning and preparation off your shoulders. You don't need to worry about food, accommodation, national park fees and permits, barge transfers, directions, fuel, and planning your itinerary on a guided tour!
---
Guided Tours vs. Tag Along Tours On K'gari (Fraser Island)
There are two main types of tours on K'gari (Fraser Island): Guided tours and tag along tours. If you've decided to book a tour rather than explore K'gari on your own, you may be wondering which option is better! There are lots of reputable local tour companies that offer both, so let's dive into the different options and help you decide which one is best for you.
---
Guided Tours On K'gari (Fraser Island)
Guided tours on K'gari are exactly what you'd expect! You'll have an experienced local tour guide who also serves as the driver. The usual mode of transport for guided tours on K'gari (Fraser Island) are specialised four-wheel-drive coaches which are able to traverse the rugged and sandy terrain of the island.
The spacious coach can usually hold around 20 people, depending on the tour. This is a great option if you want a hassle-free day, as you won't have to handle your own vehicle and can just enjoy the scenery. This is also a great option for those travelling in a larger group who would like to stay in the same vehicle for the duration of their tour.
The types of 4WD vehicles used on these tours are also higher off the ground than a regular 4WD, giving them a great vantage point! A huge bonus is having your guide in the vehicle with you the entire time as you can ask questions and receive commentary along the way.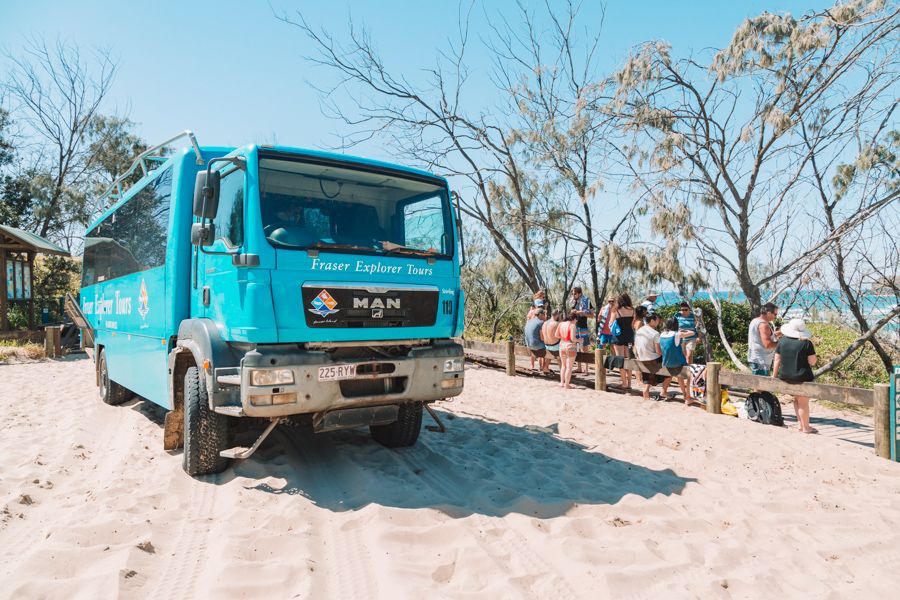 ---
Tag-Along or Self-Drive Tour On K'gari (Fraser Island)
Tag along tours offer a more interactive tour experience on K'gari! This option includes a convoy of 4WD vehicles with the opportunity for guests to drive on K'gari (Fraser Island). The convoy is led by the tour guide, who is driving the lead vehicle with a few other passengers. Other guests will follow the lead vehicle in their own provided 4WDs.
A tag along tour is a great option for those who want to experience the excitement of beach driving on K'gari! You can operate your own 4WD vehicle if you want, but you won't have to worry about directions or the vehicle hire process. You can just follow your guide around the island. If you choose to be an elected driver, you don't have to drive the whole time and you can switch with other elected drivers.
Tag along tours are a bit more adventurous than guided tours, as you have more freedom behind the wheel of your own 4WD. These vehicles are smaller, seating up to 7 passengers. So you'll have a more intimate experience rather than the large buses of a guided tour. Note that age restrictions apply for tag along tours!
---
Guided Tours vs. Tag Along Tours: Which Is Best?
Choosing between a guided tour and a tag along tour on K'gari will just depend on what you're looking for. If you have no interest in driving, and no one else in your travel group does, stick with a guided tour! Your experienced local tour guide will do an excellent job of showing you around the island and taking care of everything. You can just enjoy!
If you really want to try driving on K'gari, but you don't want to hire your own 4WD, tag along tours are awesome. You can cross 4WD beach driving off your bucket list, but you'll still have a lead driver and tour guide to ensure you are staying safe and heading to all the best locations.
---
Need help booking your tag-along tour or guided tour? Chat with our travel experts online to have all your questions answered!