Age Restrictions for K'gari (Fraser Island) - 4WD Hire & Tag-Along Tours
Updated Wed 31 May 2023
Driving on K'gari (Fraser Island), the world's largest sand island is an adventure sought by many. Navigating the rugged landscape can be both a challenging and rewarding experience!
Those visiting K'gari (Fraser Island) can expect a stunning ride along the 75 Mile Beach sand highway and through the sandy inland tracks surrounded by rainforests. Filled with unique wildlife, excellent fishing, dramatic coastal scenery, and extraordinary natural attractions such as Lake McKenzie and Eli Creek, an adventure on K'gari is one you'll never forget!
---
How To Explore K'gari (Fraser Island)
If this sounds like your type of adventure, there are three ways you can experience driving on K'gari (Fraser Island). You can join a tag-along tour, hire a 4WD for your trip, or take your own 4WD over to K'gari on a barge. All three options require drivers to have a valid drivers licence (Australian or International) and to follow all the road rules the same as you would on mainland Australia. Just because you are driving on the beach doesn't mean it's ok to forget your seatbelt and the speed limit!
There are no further restrictions for those bringing their own 4WD to K'gari, but you do have to make sure you get all necessary permits before you begin your trip! However, if you wish to drive on a tag-along tour or hire a 4WD for your journey, there are some additional age restrictions you need to be aware of.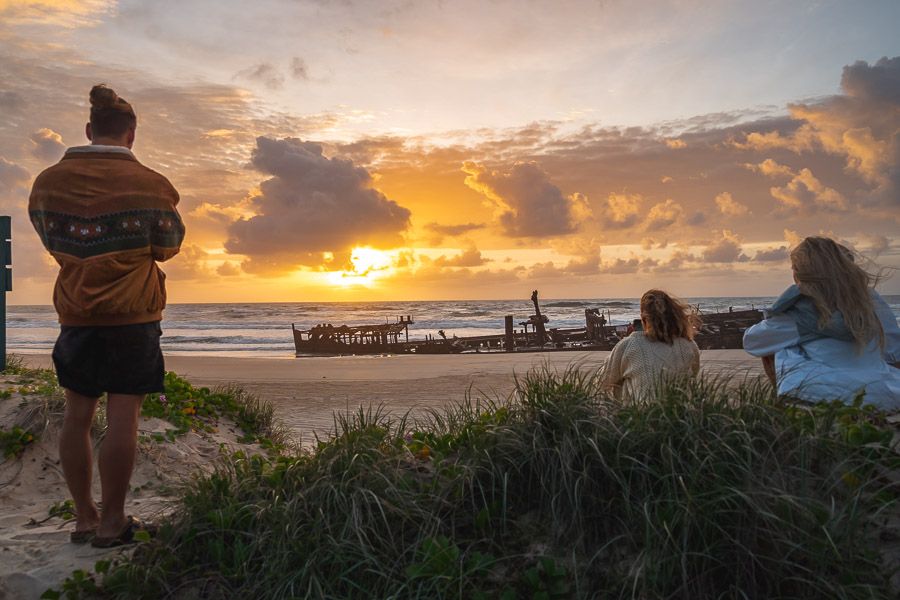 ---
K'gari (Fraser Island) Tag-Along Tours
Minimum driver age: 21 for all tours
Tag-along tours to K'gari (Fraser Island) consist of a convoy of 4WDs with a guide in the lead vehicle. The tour guide leads you to all the top sights on the island by day, and everyone can stay overnight in a camp under the stars or in a resort. Each 4WD fits up to 8 passengers who can choose to take turns driving (no 4WD experience needed). Or you can always sit back and relax as a passenger!
Those who wish to drive on a tag-along tour must be over 21 years of age, and you have to bring your license with you for the tour. There is often a safety briefing for each tour that starts earlier than the usual check-in time, and drivers must attend these briefings. There is no age restriction to be a passenger.
---
K'gari (Fraser Island) 4WD Hire
Minimum driver age: 21
Fraser Dingo offers multiday and single-day hire. To hire a 4WD from Fraser Dingo the hirer must be 23 years or older and all drivers of the vehicle must be over 21 years of age, hold a current driver's license, and have had that license for more than two years.
If the entire group is under 23, you will not be able to hire a vehicle. At least one person must be 23 or older! Make sure you read the terms and conditions fully, as a vehicle bond payment is mandatory and there is a 150km driving limit on day hires.
---
Minimum driver age: 21
Aussie Trax offers single-day hire as well as 2-day and 3-day packages with accommodation.
To hire a 4WD through Aussie Trax you must be at least 21 years old with a current driver's license (international is fine). All drivers of the vehicle will also need to be over 21 and hold a current driver's license. A standard credit card bond is required for all bookings regardless of the age of the hirer/driver(s).
Note: Nearly all Aussie Trax 4WDs are manual transmission and you will need a manual driver's license to be able to drive them. However, there are a limited number of automatic 4WDs available so if you need one, make sure you pre-request an automatic vehicle when booking.
Please read all Aussie Trax Hire terms and conditions here.
---
Ready to book your perfect K'gari driving adventure? Chat with our local experts by clicking the chatbox, or call +61 74914 2425 for more information on 4wd hire and tag-along tours!