Taking your own 4WD to Fraser Island: What you Need to Know
Should I take my own 4WD to Fraser Island?
You want to have an unforgettable experience on Fraser Island, but not for the wrong reasons! Here are some things to consider before taking your own vehicle over to Fraser Island.
---
Only 4WDs are Permitted on the Island
Fraser Island is well known for its amazing sand highway, 75 mile beach, as well as it's soft inland sand tracks. Since there are no paved roads outside of Kingfisher and Eurong Resort, only 4WDs are permitted on the rest of the island. AWD is permitted only at Kingfisher Resort on the western side of the island (accessible ex. Hervey Bay) but not out of the property, so unless you plan on leaving your car at the resort then joining a tour, you won't get far with this vehicle type. 2WDs are not permitted. Even 4X4s that aren't equipped properly or high enough off the ground (like Toyota Rav 4s) aren't recommended by locals. Smaller 4WDs with poor ground clearance are also discouraged.
---
Driving Hazards
Since Fraser Island is a naturally wild landscape, there are plenty of hazards you may encounter, so you want to ensure you're prepared if you're taking your own vehicle. Some obstacles include potholes, large patches of soft sand, deep washouts, and high and low tides. In general, its good practice to try to avoid driving two hours either side of high tide, and even longer if possible as tidal activity and onshore winds can affect some areas more than others. It is always advisable to avoid driving at night, as wildlife such as dingoes can be difficult to spot until it's too late. Also, hazards can be harder to spot at nighttime, and you wouldn't want to get bogged in the sand after the sun goes down! For more information on safe driving tips for Fraser, click here.
---
Insurance
Getting the appropriate insurance coverage before driving your own vehicle to Fraser Island is essential. As we've seen too often, visitors driving their own vehicle have run into trouble with the challenging driving conditions, and unfortunately have not had adequate coverage, costing them thousands out of pocket. Be sure to check your policy, as your insurance company may not even cover you should anything happen. Ask about specific requirements, as this is largely a grey area in most policies. Make sure you fully comprehend the terms and conditions, such as only driving on gazetted roads and what is covered with beach driving. Companies have even been known to be reluctant to offer guidelines for coverage in writing, as every claim is judged on the specific circumstances. Your best bet would be to look for a dedicated 4WD insurance company-Their premiums can be much higher, but it's better to have peace of mind when driving over to Fraser Island. If you're only planning on visiting for a few days and don't want to increase your policy, 4WD hire companies like Fraser Dingo have extensive insurance policies specific to Fraser Island's conditions, and therefore it can end up costing you a lot less to leave your vehicle at home and hire one for your visit to Fraser Island.
---
Proper Equipment
Making sure you're fully equipped and prepared for any emergencies is crucial if you're driving your own vehicle on the island. As lowering your tyre pressure is paramount, make sure you have a tyre pressure gauge. Other items such as a recovery kit for getting your vehicle unbogged, jumper cables, and towing equipment are also important to have. Bringing a radio for use in between vehicles is also a good idea, as mobile coverage is limited on the island.
---
Towing Options
If you're travelling alone and find yourself in a sticky situation, a towing company may have to assist if you get stuck in soft dry or wet sand. Towing companies have to take the barge over, so there could also be long delays while you wait for assistance, in some cases overnight. Tow trucks are hopefully a last resort, as they are extremely expensive to use should you get bogged!
---
Bring a Buddy
If you're travelling to Fraser Island in your own vehicle it's highly recommended you travel with another 4WD vehicle, should one of you get stuck. Since there are no mechanics on Fraser Island, and tow trucks can be hours away at the very minimum, you'll be happy for some back up from your mate! Locals and tour guides are always happy to help, however, you shouldn't rely on this. Depending on the time of day, tour buses, service vehicles and tag-along tours may have finished exploring, so if you had the idea to have lake McKenzie all to yourself at sunset, there may not be anyone to come by and offer a hand should you get stuck!
---
Normal Road Rules Apply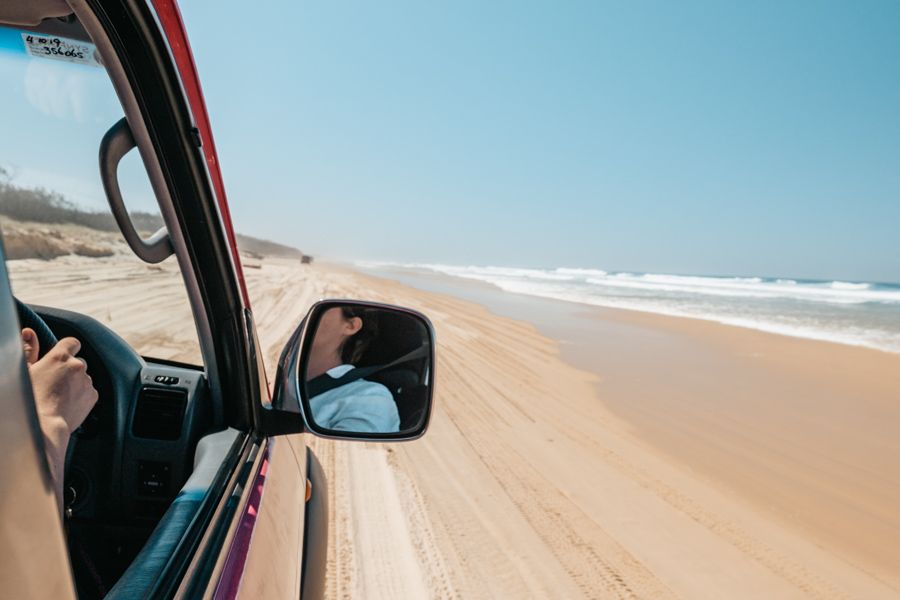 Police patrol Fraser Island, and speed and alcohol and drug testing regularly take place to ensure the safety of all visitors to the island. If you're planning on having a few brewskies during your stay, you'll want to make sure you're parked up for the night. Seat belts and appropriate child car seats are also required as on the mainland, so buckle up!
---
Permits and Barge Tickets
You're responsible for your own permits and barge tickets if you are driving to Fraser Island. Police and national parks regularly check and the fines for not having the appropriate permits can be hefty, so you definitely don't want to get caught out. Many 4WD hire companies include your permits in the cost, so you don't have to stress about getting the right one!
---
Hire and Tour Options are your Safest Bet
Hiring a 4WD or joining a tag-along tour will take the hassle out of your trip, as their vehicles are designed and modified specifically for the Fraser Island terrain. If it is your first time to the island, you'll have peace of mind that the locals that run the tag-along tours have been doing so for decades, and come with all the equipment you may need should you run into trouble. The hire options also come fully equipped, and their extensive briefing will leave you feeling confident about avoiding hazards while you traverse the island solo. Being covered by their insurance policies and having all your permits included will also take the extra burden off, so you can enjoy your Fraser Island adventure. So why not leave the car at home and ask us how we can help you pick the perfect hire or tag-along option for you?
---
Ready to start planning your ultimate Fraser Island experience? Chat to our friendly Fraser experts or call +61 74914 2425 to find out our latest deals!