3 Day K'gari (Fraser Island) Self Drive Itinerary
Ready for the ultimate 3 day K'gari (Fraser Island) self drive itinerary? Driving around K'gari in a 4WD is an iconic Australian travel experience for backpackers and Aussie locals alike! If you're planning on completing an epic road trip around the largest sand island in the world, you may be wondering what is the best way to plan your trip. Where are the best places to stop? Where should you stay? What vehicle restrictions are there for K'gari? This article will answer all of your questions and more!
---
Is Driving On K'gari (Fraser Island) Difficult?

Driving on K'gari is relatively difficult, but you should be fine if you have a good 4WD! Unfortunately, you cannot drive regular cars on the island. All the roads are sand or dirt track and they are simply not doable with a standard car. Even in a 4WD, the sands may shift or move so always drive with caution!
But if you're a confident driver, you can do a K'gari self drive itinerary with ease. Just drive slowly, obey the road rules, look out for wildlife, get a vehicle permit, and have fun! You can hire a 4WD for K'gari if you don't already have one.
---
3 Day K'gari (Fraser Island) Self Drive Itinerary

This 3 Day K'gari (Fraser Island) self drive itinerary will serve as a general outline of all the highlights you should cover! Keep in mind, this itinerary may vary depending on a number of factors. First is where you arrive on the ferry to K'gari.
If you're coming from Hervey Bay, you'll most likely arrive near Wanggolba Creek on the western side of the island. If you're coming from Rainbow Beach or Noosa, you'll depart from Inskip Point and arrive on the south of the island. Our 3 Day K'gari (Fraser Island) self drive itinerary will begin in the south of the island and move north, so just adjust the start of your itinerary accordingly based on where you arrive.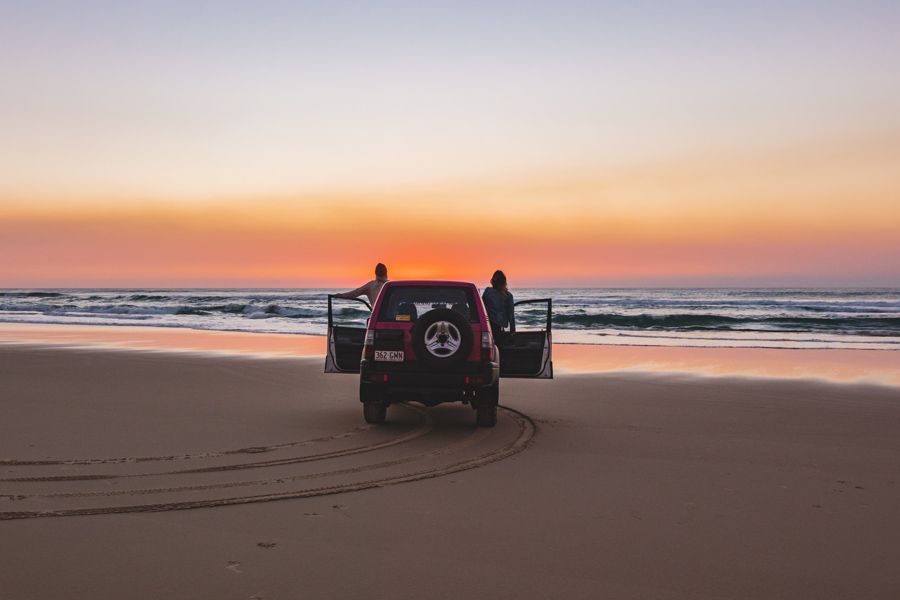 ---
K'gari (Fraser Island) Accommodation
You'll also need to work out where to stay on K'gari! The best option is definitely camping, as this is the best way to immerse yourself in the rich natural beauty of the World Heritage-listed island. There are 45 camping areas on K'gari to choose from! Just make sure you get camping permits before your trip.
There are also a few resorts scattered around the island as well. So work out where you'd like to stay and fit them into your 3 Day K'gari (Fraser Island) self drive itinerary accordingly.
---
3 Day K'gari (Fraser Island) Self Drive Itinerary

Now let's get into the itinerary! As mentioned earlier, this itinerary will start in the southern half of the island and move north. This makes the most sense based on geography, though K'gari is quite small so you can easily drive back and forth between different areas if you want to mix up the stops!

---
Day 1
Begin your 3 Day K'gari (Fraser Island) self drive itinerary by exploring the southern half of the island! Drive along the southern end of the famous "Sand Highway", also known as 75 Mile Beach. Turn onto the various sandy roads that criss-cross the center of the island to access the following attractions!
Lake Boomanjin
Lake Boomanjin is one of the many fascinating perched lakes on K'gari. Perched lakes are formed entirely by rainwater, which is then filtered clean through the sand particles! These types of lakes are incredibly clean and pure, and they don't connect to the ocean via streams or creeks.
Known for its reddish hue, Lake Boomanjin is a great place for a swim. The water is tinted red due to the runoff from the surrounding tea trees, giving it the nickname "tea tree lake".
Lake Birrabeen
Lake Birrabeen is another nearby perched lake that is an excellent place to relax, sunbathe, and swim in the fresh waters. This lake is relatively uncrowded, so it's a nice, peaceful place to stop on your 3 Day K'gari (Fraser Island) self drive itinerary.
Central Station
Just a 20-minute drive away from Lake Birrabeen is Central Station. This is one of the top places to stop while driving around K'gari! Located deep in the dense rainforest, Central Station used to be the heart and soul of the logging industry on the island.
Though logging is no longer allowed on K'gari, Central Station has some excellent walking trails as well as a picnic area. Stop here for a bit, stroll through the rainforest, have lunch, check out the information centre, and admire the serenity of the wilderness.
Lake McKenzie
End day 1 of your 3 Day K'gari (Fraser Island) self drive itinerary with a visit to Lake McKenzie! This is arguably the most famous attraction on K'gari, and it is definitely one of the most beautiful lakes in Australia! With incredibly soft, white sand that feels like velvet, and crystal clear waters, Lake McKenzie is like heaven on earth.
Spend ample time on Lake McKenzie strolling on the beaches, floating in the pristine water, and admiring the stunning views. Once you're ready to settle in for the night, head to your camping location or accommodation of choice and get a good night's sleep to prepare for another amazing day on K'gari!
---
Day 2
Day 2 of your 3 Day K'gari (Fraser Island) self drive itinerary takes you further up the coast along 75 Mile Beach and over to some more hotspots!
Lake Wabby
Start your day with a visit to Lake Wabby! This stunning freshwater lake is one of the more unique bodies of water on K'gari. Situated next to the Hammerstone sand blow, this half-moon-shaped lake is surrounded by layers of golden sand dunes. You can't drive right up to the lake because it's in such a unique spot, so be prepared to walk for about 30-45 minutes.
Lake Wabby is the deepest lake on K'gari! So save some time to swim and sightsee before walking back to your 4WD and continuing on your 3 Day K'gari (Fraser Island) self drive itinerary.
75 Mile Beach
After visiting Lake Wabby, drive to 75 Mile Beach and cruise north. Be sure to appreciate that you are driving on a literal sand highway! Also, make sure you obey all the rules of the road, and of course, snap some photos of those scenic coastal views. Keep driving north until you reach Eli Creek.
Eli Creek
Eli Creek is another one of the top K'gari attractions. This freshwater creek travels through the sand dunes and the rainforest until it empties into the ocean on the eastern side of the island. The water here is so clean and pure that you can drink it!
There is a picnic area next to the creek, as well as toilets and a nice boardwalk. Go for a swim, fill up your water bottles, and enjoy your time at this beautiful spot.
SS Maheno Shipwreck
Just a few kilometers north of Eli Creek lies the SS Maheno Shipwreck. This famous shipwreck from the early 1900s makes for some interesting photo opportunities! It's also a great place to watch the sunset or sunrise. There is a beach camping spot right next to the Maheno Shipwreck as well, so if you're camping you can just chill here until dark.
---
Day 3
On the last day of your 3 Day K'gari (Fraser Island) self drive itinerary, journey upwards and explore the highlights of the northern side of K'gari.
Pinnacles
Just north of Maheno Shipwreck is the Pinnacles, a unique collection of natural sand formations. The different layers and colors of hardened sand are quite incredible! This isn't one of the major K'gari attractions, but it's on the way to your next destination so it's worth a stop!
Lake Allom
Wildlife lovers have to visit Lake Allom! This beautiful lake is nicknamed "turtle lake" because it is home to a healthy population of freshwater turtles. There are some awesome viewing platforms as well for spotting turtles and other local wildlife.
Indian Head Lookout
From Lake Allom, head back to the coast and drive straight up the Sand Highway for about 1.5 hours. You'll find yourself at Indian Head Lookout, one of the most scenic locations on the north coast of K'gari! Indian Head is also the most easterly point on the island. Check out the panoramic views of the surrounding beaches and sand dunes!
If you're visiting K'gari between July and November, you may also be able to spot some whales at Indian Head Lookout! Even outside those months, keep an eye out for the dolphins, sharks, and sea turtles that roam the seas near K'gari.
Champagne Pools
The next stop is Champagne Pools, one of the coolest places to swim on K'gari! This natural rock pool is one of the only safe places to swim in the ocean on the island. K'gari's oceans have strong currents and potentially dangerous wildlife, so it's not safe to swim off the beaches. But the Champagne Pools have a natural rock barrier that stops the swell of the ocean, so it's a beautiful place to swim!
Keep in mind, huge swells or even the occasional rogue wave can rock the waters of the pool quite heavily. So always be cautious when swimming at the Champagne Pools, and try to visit at low tide. After swimming here, leave enough time to drive back to the ferry terminal, or camp overnight at the nearby Waddy Point and leave in the morning!
---
3 Day K'gari (Fraser Island) Tours

To save yourself a lot of planning, book a 3 day K'gari tour! A guided tour takes you to all of the cool locations listed, plus organizes your ferries and accommodation for you. You can book camping tours if you want to experience the K'gari campsites. Or you can book tag-along tours so you can do some driving yourself!
A self-drive itinerary allows you to set your own schedule, but a guided tour allows you just sit back and have fun without trying to plan everything. However you choose to explore K'gari is up to you!
Try your hand at driving on K'gari with one of these epic tag along tours!
---
Chat with us online or call us at +61 7 4128 4479 if you have any questions!