Differences in arrival points on Fraser Island
Fraser Island has 3 landing points: two which depart from River Heads and land at the Kingfisher Bay Ramp and the Fraser Venture Ramp and a third that departs from Inskip Point outside of Rainbow Beach and lands on the southern tip of the island at Hook Point.
---
Kingfisher Bay Ramp
The Kingfisher Bay passenger ferry departs from River Heads which is 20 minutes south of Hervey Bay. It lands on the western side of the island at Kingfisher Bay Resort and takes about 50 minutes in total. The resort itself is accessible by 2WD, but the rest of the island requires 4WD to get around. This means you can take your own vehicle to the resort only if you plan to rent a vehicle or join a tour from there.
The resort offers many 4WD tours and guided walks around the island, accommodating all types of travellers. The resort itself has villas, private rooms, a wilderness lodge and houses available for rent as well as bars, restaurants, pubs, tennis courts, water sports activities, massage and beauty center, a general shop, a bottle shop, and a petrol station! This is the best place to land on Fraser Island if you intend to stay for several days in hopes of enjoying the finer things in life on the island! The resort is completely fenced in to make it dingo safe, meaning you can freely walk around the entire resort.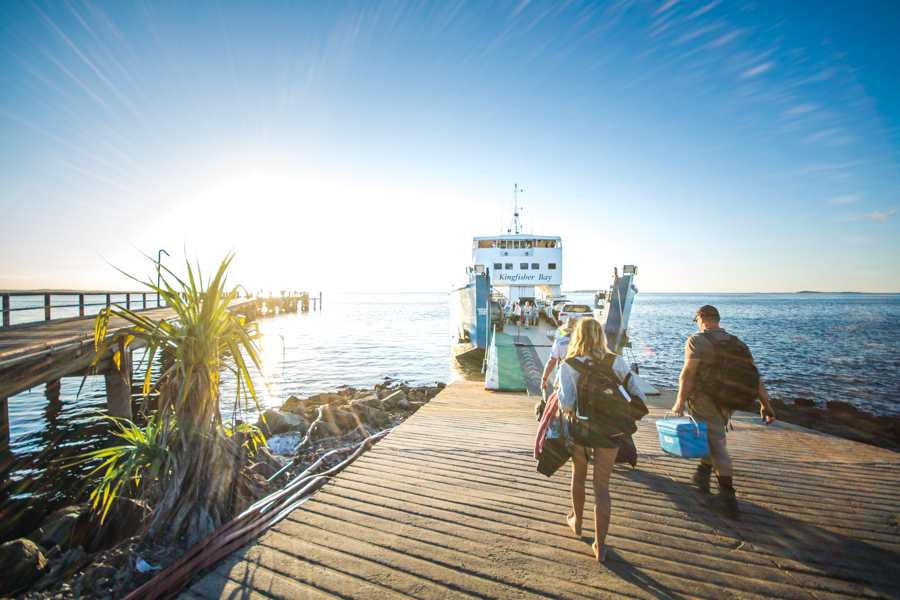 Departure times from River Heads daily at:
6:45am, 9:00am, 12:30pm, 3:30pm and 6:45pm
Departure times from Kingfisher Bay Resort at:
7:50 am, 10:30am, 2:00pm, 5:00pm and 8:30pm
*Please note all departure times are subject to the tides and may change at any time
---
Fraser Venture Boat Ramp
The Fraser Venture Boat Ramp also departs from River Heads but instead lands at Wanggoolba Creek (also on the western side of the island) and takes about 30 minutes. It lands directly opposite Eurong Beach Resort, another resort on Fraser Island, which is found on the eastern beach. To take this ferry, passengers must be in a 4WD vehicle, as you cannot drive on the island with a 2WD vehicle. This is the best landing point if you are on a self-drive tour of the island and plan to stay at Eurong Beach Resort. The resort has a general store and bottle shop, as well as a coffee shop, bakery, and restaurant, providing everything you need to stock up before a Fraser Island adventure! There are several room types available to suit all budget types, from backpacker dorms to modern self-contained apartments.
Departure times from River Heads daily at:
8:30 am, 10:15 am and 4:00 pm
Departure times from Wanggoolba Creek daily at:
9:00 am, 3:00 pm and 5:00 pm
*Please note all departure times are subject to the tides and may change at any time
---
Hook Point
You can depart from Inskip Point (outside of Rainbow Beach) to grab the barge across to Hook Point on the southern tip of the island. The journey takes about 10 minutes and will land right on the beach, where your adventure begins. As there are no resorts or shops nearby, you will have to do some driving before you see buildings again! Bookings are not necessary for this service. You can only go on this ferry in a 4WD, with both tour vehicles and personal vehicles welcome!
Departure times:
Daily from 6:00am - 5:15pm approximately every half hour
*Please note all departure times are subject to the tides and may change at any time
---
Tips
It takes about 45 minutes to cross from the western side of the island to the eastern side, which is important to keep in mind when planning your trip. The island is quite large with a sometimes challenging drive from one destination to the next.
Make sure your vehicle is in good working order (if you plan to drive your own) and check the QPWS Fraser Island condition report prior to starting your trip.
Passengers can book one way or return tickets, but return tickets are a significantly better option. Two one way tickets cost much more than a return ticket so it's best the plan your entire trip before going to the island so you can book ahead of time.