Lake McKenzie on K'gari (Fraser Island)
Updated Thu 23 Feb 2023
If you're planning a visit to K'gari (Fraser Island), chances are you want to visit Lake McKenzie. As one of the most photographed lakes in all of Australia, travelers flock to this stunning freshwater lake for many reasons. No visit to K'gari is complete without a dip in Lake McKenzie!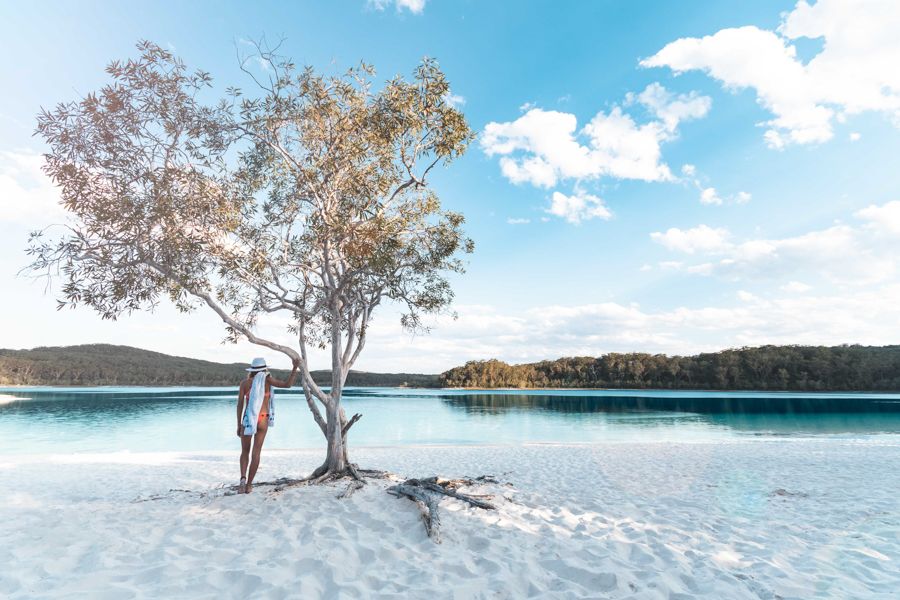 ---
Lake McKenzie, K'gari
Lake McKenzie is one of K'gari's top destinations! This popular lake is located in the middle of the island, just inland from Eurong Resort. Many day trips to K'gari will visit this pristine lake, and every overnight tour will stop here as well. Lake McKenzie also has vehicle access, so it's easy to get to even if you're not on a tour and you're self-driving around K'gari.
No matter what type of tour you're on, or if you exploring K'gari without a tour, a visit to Lake McKenzie is an absolute must! Visit early in the morning to avoid the crowds, though the lake is big enough that you can usually find a secluded spot to yourself even in the middle of the day.
---
Lake McKenzie: A Perched Lake
Lake McKenzie is one of the many perched lakes on K'gari, which are true natural phenomena. Perched lakes are formed solely from rainwater. They do not connect to the ocean or any other water sources at all.
The compact sand and organic matter that cover the floor of the lake prevent water from seeping out. So the sand creates a solid bottom, containing all the water within. For this reason, the lake remains isolated and contained within itself, which helps maintain its purity and clarity.
The sand also acts as a natural filter for the water! That means the fresh water at Lake McKenzie is unbelievably clean and pure. It's an incredible place to swim, and if you have goggles or can open your eyes, you'll find the water to be crystal clear!


---
Keeping Lake McKenzie Clean
Lake McKenzie has a unique pH balance and it is important that travelers keep the waters clean. High acidity levels of the water discourage plants from taking root here. That also means that fish and other marine creatures do not flourish there. Therefore, its shores are free of weeds and perfect for swimming!
However, due to the fact that there is no water running in or out of the lake, it is highly susceptible to damage caused by tourists who enter the water. Any pollutants that are introduced to the lake (sunscreen, soaps, etc.) have no way of exiting, causing them to accumulate in the water, where they will forever stay.
For this reason, it is important that visitors take extra care when swimming in the pristine waters of Lake McKenzie. Make sure you leave nothing behind, including chemicals found in many health and beauty products. Avoid applying sunscreen, lotion, or makeup before swimming in Lake McKenzie.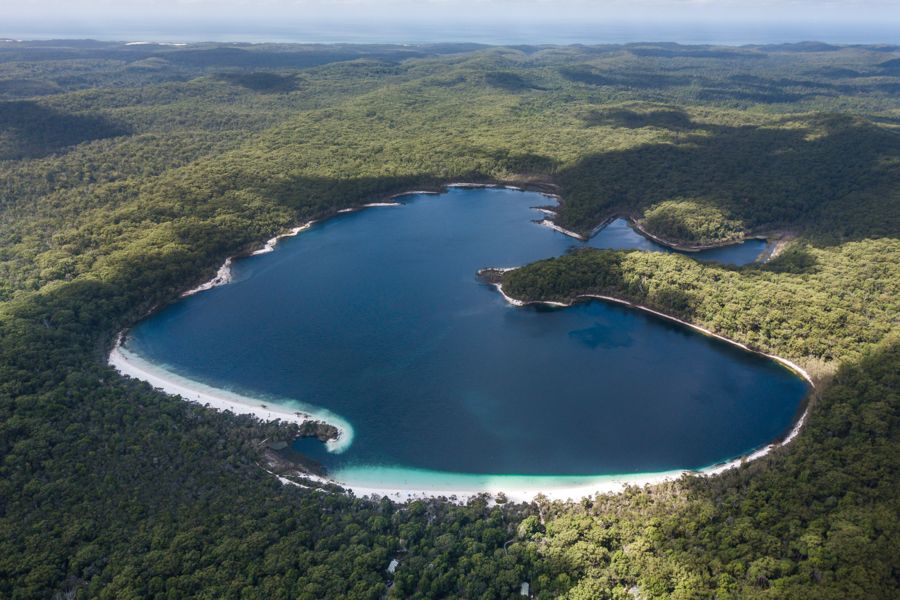 ---
Lake McKenzie's Sand
In addition to the refreshing blue water, Lake McKenzie is also known for its shockingly white sand. The shores of the lake are made up of white silica sand, which is incredibly soft and silky. The sand also acts as a natural filter, which keeps the lake crystal clear. Lake McKenzie's sand is also great for exfoliation and is extremely soft to the touch, so you'll have a blast rolling around on the lake's shores!
The stark white sand against the rich blue of the lake provides an excellent backdrop for photos as well, which is why the lake is so popular with tourists and photographers! Lake McKenzie is only 5m deep at its deepest point and spans 130 hectares. While it may not be the largest of all the lakes on K'gari, it is arguably the most beautiful.
---
Other Things To Do Near Lake McKenzie
Located in the middle of K'gari, there are lots of other attractions near Lake McKenzie. Keep in mind, you can only explore this island with a 4WD! And driving on the sandy tracks takes longer than driving on normal roads, so expect distances to take much longer than you'd expect.
Not far from Lake McKenzie is Central Station, a former logging camp that is now known for its lush rainforest. You can also head east towards the coast and visit 75 Mile Beach, also known as the Sand Highway! Try some beach driving or watch the sunset over the ocean. Lake Wabby is also not far. This is another incredible perched lake that is surrounded by towering sand dunes!
There is so much to do on K'gari, but no matter how long you are staying on the island, definitely fit in a visit to Lake McKenzie!
---
Ready to plan your visit to K'gari? Check out our top day tours and overnight tours, or chat with our travel experts online if you need help organizing your trip!