Getting To K'gari (Fraser Island) from Noosa
Updated Wed 14 Jun 2023
K'gari (Fraser Island) is a must-see when traveling along the east coast of Australia. The world's largest sand island is packed with unique natural sights and fascinating history. There are a number of places where you can base yourself for a trip to K'gari. This article will focus on Noosa, and how to get to K'gari from this charming Queensland town.
---
About Noosa, Queensland
Noosa is a picturesque seaside town located on Australia's Sunshine Coast. It's full of many beautiful beaches, shops, restaurants, and hotels and is a great place to begin your K'gari adventure! But make sure you spend at least a few days in Noosa soaking in all the natural beauty and culture before you head off.
There is a lot to see and do in Noosa, and many of the activities are centred around the beach lifestyle that the east coast of Australia is known for! Go surfing in the calm, refreshing waters, ride bikes along the beach, go skydiving, or take advantage of the main beautiful walking trails in the area.
The Noosa Everglades are just outside the city as well. A day trip to the everglades is a great way to learn about the unique flora and fauna of the area! Go canoeing, swimming, and sightseeing in this special place. Once you've explored the best of Noosa, it's time to head over to K'gari for more adventures!
Getting To K'gari (Fraser Island) From Noosa
From Noosa, you can decide to either join a guided tour of K'gari or visit with a 4WD. If you don't already have a 4WD you can hire one! It takes about an hour and a half to drive from Noosa to Inskip Point, where a barge departs for K'gari's most southern point.

If you are driving yourself, the best way to reach K'gari (Fraser Island) from Noosa is to head north to Rainbow Beach, which is about 13 kilometres away from Inskip Point. This is the best option if you are doing a self-drive tour in your own 4WD or have chosen to rent a vehicle.
As there are several crossings in a day, this gives you the flexibility to take your time while you make your way to the island. Be sure to know the ferry schedule and map out your trip ahead of time.
---
Tours From Noosa To K'gari (Fraser Island)
The other option for visiting K'gari (Fraser Island) from Noosa is to join a tag-along or guided tour of the island. There are several tours that visit K'gari (Fraser Island), many of which offer guest transfers from accommodation in Noosa. This option is best if you do not have your own vehicle and would like a guided tour with an experienced tour guide who will know all the ins and outs of the island! It's also a great way to meet new people and enjoy the experience of the island with like-minded travellers. Tours allow you to sit back and relax without having to do any of the planning!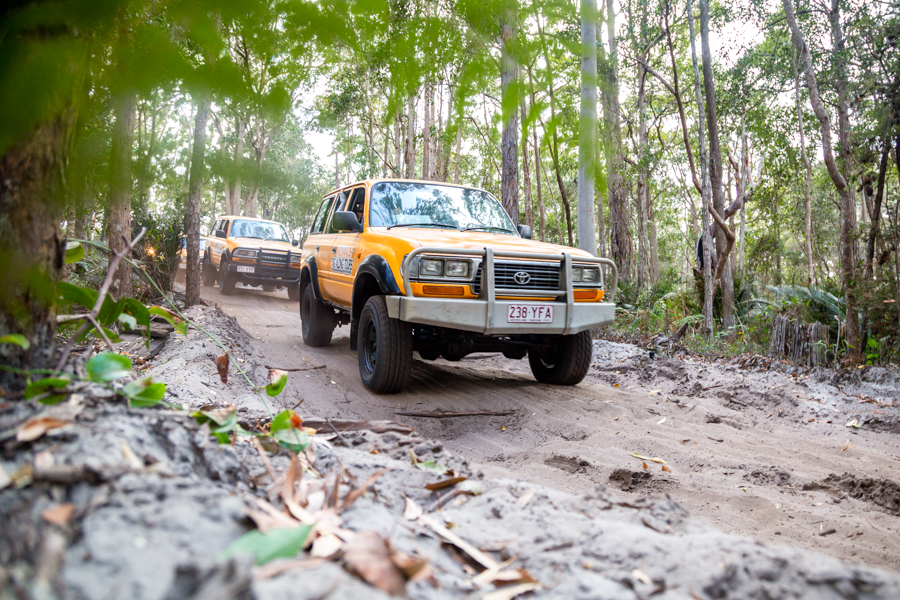 ---
Ready to start planning your perfect K'gari (Fraser Island) getaway from Noosa? Chat with our friendly travel experts live online or call +61 74914 2425 to find out our current specials!