Christmas on Fraser Island
A trip to Fraser Island is a uniquely Australian experience that every family should have at least once in their lifetime. Whether it be a 4WDing adventure, a swimming hole marathon or your very own sandboarding Olympics, there is endless summer fun to be had on Fraser Island!
December Weather
Christmas in Australia falls at the beginning of summer so you can expect some hot and sunny (and sometimes humid) days perfect for exploring Fraser Island's sparkling freshwater swimming holes, such as Lake McKenzie, or a shady rainforest retreats like Eli Creek.
Fraser Island's average daytime temperature during summer is around 29°C and the temperature dips slightly at night to an average of 22°C. It's also a good idea to bring a lightweight rain jacket to keep you dry in the summer rainfall, more common around the end of the month.
Tours and Camping
If you are looking at changing up the Christmas day routine and creating a day to remember, why not swap the heat of the oven and the stress of preparing Christmas lunch for the fresh air and pristine wilderness of Fraser Island.
A guided day tour is a fun and relaxing way to explore the island and make some great family memories. Plus, there will be someone to prepare lunch for you and the 4wd adventure buses are all fully airconditioned! Day tours leave bright and early and return in the evening so you can make the most of your time and explore all of the best places on Fraser Island.
For those looking to spend a little more time on Fraser Island, there are numerous options available for 2-3 day guided tours with all meals included and resort accommodation or you could opt to try a tag-along tour, an experience unique to Fraser Island!
Tag-along tours are made up of a convoy of 4WDs that follow a guide in the lead car. These tours give you the option of taking the wheel and navigating through the rugged terrain Fraser Island is known for, including the famous 75 Mile Beach, or sitting back and relaxing as a passenger. Tag-along tours are perfect for family holidays - swim, explore and sandboard during the day and camp under the stars with your loved ones at night (or stay in a resort if you'd prefer). Each car will hold up to 8 people and all main meals are fully catered. If you choose the camping option, just don't forget the mosquito spray!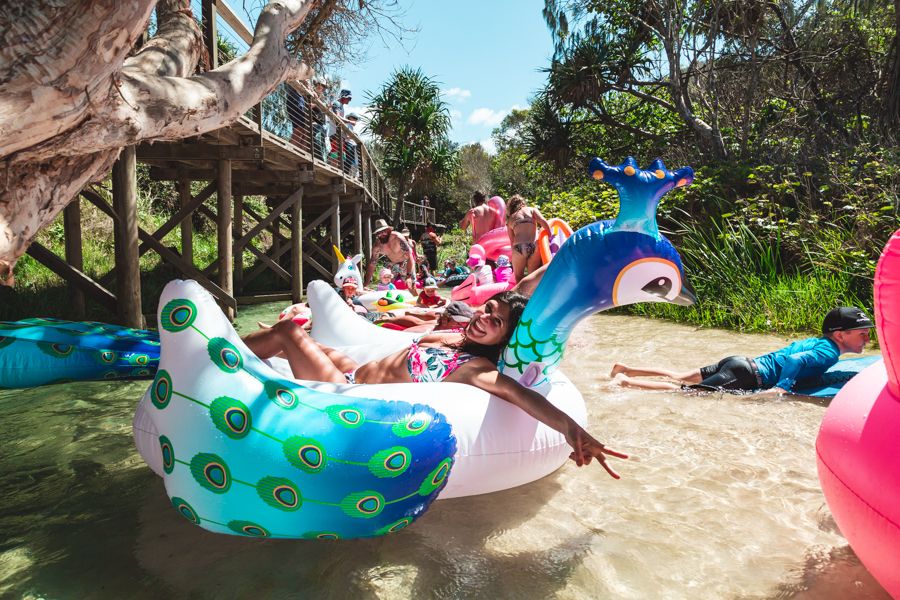 Christmas Activities
Summertime on Fraser Island is not only excellent for swimming and exploring, but it is also prime time for wildlife spotting. The warm weather attracts thousands of migratory birds and brings out reptile residents such as goannas and long lazy pythons as well as mammals including wallabies and dingoes.
There are also various Christmas Day lunches being held at resorts across Fraser Island including a festive buffet full of traditional favourites at the Kingfisher Bay Resort and Christmas Lunch on the Deck at the Satinay Bistro - a buffet at the Fraser Island Retreat featuring fresh Hervey Bay seafood such as oysters, crabs and king prawns. Book early to avoid disappointment.
The Kingfisher Bay Resort will also be hosting Christmas-themed Junior Eco Ranger activities during December to keep the little ones entertained. There is something for every family during Christmas on Fraser Island!
Ready to start planning your next Christmas holiday on Fraser Island? Chat to our friendly Fraser experts for the best deals on tours!