How to Book the Right Tour to Fraser Island
Fraser Island is located on the eastern coast of Australia. It's the world's largest sand island and it sits off the coast of Queensland near Rainbow Beach and Hervey Bay - the two major departure points to the island. It is one of the most iconic destinations in Australia and is by far one of the most unique islands in the world. It is famous for its freshwater lakes, tranquil creeks, curious dingoes and sandy highway and is visited by thousands of people every year. Luckily for you, it's easier to book than ever.
There are many tours that visit the famous island, with each a bit different from the next. But don't worry - you can easily find the right tour that's best for you with a little help from our travel experts.
We have made a list of things to consider before planning your trip so you're better equipped when choosing how you want to see Fraser Island. Rest assured, there is a tour for everyone so any type of traveller can enjoy the beauty and uniqueness of Fraser Island!
Read the information below to get a better idea of what kinds of tours are available and how you can book them and we will help you find the perfect tour!
---
Things to think about
Departure points
Fraser Island is only accessible by ferry. There are no bridges to the island so visitors must be carried across from one of two departure points: Hervey Bay or Rainbow Beach. If you aren't sure which you plan to leave from, that's okay! You can work with our agents to figure out which departure point is better for you and what's compatible with the type of tour you choose. You can also start your journey from other towns and cities including Noosa, Brisbane and the Gold Coast that will bring you to one of the two departure points to the island. For more information on the different ways to get to Fraser Island, click here.
Ask yourself: Where do you think you'll be leaving from?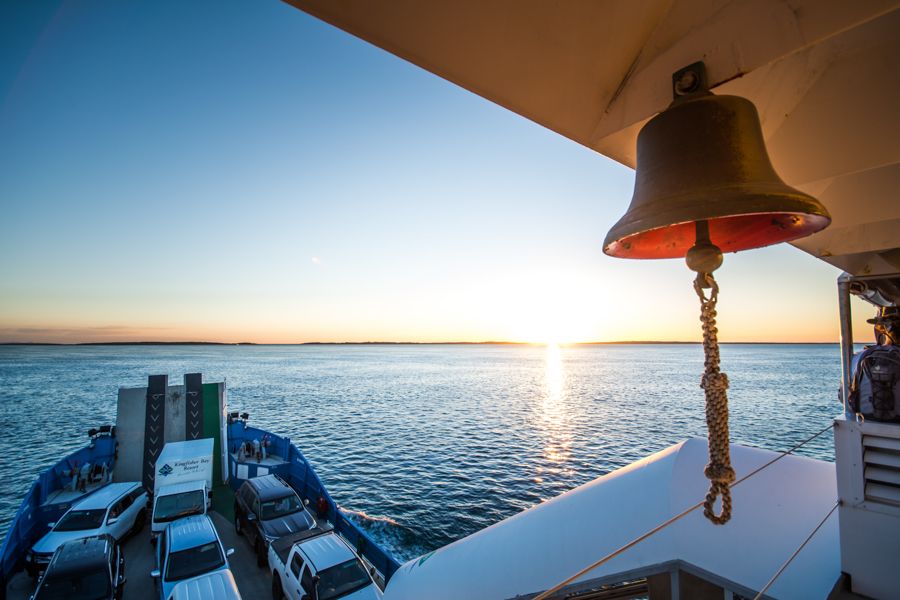 ---
Vehicle Types
There are 2 different types of vehicles that are generally driven on the island: passenger buses or 4 wheel drive passenger vehicle. Bus tours take more people per tour and require little participation on the part of the guest, as there is a driver and guide for the duration of the trip. They are often more family-friendly and can move around a bit quicker than a smaller 4 wheel drive vehicle. They are able to drive closer to the surf, meaning the tides affect them less, getting you from place to place faster. They are often air-conditioned and have panoramic windows. There are also 4 wheel drive vehicles such as Troopies or Landcruisers that take anywhere from 8 - 10 passengers per vehicle and are often tag-along style tours that offer guests the chance to drive. This is a popular type of tour for the adventurous traveller as it allows you to drive on the sand highway, which is an exciting and new experience for most. Tag-along tours follow a lead driver around the island while passengers take turns driving or sitting back and relaxing!
Visitors to the island can also opt to rent their own vehicle and conduct their own tour of the island. While this kind of travel gives you a bit more flexibility, it also comes with more responsibility and additional expenses such as bonds, fuel, food and accommodation, as well as more planning. This is a great option for those who would like an extended amount of time on the island as you can rent your own vehicle for longer than most guided tours are conducted (guided tours range from 1 - 3 days usually).
Ask yourself: Do you want to drive, or are you happy to join a fully guided tour? Do you think a bus or smaller 4 wheel drive is more suited for you?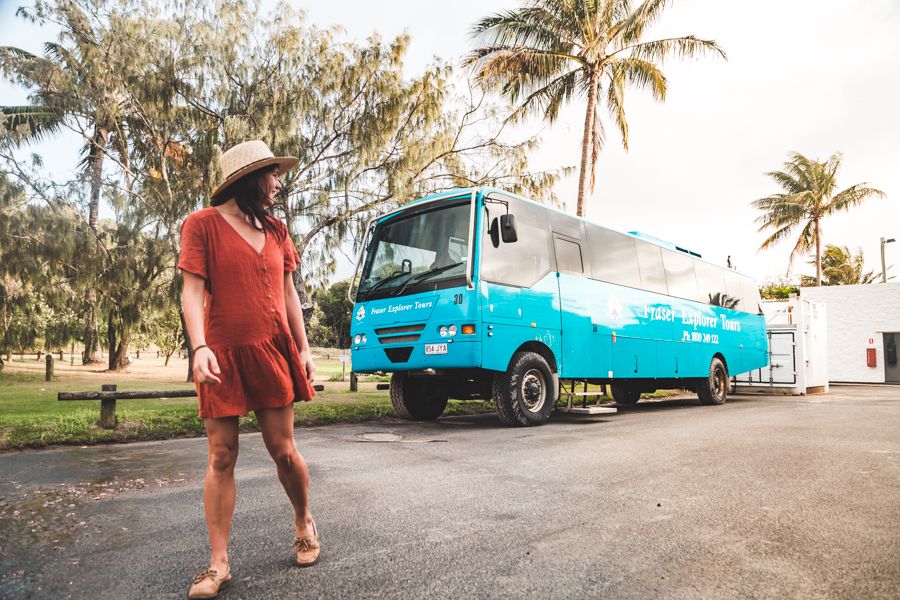 ---
Tour Types
Guests can choose from day trips or overnight trips to Fraser Island. Overnight trips give you more time at each Fraser Island destination and often visit more of its iconic locations, while day trips are great if you're short on time but still want to experience the island. Both tour types are a great choice, so which type you pick is mostly dependent on how much time you have. It's a large island with plenty to see, so we think the longer you are able to spend there, the better! Tours range from 1 day to 3 days.
If you rent or drive your own vehicle to tour the island, you can choose to stay as long or as little as you like. Those conducting their own tours will have to arrange their own accommodation on the island, whereas guided tours do this for you.
Ask yourself: How much time do you have to travel and would you like to spend the night on Fraser Island or just the day?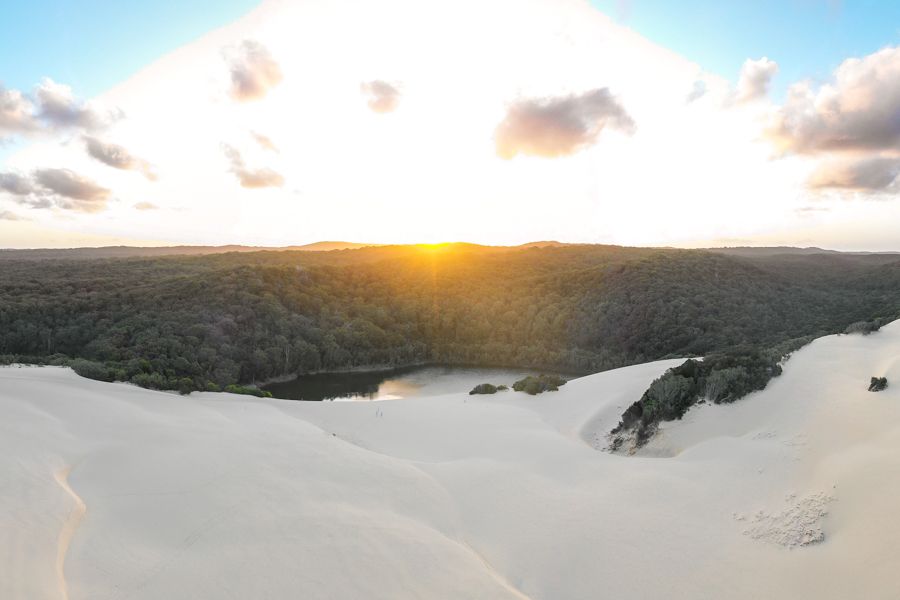 ---
Accommodation types on the island
Fraser Island tours offer an array of accommodation types that will suit any type of traveller. There are campsites and hostels for those who are you a budget (or want a more rugged experience), and resorts and glamping for those who want something a bit more comfortable. You can get anything from dorm-style rooms to shared tents to private suites and luxurious glamping tents. Accommodation type is reflected in the pricing options on tours, so this is a large consideration if you're budgeting. What type of accommodation you choose will also be dependent on who you are travelling and what kind of privacy you'd like.
Ask yourself: Do you want to camp or sleep inside?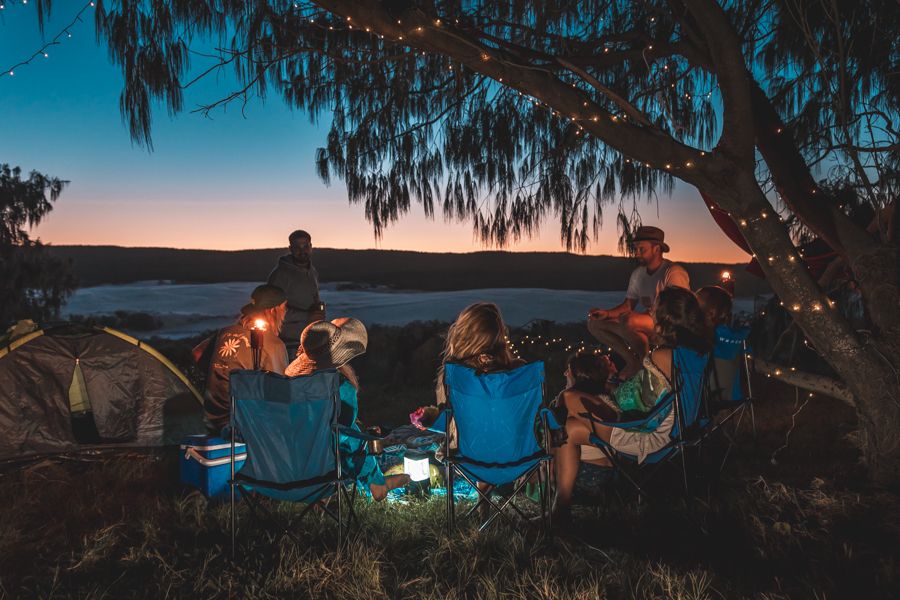 ---
Once you have read the above considerations and asked yourself the questions, you should be a bit more prepared for planning your Fraser Island trip. But don't worry if you're not sure! We are here to help you figure it out! There are so many perks to all of the Fraser Island tours that we will help you figure out and decide on.
The Booking Process
The next step is working with your agent to figure out which tour you'd like to go on. We will send you some options that will work for you and your travel dates and answer any questions you may have. Once you settle on exactly which tour you'd like - we will do the rest of the hard work!
Basic steps:
Pick a tour
We will send you a booking form with specific details of the tour
Fill out your booking form return to us (the faster you do this the better)
We book you in and send your tickets
You're ready for your Fraser Island adventure!
Please note - spots are not secured until you send back your booking form and we book you in. This whole process can also be done over the phone - so feel free to give us a call on +61 74914 2425 too!
---
Now that you're on your way, here's what you can expect to see
Fraser Island is known for many famous landmarks, unique quirks, wildlife, plant life and landforms. The places you visit will depend on exactly which tour you choose, as each has its own special itinerary and stop-offs. You can see a sample itinerary on each product page that will give you a good idea of the places you might see! We have also listed some here so you can start to envision what kind of activities you can look forward to! Compare each tour and the destinations they take you to here.
Lake McKenzie is one of the most iconic locations on the island. The huge freshwater lake is a favourite place to relax and swim where visitors can enjoy the soft silica sands. This famous location is one of the many perched lakes on the island and is made up completely of rainwater with no incoming or outgoing water sources. For this reason, it is a special and delicate ecosystem that boasts crystal clear water that is picture-perfect.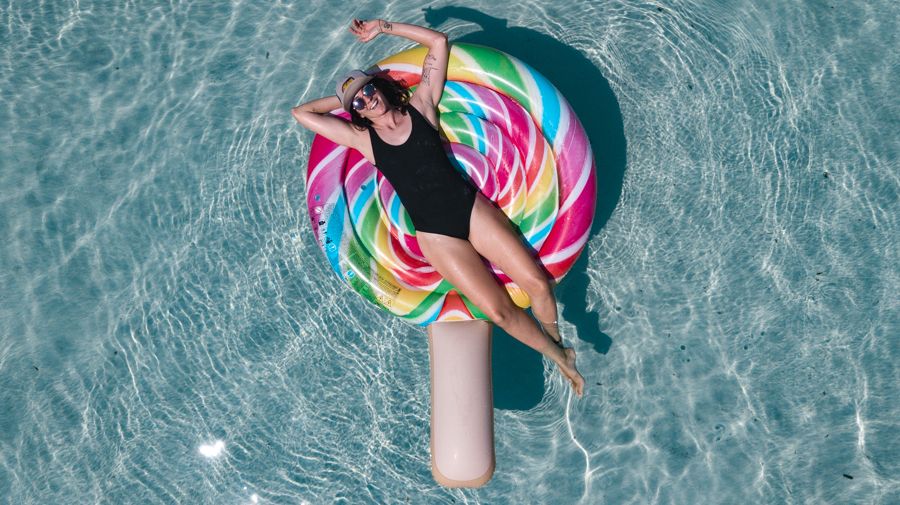 Seventy Five Mile Beach is the sandy highway on the eastern side of Fraser Island. It is the main roadway on the island and doubles as both highway and landing strip for aircraft. Every tour uses this beach to make their way around the island, and tag-along tours will allow guests to drive on it. It is a unique driving experience, as driving on sand is quite unlike anything else. The highway is also known for its dingo sightings! The local dingoes are often spotted along the shoreline at sunrise, looking for food and are generally quite curious about visitors!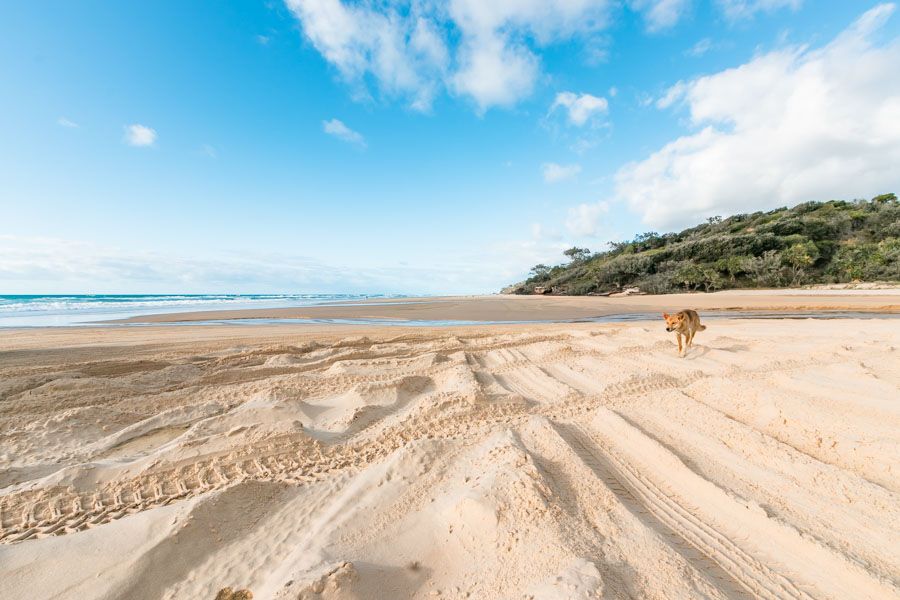 Eli Creek is Fraser Island's most famous creek. Running out onto Seventy Five Mile Beach, it is one of the most popular destinations on Fraser Island and is visited by many day tours and overnight tours. Most times during the day, you can see large groups of people hanging out and enjoying the flow of the creek, often walking to the top to lazily float their way down. To best enjoy this iconic location, you should bring along your own floatie and pump so you can float down the creek in comfort!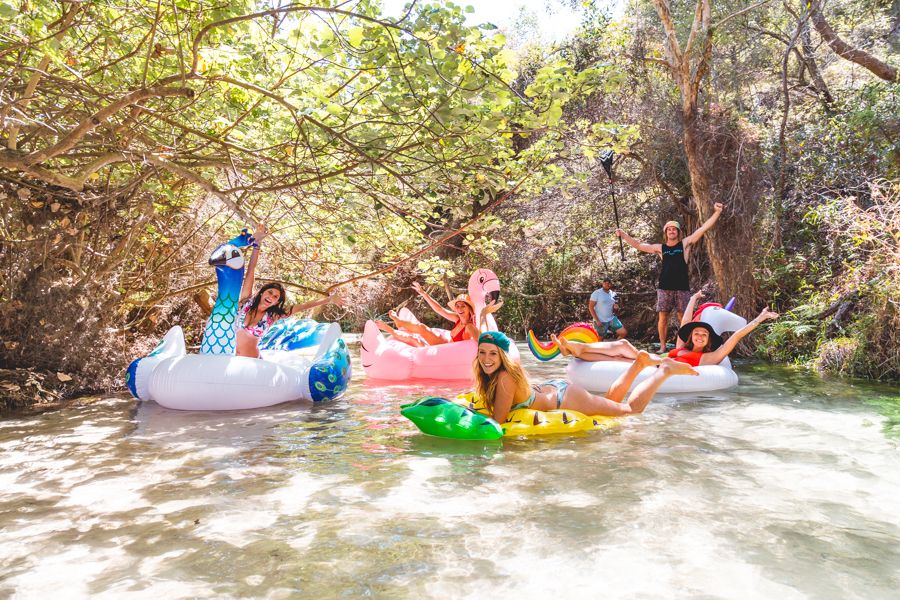 Fraser Island's Champagne Pools are unique seaside pools created by the forces of the ocean. They are the only place on the island where guests can safely enjoy the surrounding sea and relax in its salty water. Named Champagne Pools for the likeness to the drink, the pools are filled over and over with crashing waves that create a jacuzzi-like feel.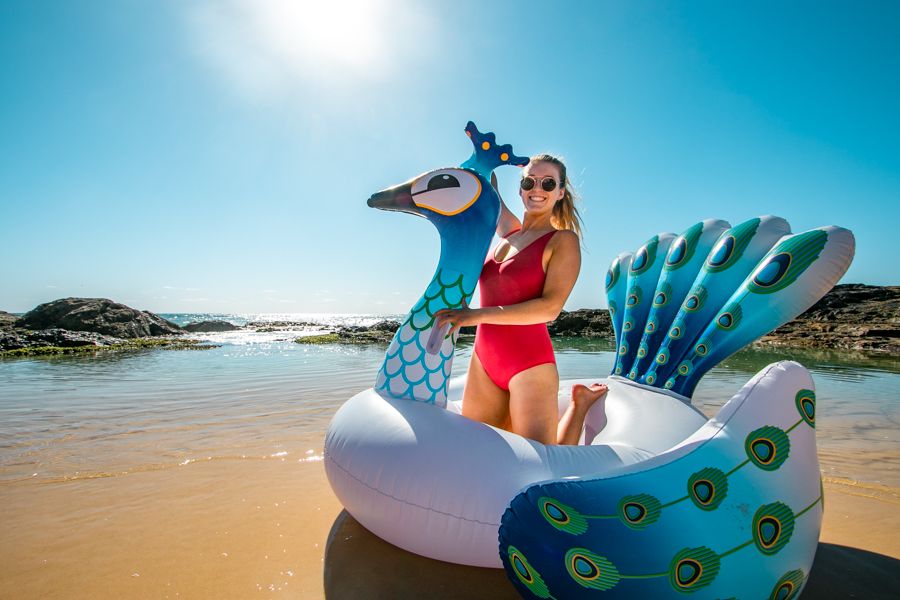 Lake Wabby is a disappearing lake that is found on Hammerstone Sandblow. The once large freshwater lake is slowly being consumed by the sands of the island, shortening its lifespan and making it even more special to those who visit it! It is an oasis in a sea of sand and is the deepest lake on the island at 11.4 metres. It is one of the more beautiful lakes on the island and worth a visit to anyone who can see it!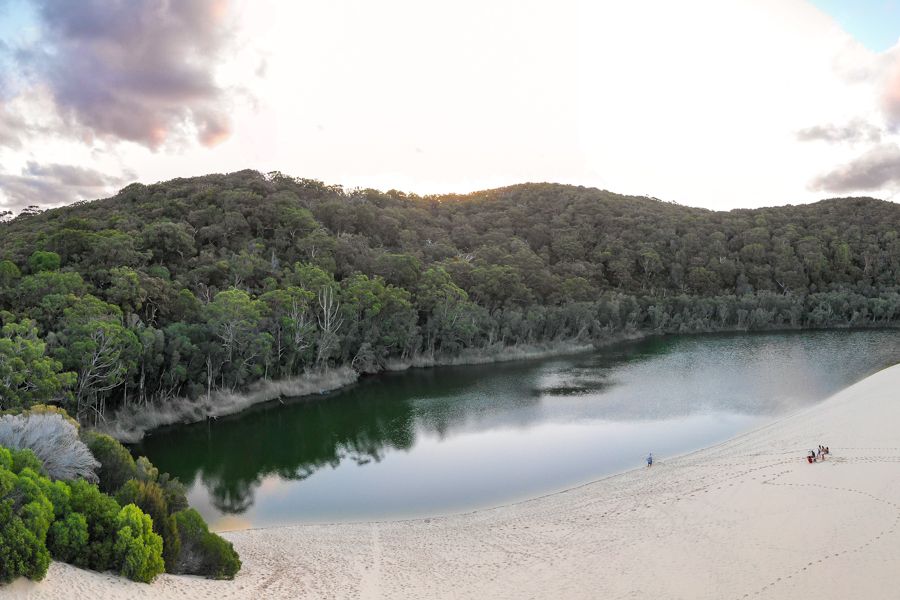 Central Station is the former logging station found at the heart of the island. While it was once a flourishing operation, it is now a sanctuary of trees and wildlife. It's the best place on the island to immerse yourself into the forest and enjoy it in all of its lush beauty. Central Station is also the location of Wanggoolba Creek - another must-see on Fraser Island.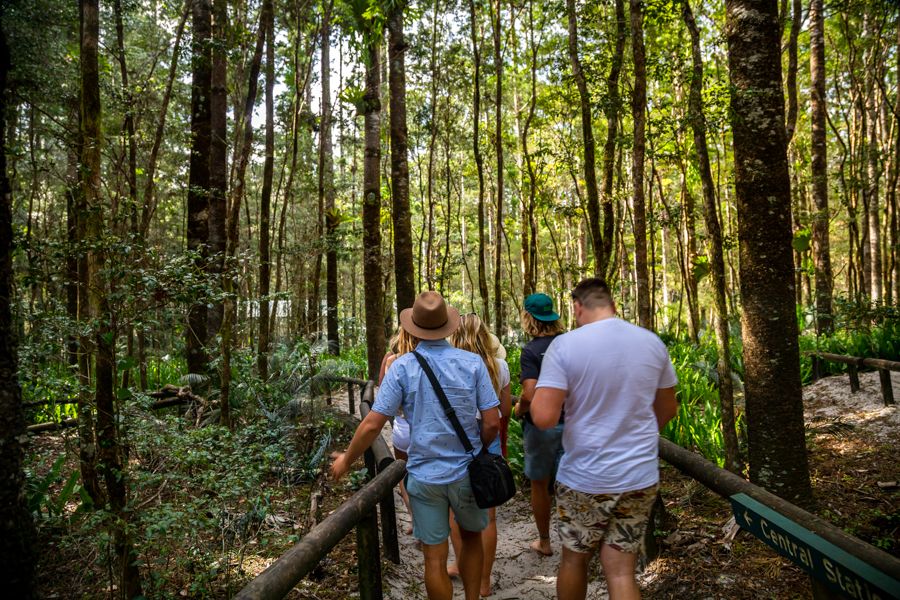 These are just some of the places you can look forward to on Fraser Island. There is so much to see in between each destination and so much to enjoy at every place you stop. Check out more Fraser Island attractions here!
---
Fraser Island is one of the top destinations to see when visiting Australia. It is unique in that it is the world's largest sand island, it has more perched lakes that anywhere else in the world, and that it has the purest dingo population in the world. It is a must-see for anyone (tourist and locals alike) and offers an amazing experience in a naturally wonderful destination. Ask us about booking your tour today and check out this stunning island!
Departure points: Hervey Bay & Rainbow Beach

Pickup locations: Hervey Bay, Rainbow Beach, the Gold Coast, Brisbane, Noosa and the Sunshine Coast

Vehicle types: Bus or 4wd vehicle

Tour types: Guided day trips, guided overnight trips or self-drive

Accommodation types: Resort, camping, glamping or hostels

Highlights on Fraser Island: Lake McKenzie, Eli Creek, Central Station, Lake Wabby, Champagne Pools, Seventy Five Mile Beach, Lake Boomanjin, Basin Lake, Pinnacles, Indian Head and more!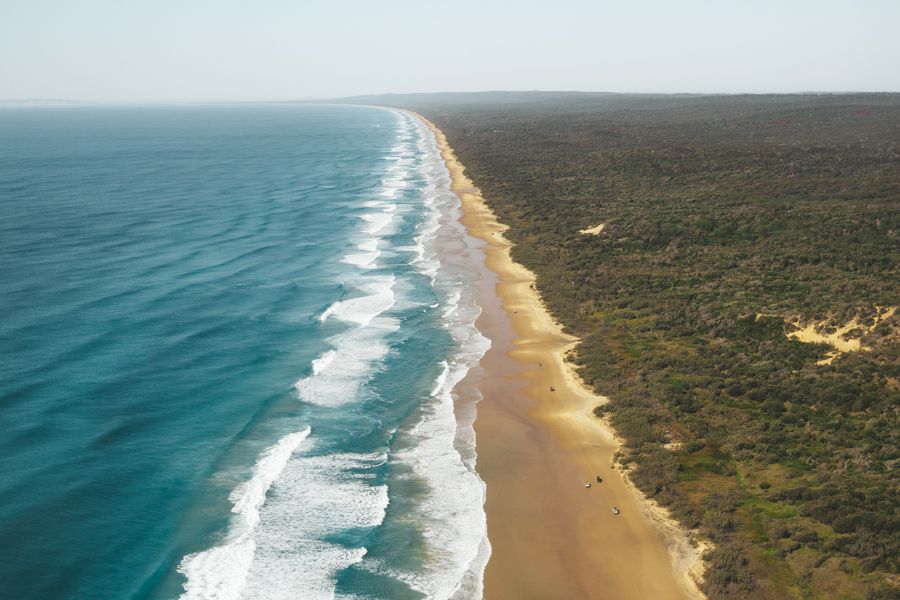 ---
Are you ready to start planning your perfect Fraser Island experience? Chat to our friendly Fraser experts live or call us on +61 74914 2425 today!