Fraser Island Camping Tours
Camping on Fraser Island is one of the best ways to experience the Islands natural beauty. By day, you can explore the crystal-clear lakes, unspoiled beaches, and tropical rainforest trails and by night, enjoy the peace and quiet of camping under the stars.
There are many great camping tours to suit every traveller. Take a look at the fabulous Fraser Island Camping tours below-
---
Short on time? This one-night tour is the perfect option for you! Choose from the 1-4 person tents to suit your group. You will stay in the Base Camp at Fraser Research & Learning Center - located in Dilli Village. Sunrover Expeditions is suitable for people aged 5 years and over, making it the perfect family-friendly option.
Departing Tuesdays, Thursdays & Saturdays from Brisbane, Sunshine Coast/Noosa, and Rainbow Beach and one of the only tours that allow you to pick-up in one location and drop- off in another. This is a guided tour, so sit back and enjoy the experience whilst your experienced tour guide takes the wheel.
---
With a minimum age limit of 15 years, this tour is great for anyone other than young children. Just 100 meters from the beach you will find Wilderness Safari Campsite, equipped with 3-Man Pre-set tents that never sleep more than 2 guests, so they are quite spacious.
Hot Eco Camp shower and toilets are available to all campers so do not worry about having to go days without showering! Enjoy a truly Australian experience with an Aussie BBQ that includes a 180g Prime Rump Steak, didgeridoo lessons + the free use of fishing rods and a guitar. You can begin this self-drive tour on Mondays and Fridays from either Noosa or Rainbow Beach.
---
Want a fun/ social tour with a young vibe? This tour is a self-drive tag along tour which is suitable for 18-35-year olds only. Departing from Rainbow beach on Mondays, Tuesday, Wednesdays, Fridays, and Saturdays. You will camp at Pippies, privately-owned campsite located at Cathedrals on Fraser Island. The campsite offers 2-3-man tents that are permanently set up, so no time will be wasted.
You will have access to flushing toilets and showers which are just a short walk from the campsite. The site is Powered with lighting, a stereo, and you are even able to charge your devices! Experience true camping with nightly campfires!
---
This 18-35's self-drive tour departs Tuesdays, Thursdays and Saturdays from Noosa. It is perfect for those craving adventures and fun! The 4 share tents are situated a stone's throw from the Ocean on Fraser Island, so you can experience waking up to the sound of the sea. The tour includes all meals while on the Island and provides a Licensed Bar which guests can purchase discounted drinks.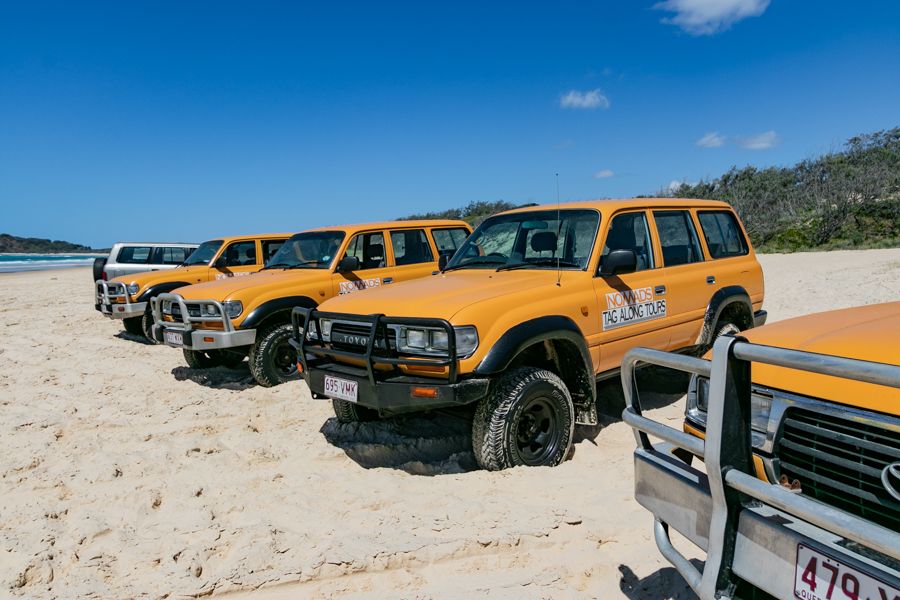 ---
Set off from Hervey Bay on this 18-35's tour any day of the week except Fridays. Your guides will choose the most suitable campsite to set up the portaloos and communal areas. Palace adventures have roving camping permits allowing you access to the best sites based on tides, winds, and conditions on the island, so you are sure to stay in the best spots! Choose to experience the thrill of driving on the sand highway and the inland tracks or opt to be a passenger only and take in the view while someone else takes the wheel!
---
Departing daily from Rainbow Beach, this self- drive tour is perfect for the adventurous, fun-loving 18-35-year-old. You will camp just meters from the Eastern beach of Fraser Island. The site is permanently set up, meaning there is no need to set up anything when you arrive! There are two guests per tent, and toilets, showers and a kitchen are available on site. The whole area is dingo safe with fencing surrounding the area, meaning you can roam around freely! A huge bonus about this campsite is they allow campfires, unlike the rest of Fraser Island!
Need help to decide the best option for you? Our Fraser Experts are ready to help! Contact us here.