Are Campfires Allowed On K'gari (Fraser Island)?
If you're planning a camping trip to K'gari (Fraser Island), you may be wondering if you can have campfires there. A campfire is a quintessential part of any camping adventure, but unfortunately, they aren't allowed in many places around Australia due to national park regulations.
So are campfires allowed on K'gari (Fraser Island)? They are not allowed in most places on the island, but there are a few exceptions. Let's dive into the topic of campfires on K'gari (Fraser Island), including where they are and are not allowed. It's important to do your research before planning a camping trip on K'gari because this stunning sand island is extremely remote, wild, and well-regulated. But if you prepare fully and know the local laws, you can have the time of your life adventuring on the world's largest sand island!
---
Are Campfires Allowed On K'gari (Fraser Island)?
For the most part, campfires are not allowed on K'gari (Fraser Island), but there are some exceptions. The majority of K'gari is monitored by Queensland National Parks. This includes the 45 camping areas scattered around the island. Because K'gari is such a remote place where the wilderness flourishes, most campgrounds on the island don't have full-time staff there to run the place. But national park rangers do roam the island to check that travelers are adhering to the strict laws put in place by the national parks service.
You can find a full list of rules and regulations on the Queensland Government website. One of those rules is that campfires are prohibited on K'gari. Certain cooking appliances are also prohibited (find more info about that here). The fire ban was implemented to prevent wildfires, stop visitors from harming the forests through collecting firewood, and stop visitors from creating waste and litter through campfires. K'gari has a very special landscape, much of which is from ancient times, and it's important to keep the environment pure!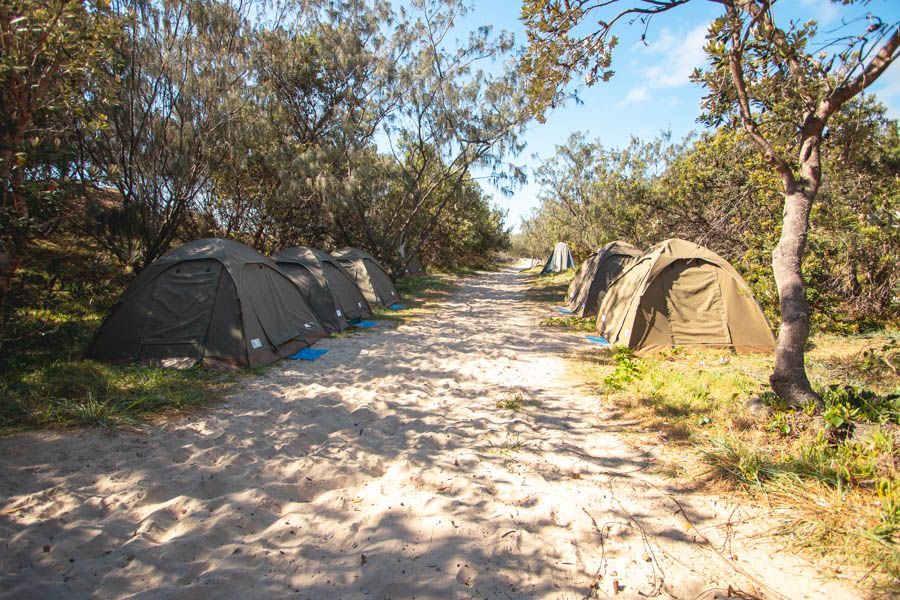 ---
Where Are Campfires Allowed On K'gari (Fraser Island)?
There are only two exceptions to the fire ban on K'gari: Dundubara and Waddy Point camping areas. These two camping spots have fire rings that are provided by the Queensland National Parks service. If you do want to have a campfire in one of these fire rings, you have to bring your own firewood that is dry and clean, such as timber mill off-cuts. Collecting bushwood and kindling from the K'gari forest is prohibited, and no firewood is provided at these campsites.
So you can have campfires on K'gari if you stick to these Dundubara or Waddy Point campgrounds! You just have to bring your own clean firewood and respect the rules. Just check the local national parks websites before your trip because sometimes there is a total fire ban in place, in which case campfires are also prohibited at these fire rings.
---
Other Things To Know Before Camping On K'gari (Fraser Island)
In addition to knowing where you can and can't have campfires on K'gari, there are some other things you might want to do to prepare for your trip! First of all, it's important to apply for all necessary permits before you head to K'gari. You'll need a vehicle permit for your 4WD, and you'll need a camping permit to display on your campsite. Camping permits cost $7 per person, and you have to register your intended campsites when you book your permit. All permits can be booked online.
It's also a good idea to stock up on all your supplies before you go camping on K'gari. Have recovery gear for your 4WD, a first aid kit, a radio in case there is no mobile phone coverage, and pack plenty of food and water. You can buy some supplies on the island, but it's smart to be prepared anyway!
---
Camping Tours On K'gari (Fraser Island)
An amazing way to experience camping on K'gari (Fraser Island) is on a tour! There are some affordable, social, all-inclusive camping tours that help you explore the island without having to do any planning or preparation yourself. Tours ensure that all your food, drinking water, permits, camping fees, fuel, transport, and supplies are all covered. If you're a solo traveler, a tour may actually be more affordable than hiring your own 4WD and buying all your permits and supplies on your own. Plus you get to meet people!
Check out our most popular K'gari camping tours here!
---
If you need any help planning your trip to K'gari (Fraser Island), chat with us online today!