Pippies Tag Along Camping Safari 3D/2N
CLOSE
View More Thumbnails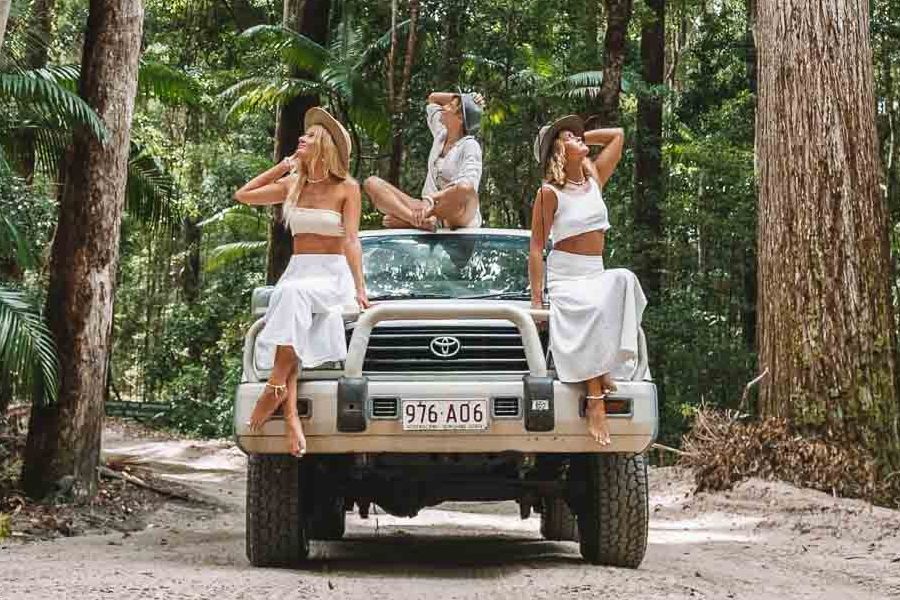 Loading...
Departure Times
Departs: Rainbow Beach 7:00am
Returns: Rainbow Beach 4:30pm
Pricing Options
RRP $499

$479 AUD / Person
- General
(Between: 01 Jan 2022 and 31 Mar 2023)
RRP $529

$509 AUD / Person
- Adult + 1 Night Dorm Room in Rainbow Beach
(Between: 01 Jan 2022 and 31 Mar 2023)
RRP $539

$519 AUD / Person
- Adult + 2 Nights Dorm Room in Rainbow Beach
(Between: 01 Jan 2022 and 31 Mar 2023)
RRP $559

$549 AUD / Person
- Adult + 3 nights Dorm Room in Rainbow Beach
(Between: 31 Mar 2022 and 31 Mar 2023)
$588 AUD / Person
- Adult + 2 Nights Double Room in Rainbow Beach (requires 2 guests) ($1176 Total)
(Between: 01 Jan 2022 and 31 Mar 2023)
Pippies offers the ultimate Australian Beach 4WD adventure!
Join a tag along tour with chance to drive on Fraser Island
Camping at Cathedrals on Fraser at permanent campsite
Amazing and unique experience on world's largest sand island
Visit Fraser's top destinations such as Champagne Pools, Eli Creek and Maheno Shipwreck
Looking for a Whitsundays combo deal including this tour?
Check out the most popular Pippies combos here: Whitsunday & Fraser Island Packages
The 3 Day Pippies Tag Along Camping Safari Fraser Island offers accommodation at a private campsite on Fraser Island, as well as hot showers fed by a natural spring, flushing toilets, nightly campfire, stereo and large undercover dining areas with solar lighting.

Conveniently located just a short walk to the cafe, bottle shop or beach making stargazing at night a must. Pippies will take you to all of the highlights including Lake Mackenzie, Eli Creek, Indian Head and the Champagne Pools!
---
Features
Camping at Cathedrals on Fraser Island
Sheltered campsite with permanent tents
Cooking, camping equipment & BBQ facilities
Hot showers and flushing toilets
Mobile device charging facilities
Return barge from Fraser Island
All camping and cooking equipment
FREE Luggage storage
All meals included
Fuel for vehicles
BYO Alcohol
You also have to option to upgrade your tour by adding on an extra 2 or 3 nights of accommodation at Pippies in Rainbow Beach!
---
Tag along with Pippies
Pippies Tag Along Camping Safari is a great opportunity to try your hand at driving on sand on the world's largest sand island. Race the tides as you drive along the sand highway before jumping on the inland tracks, making your way around the island! This tour has up to 4 vehicles per tour, with the lead driver in the front to guide you from one amazing destination to the next!

Vehicles
Tag along vehicles are Toyota Land Cruiser, 80 series or 100 series
Lead vehicle is Troop Carrier with 11 passengers, including tour guide
4 vehicles per tour with a max of 34 guests
You can choose to drive or be a passenger in one of the tag-along vehicles or enjoy it as a passenger in the lead vehicle.
Cathedrals Campsite
During your tour with Pippies, you will get to enjoy camping on Fraser Island at our permanent campsite! Your permanently set up campsite is located at Cathedrals on Fraser and is the only campsite with a dingo-proof fence. Your camp site offers amazing bathroom facilities with flushing toilets (no porta-loos) and natural spring water fed hot water showers. Our 2 man tents are underneath a large covered area, which is ideal for both sun and rain protection! There is also a kitchen and dining area on site, which is also undercover.

At our campsite, you will get to experience Fraser Island at its best - out in the wilderness seeing everything up close and personal!
---
Sample Itinerary
Day One
Take in the sights of the breathtaking 75 Mile beach, swim in the crystal clear waters of Lake Mackenzie and enjoy a freshly made lunch with your group, soak up the tranquillity at Central Station, Rainforests and to top it off spending that afternoon relaxing at Eurong Beach Resort.

Day Two
Start day two off by taking in more beautiful beaches at Indian Head, take a dip in the world famous Champagne pools, explore the mysterious Maheno shipwreck, see the amazing coloured sands of the Pinnacles and finish off with a relaxing afternoon at Eli Creek. Where the group is no more than 20 including guide guests are treated to a visit to Lake Allom to see its cute and abundant freshwater turtles.

Day Three
Wake up for your last day in paradise! Another quick and simple breakfast before setting off to the final locations on your Fraser Island tour, Hammerstone Sandblow and Lake Wabby. Upon arriving to the Lake Wabby entrance on the Eastern Beach, you'll do a 40-45 minute walk down a beautiful sand track, through the bush, and out onto the Hammerstone Sandblow. Located a short walk along the sand blow, Lake Wabby is the deepest lake on Fraser Island. So be sure to take a dip and chill next on its shores.
After our lunch on the beach, it is time to make your way back to the barge and Rainbow Beach. Arrive back at Pippies Beachhouse in Rainbow Beach between 1pm and 4:30pm.
Need somewhere to park your Van? Pippies offer free storage while on tour.

---
Sample Menu
DAY 1
Lunch – Wraps with Ham, Beef or Tuna w Lettuce, tomato, cucumber, red onion, cheese & Condiments of Sweet chilli, Mustard or Mayo.
**Mexican Bean spread
Snack – Biscuits & Fruit
Dinner – 120g Angus Beef Pattie & Sausages on the BBQ with Green Beans, Garlic Potatoes & Onion Gravy.
** Falafel Pattie

DAY 2
Breakfast – Pancakes with Maple Syrup, Muesli w Fruit or Toast w Spreads.
Lunch – Open Chicken Schnitzel Burger with Lettuce, tomato, sliced cheese, coleslaw & Beetroot.
**Moroccan Vegetable Burger
Snack – Biscuits & Fruit
Dinner – Bolognaise Sauce with Pasta, Parmesan & Garlic Bread.
** Chickpeas and Champignons

DAY 3
Breakfast – Toast with Baked Beans, Muesli & Fruit
Lunch – Wraps with Beef, Ham or Tuna w Lettuce, tomato, cucumber, cheese & Condiments of Sweet chilli, Mustard or Mayo.
**4 Bean mix spread.
Snack – Biscuits & Fruit

** Vegetarian / Vegan Options
---
Depart / Return
Pick up: Rainbow Beach- Pippies Beachouse at 7:00am
Drop off: Rainbow Beach- Pippies Beachouse between 1:00pm-4:30pm
*Please note pick-up/return times, and sites visited are dependent on time constraints, weather and tidal conditions.
---
Important Information
It is highly recommended that you meet us at Pippies Beachhouse in Rainbow Beach before 4 pm the day before you depart. This is so that we can explain a few things about the tour and the island, as well as get your paperwork finished and watch a video, before our early departure the next morning. If you are unable to attend then it is very important that we know you will not be here in time so that we may organise to get all missed information to you.
Drivers must be 21 years or over with a minimum of 12 months experience on an open licence. You must have your driver's license with you.
Please note this tour may not be suitable if you have existing neck or back problems or are pregnant. Check with your agent to make sure this tour is suitable for you.
Pippies is a backpacker-style tour, best suited to guests ages 18-35
Tour + 1 Night Accommodation includes 1 night pre-tour unless you request otherwise
Tour + 2 Nights includes 1 night pre-tour + 1 night Post Tour unless you request otherwise
---
More Information
What To Bring
Day Pack for essential clothes
Long sleeves for at night
Towel & swimmers
Hat & sunscreen
Insect repellent
Camera
Personal torch (group lantern supplied in camp gear)
Sleeping bag
Personal water bottle
BYO alcohol
What's Included
2 nights camping at Cathedrals on Fraser
Fully equipped amenities at the campsite
All meals
Fuel for vehicles
Return barge from Fraser Island
All camping and cooking equipment including sleeping bag & pillow
FREE Luggage storage
What's Extra
BYO Alcohol
*A $50pp surcharge is applied to public holiday departures and due on arrival
Terms and Conditions
---
Important Information:
Please note this tour may not be suitable if you have existing neck or back problems or are pregnant. Check with your agent to make sure this tour is suitable for you.
All departures and itineraries are subject to weather. Tours may be changed or cancelled for any reason at the discretion of the Tour Operator.
---
Your Responsibilities:
Please advise us before booking if any passengers are under 18 years old to ensure this is the appropriate trip.
You must reconfirm all booked tours prior to travel as specified on your voucher. If applicable, notes such as dietary requirements, pick-up locations and additional fees should also be confirmed at this time. Reconfirmations cannot be actioned through Fraser Tours / Mr Travel, and must be done so directly through the Service Operator as specified on each ticket.
It is your responsibility to notify us of ticket discrepancies. Please read through the details on your voucher thoroughly to ensure all details such as passenger names, ages and dates of travel on vouchers are correct.
It is the responsibility of all passengers travelling to advise both your travel agent at the time of booking and vessel check-in agent before boarding of any medical conditions including food allergies you may suffer from.
You need to allow adequate time to check-in prior to the specified departure time.
---
Prices/Extra Costs:
All prices are stated in Australian dollars and include GST. Surcharges over peak holiday seasons may apply.
The Service Operator reserves the right to alter prices and extra costs. Extra costs may include, Luggage Storage, Insurance, Linen Hire, National Park Fees, Fuel Levies, Dietary Fees, etc. Bonds may also apply.
We will also endeavour to communicate these extra costs with you at the time of booking, and on your ticket. However, it is your responsibility to confirm which (if any) additional costs apply with each Service Operator upon reconfirming your trip.
---
Travel Risk/Insurance:
It should be noted that adventure travel involves risk. Whilst we make every effort to safeguard clients, we cannot be responsible for personal injury or loss due to the actions of our clients which are beyond our control. We highly recommend that all clients have travel insurance covering illness, injury, loss or damage to personal belongings and not being able to travel on the confirmed date of departure. You should also ensure your travel insurance will cover special circumstances including weather events preventing guests from travelling to their tour departure destination and cancelled flights due to unforeseen circumstances.
---
Merchant Fees:
Please be aware operators pass on credit card merchant fees so there is a non-refundable 1.5% surcharge for VISA and MASTERCARD and AMEX card purchases.
---
Other:
Terms and Conditions (including the Cancellation Policy) are subject to change. The most recent versions can be found online on the relevant product pages.
All ticket/voucher reissues attract a $20 administration fee.
---
Open Date Vouchers / Gift Certificate:
Shipping Costs are in addition to the ticket price and will be added at check-out. Shipping costs are non-refundable and do not makeup part of the ticket value.
E-Vouchers incur no shipping fees.

You have 5 years to use the value of the voucher. Seasonal Price Rises will apply if travelling out the current seasons pricing. Vouchers can be exchanged for free up to the full value of the voucher excluding credit card fees and charges.
Cancellations
---
Client Cancellations:
All cancellations forfeit 25% of the recommended retail price (RRP) - not the discounted/sale price. No shows or client cancellations made within 30 days of departure forfeit 100% of the total ticket price.
Transfers between tours can be made at the suppliers discretion, however, it should be noted that supplier fees may apply. Tour transfers also incur a $20 administration fee.
It is compulsory that all cancellation requests are in writing and sent via email to admin@mr-travel.com. Cancellations attempted via online chat or phone will not be actioned.
---
Supplier Cancellations:
The Service Operator reserves the right to alter prices, alter itineraries, apply a fuel surcharge, cancel departures, arrange alternative transport and vary itineraries and services if necessary.
All departures and itineraries are subject to weather. Tours may be changed or cancelled for any reason at the discretion of the Service Operator. If the Service Operator has to cancel the trip or activity (prior to departure) and we cannot offer a suitable alternative, then a refund will be given minus a 20% administration fee and any associated card fees. We strongly recommend that you have travel insurance, especially during the wet season.
In the unlikely event of your trip being cancelled or stood down, all guest communication is required to go through our Online Store.
---
Refunds:
All refunds are in Australian Dollars and must be made to the card of payment. Sailing Whitsundays/Mr Travel is not liable for exchange rate fluctuations or fees, or any other merchant/bank fees associated with domestic and/or international transactions.
Where a full refund is applicable, there is the option to transfer the whole cost of the tour to another tour or "Credit" to avoid the administration fee. A transfer fee of $20 will apply.
You will be emailed confirmation once the refund has been processed. Once the refund has been processed, it may still take time for the banks to clear the amount. Please allow 7-10 business days for the funds to clear into Australian accounts and up to 21 business days for international accounts.
---
Accountability/Misconduct:
All Service Operators have the right to provide client feedback and to cancel bookings based off of feedback from other Service Operators.
Please enjoy your travel experience in a kind and responsible manner.
Sailing Whitsundays/Mr Travel will treat this as any normal client cancellation and therefore the cancellation fees stated in the Client Cancellation Policy will apply.
---
Thank you for booking with our East-Coast travel experts here at Mr Travel / Fraser-Tours.com. If you would like any further advice, assistance in arranging accommodation, transfers or additional tours please get in touch.
Customers who viewed this item also viewed...
Reviews
Overall Rating
5.0 / 5.0
Based on 17 reviews
Reviews by our Fraser Tours customers
We had a great time on pippies tour, Jamie and Corey were brilliant tour guides very organised very equipped, the food was good and you get plenty of it. Nice bathrooms with hot showers, clean camp site felt secure in the tents. Would highly recommend.
Belen Martin-Borregon
, 26 Jan 23
It was amazing! Thanks for the food, the organisation and for taking care of us
Michael Ausderau
, 17 Jan 23
Great experience with a very nice group of people all around the world????
One of the best experiences of my life!
Mathias Hermans
, 05 Jan 23
Incredible ! Thanks Nate for this wonderful trip !
Absolutely brilliant tour! Our guide Nate was extremely knowledgeable, we visited some fantastic places and the camp was great. Really fun driving the cars. Vegan options given for most of the meals.
Roberto Freire
, 02 Jan 23
Fantastic!! Jamie is the best guide ever!
Megan Louise Bulpitt
, 29 Dec 22
Amazing! Jamie was a great your guide, and it was the BEST way to spend Christmas.
Nicola McGrath
, 26 Dec 22
Pippies 3day tour of Fraser Island for an unforgettable experience! We had a fanatic time exploring the beautiful beaches and lagoons of the island. The camp site was fully equipped, including hot showers and a fully functional kitchen. Out tour guide Scott was very organised and friendly!
It was amazing! Good food, great guide, great camping. I loved it so much! Three days went by too fast
Maximilian Schneider
, 17 Dec 22
Nat was an awesome tour guide. It has been great fun on Fraser with an awesome group.
Amazing trip, met some great people and saw awesome things. Definitely recommend doing this! Our guide Benny was an absolute legend
I loved this tour! Jamie the tour guide was really nice and funny. The activities were all really fun and the tents, bathrooms, showers and the food was all good! Would really recommend pippies!
Jessica Lennon
, 19 Nov 22
Pippies Fraser tour went beyond our expectations. It's a truly beautiful place and getting to see it in the way you do on Pippies tour is amazing. Driving the 4WD is great fun & you get really involved in every aspect of the tour. Nate our tour guide was knowledgable & great fun! Must do on Fraser!
Amazing couple of days on Fraser Island. Met an awesome group of people and we had a ball together. The tour guide was good fun. Everyone had a crack at the driving and smashed it. We saw dingoes on the beach which was an absolute highlight. Food was good as well. Pancakes for breakkie!
This trip was so much fun from start to finish! Dingos, shipwrecks, rainforest, freshwater springs, 4x4's on the beach, and too many other things to list! Would do it all again tomorrow if I could. Awesome hostel in Hervey Bay, and really nice campsite right next to the beach on Fraser. Our guide Tony was fantastic, and showed us everything there is to see on the island. He and the rest of the staff at Palace made everything so incredibly easy and fun. All the equipment, the jeeps, the tents, the outdoor kitchen, and bathrooms, were all really well looked after. It is camping on Fraser, but with the covered tents, kitchen, tables, and toilets, you're not far off from "glamping." Would highly recommend heading out with these guys if you want a great experience on Fraser Island.
We had the wonderful Denny who was super friendly and got on with the whole group. He was very knowledgeable about the island and managed to lead the group and get everyone excited without being patronising.