How Much is a Fraser Island Vehicle Permit?
Driving to Fraser Island? All vehicles going to K'gari (Fraser Island) must have a permit to go to the island. Only four-wheel drive vehicles are permitted on the island and permits must be clearly displayed on the windscreen. All-wheel drives are not permitted as the terrain is difficult and can be rough. Read below for more information on securing your permits prior to visiting Fraser Island.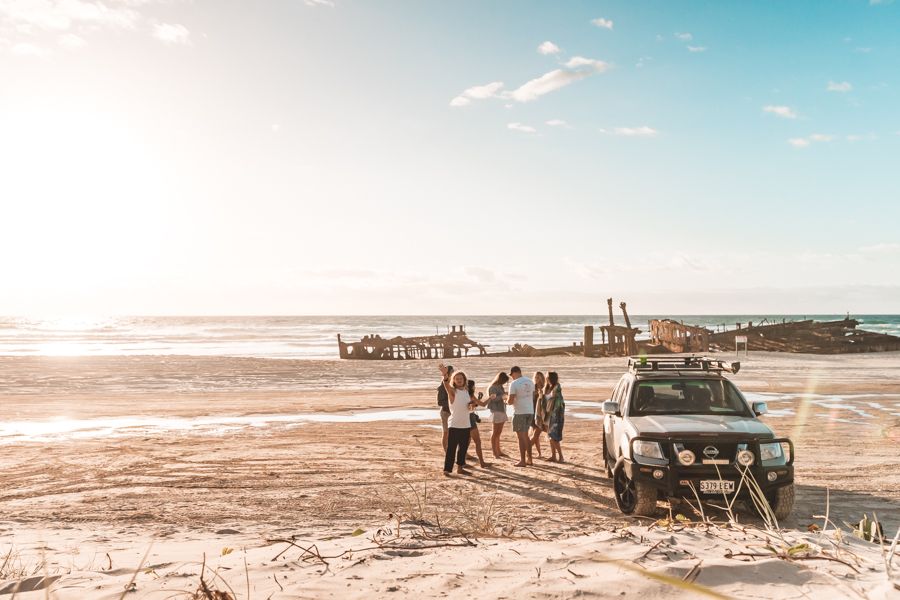 ---
Access Permit Costs:
Please note: Permits must be purchased before going to the island.
1 month or less = $52.75
More than 1 month (up to 1 year) = $265.30
---
K'gari (Fraser Island) and Cooloola Recreation Area:
Visitors may purchase a combined permit for K'gari (Fraser Island) and Cooloola. A 20% discount applies.
1 month or less = $84.65
More than 1 month (up to 1 year) = $424.70
---
Ferry Costs:
Ferry pricing to get on and off the island vary, and prices range from $105 -$350 per vehicle for a return journey from either River Heads or Inskip Point. Camping permits are $6.55 per person per night with discounts for families or students. Camping fees are site-specific and can be booked up for 6 months in advance. Visitors will also wish to purchase these before they come to the island.
For more information on camping on Fraser Island, click here.
For more information on ferry timetables and departure points, click here.
---
Other Fees:
Other fees to consider when driving to Fraser Island include ferry costs and camping fees, depending on what type of trip you are planning. There are several 4wd hire companies that include your camping permits in their hire fees, taking the hassle out of your trip.
---
Tours
If you are visiting Fraser Island on a tour, such as guided or tagalong tour, you will not need to purchase any permits. National Park fees may apply and are payable to your guide, but are usually included in the cost. In the event that you are planning to visit Fraser Island in your own vehicle, you should ensure you have all the proper permits before making your way to the island. It's a good idea to familiarise yourself with the rules of driving on the island as all road rules apply (even on the beach) and research what kind of things you will need to bring with you.
---
Want to take the stress out of visiting Fraser Island by booking a tour or tag-along? Ask our friendly Fraser Island experts and we'll help you tailor the perfect holiday! Chat to us LIVE online or call us today!
---
*Fees are subject to change, and prices may vary from above. Those wishing to purchase a permit can do so online through the Queensland government website, over the phone (13 QGOV), by visiting a self-service kiosk or by going to a booking office.