Hammerstone Sandblow on Fraser Island
Fraser Island, or K'gari is the largest sand island in the world, and therefore home to some of the most stunning sand dunes. Also known as 'sand blows' for the way they are formed by the wind and the tides, they are a photographer's dream and a must-see when you're visiting the island. One of the better known dunes is Hammerstone.
Hammerstone Sandblow is found on your way to Lake Wabby and formed the barrage and window lake over hundreds of thousands of years with wind and erosion. Located on the lower east coast of Fraser Island, the wind from offshore continually blows this sand dune. Lake Wabby was once a stream to the sea, but the ever-moving sand dune eventually blocked it. The sand mass is slowly moving in on Lake Wabby, and will eventually fill it and Lake Wabby will cease to exist.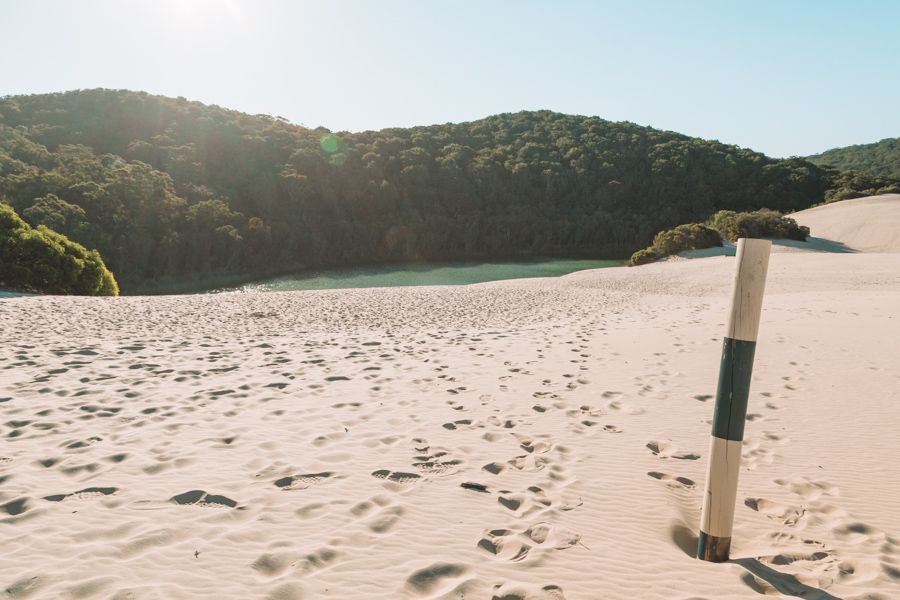 The sand blows on Fraser Island are all in different stages of progression. They will keep moving until they are protected by the wind, and will stop migrating at this stage. Since the offshore winds are driving the sand inland, the cover and smother vegetation, giving them their desert-like feel. National Parks and geologists believe Hammerstone will likely move into Lake Wabby in the next hundred years or so and have markers to measure the progression of the moving sand. To compare tours and itineraries to visit Hammerstone and Lake Wabby, click here.
---
Ready to visit this incredible natural wonder? Chat to our friendly Fraser experts live or call +61 74914 2425 to find out more about the best options for visiting this world heritage site!