Hammerstone Sandblow on K'gari (Fraser Island)
The Hammerstone Sand Blow on K'gari (Fraser Island) is one of those landmarks that many travelers know about, but they can't put a name to it. Located right next to Lake Wabby, this emerald-colored lake is a popular location for tours to visit on K'gari. Travelers have to walk across the golden sands of the Hammerstone Sand Blow to reach Lake Wabby, but they might not even realize at the moment!
For those who want to learn more about the Hammerstone Sand Blow on K'gari (Fraser Island), here are some fun facts and tips for visiting this unique natural attraction.
---
What Is A Sand Blow?
K'gari (Fraser Island) is famous for being the largest sand island in the world. Estimated to be around 700,000 - 1 million years old, the island formed when nature's ocean and wind currents caused sands to shift along the east coast of Australia and settle in the area that is now K'gari.
A similar process formed the Hammerstone Sand Blow! Sand blows form when natural causes create a huge mass of sand, similar to a sand dune. The sand dunes on K'gari are part of the largest and most complete collection of coastal sand dunes in the world! Carlo Sand Blow is another famous spot on the mainland near Cooloola Bay. A sand blow will settle in one place when it is protected from offshore winds, but they are constantly moving and changing over time.
---
Hammerstone Sand Blow and Lake Wabby
Due to the constant shifting of sands on K'gari, the Hammerstone Sand Blow helped create Lake Wabby thousands of years ago. Sand blows can often swallow forests and vegetation, creating a desert-like landscape. A moving sand blow can also create new lakes when the sand blocks a river from reaching the ocean. That is how the Hammerstone Sand Blow created Lake Wabby!
Lake Wabby is known as a barrage or barrier lake, which forms when a body of water is stopped from reaching the ocean and becomes a stagnant lake. As the deepest lake on K'gari, Lake Wabby has refreshing, clean water that is a rich green color due to the nutrients and algae that thrive in the lake. It is one of the best places to swim on K'gari, and the sand dunes and rainforests create other-worldly scenery here!
---
Is The Hammerstone Sandblow Worth Visiting?
Absolutely, the Hammerstone Sandblow is a magical place. It's rare to find a landscape that looks like a desert, yet is surrounded by lush rainforests and freshwater lakes. Though most people only cross the sand on their way to swim in Lake Wabby, it's well worth exploring the dunes for a bit. These are some of the most ancient sand dunes in the world, and strolling across the ripples of golden sand is a mesmerizing experience!
Another reason why you should head to the Hammerstone Sand Blow and Lake Wabby is the fact that it may not exist forever! As we've discussed, sand blows on K'gari are constantly moving and changing. There is evidence that the Hammerstone Sand Blow is moving in on Lake Wabby and may eventually swallow the lake whole. So if you want to go for a dip in Lake Wabby, plan your trip soon before it disappears!
---
How To Get To The Hammerstone Sand Blow
The Hammerstone Sand Blow is very easy to reach via 75 Mile Beach! Just pull over on the side of the beach and park your 4WD near the sign for the Lake Wabby Walk. You'll find this about 7 kilometres north of Eurong Beach Resort. Follow the walking trail through the bush for about 20-40 minutes, depending on your fitness level. Then you'll emerge from the forest and find yourself gazing across a vast expanse of sand dunes!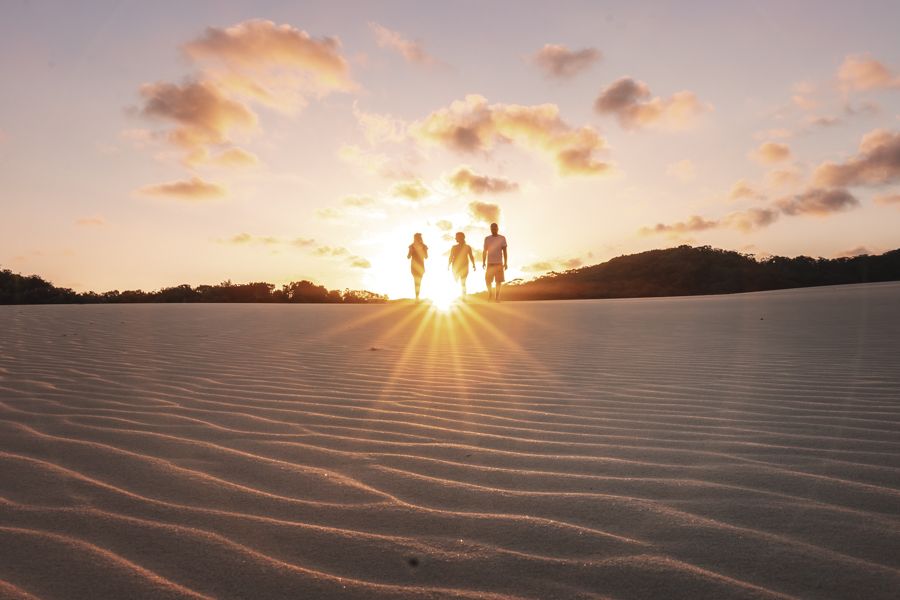 ---
Tours That Visit The Hammerstone Sand Blow
If you're visiting K'gari on a guided tour, you can still make it to the stunning Hammerstone Sand Blow! Though most tours will advertise this stop as a visit to Lake Wabby, you have to pass the majestic dunes on the way to the lake. Here is a quick overview of some tours that visit Lake Wabby and the Hammerstone Sand Blow!
2 Day K'gari Tours
3 Day K'gari Tours
---
Live chat with our local travel experts if you have any more questions about visiting K'gari (Fraser Island)!