Basin Lake On K'gari (Fraser Island)
Updated Tue 04 Jul 2023
K'gari (Fraser Island) is known for its unique natural landscapes. From remote beaches, to lush rainforests, to ancient sand dunes, the world's largest sand island has a plethora of interesting things to see! Basin Lake is one of the many natural attractions on K'gari (Fraser Island). Though Basin Lake isn't a super well-known lake on K'gari, it's still worth a visit! Here are some things to know about Basin Lake on K'gari (Fraser Island), as well as some tips for visiting!
---
Basin Lake, K'gari (Fraser Island)
Basin Lake is one of the many freshwater lakes on the world's largest sand island of K'gari. The island is home to a few different types of lakes, including perched lakes, window lakes, and barrier lakes. Basin Lake is a perched lake. This type of lake forms when organic matter hardens over time in a natural depression in the Earth. A type of natural pool is formed, which then fills with rainwater over time. The sand particles work to filter through the water, keeping the lake extremely pure and clean.
Basin Lake is a perched lake that is about the size of a football field, which is much smaller than some of the other perched lakes on K'gari. Lake Boomanjin is the world's largest perched lake, and Lake Wabby is K'gari's deepest lake (however, Lake Wabby is a barrier lake). At about 8 metres deep, Basin Lake still provides an excellent swimming spot!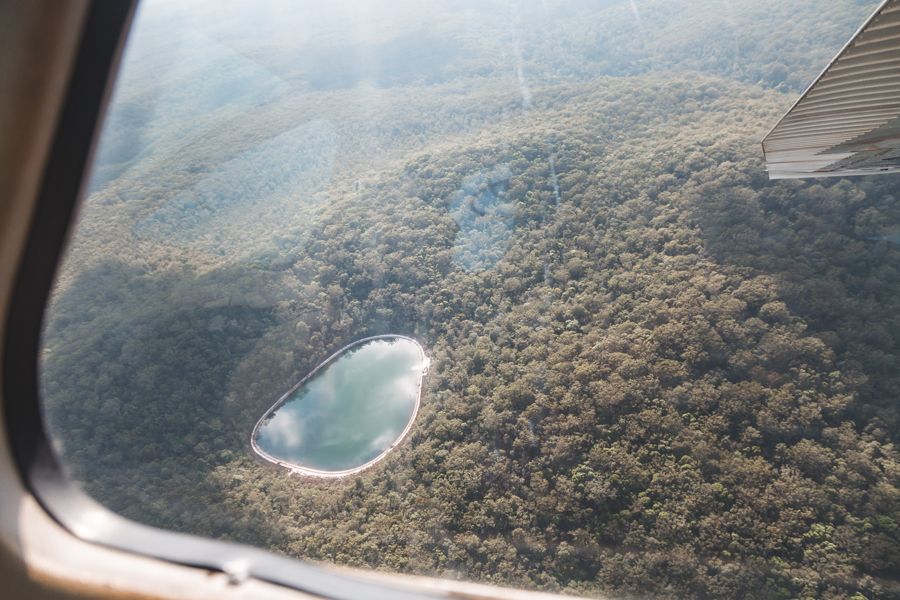 ---
Why Visit Basin Lake?
Basin Lake is a lovely place to swim in the freshwater and escape the crowds on K'gari. Unlike the island's most famous perched lake, Lake McKenzie, Basin Lake rarely has any crowds. Even Lake Birrabeen, another perched lake on K'gari (Fraser Island), is more well-known than Basin Lake. So if you're keen to find a swimming spot with no other tourists, Basin Lake is a great option.
Surrounded by dense forests and rich vegetation, here you can swim, relax, and immerse yourself in nature. There is also soft white sand here, as there is at many K'gari lakes. Swimming in the ocean around K'gari is not recommended due to the strong currents, so opting for a freshwater swimming spot like Basin Lake is a better option when exploring the island by 4WD!
---
How To Get To Basin Lake: The Basin Lake Walk
Basin Lake is easily accessible for travellers on K'gari (Fraser Island). Because it's not as famous as its neighbor Lake McKenzie, most people might not know that Basin Lake is actually centrally located on the island. It's just a short drive from Lake McKenzie and a short hike from Central Station.
To reach Basin Lake, park at the Central Station day-use area. Follow the Wanggoolba Creek boardwalk until you reach the trail for the K'gari Great Walk. From here, follow the Great Walk for about 1.5 hours and you'll emerge onto the glorious Basin Lake! The hike is about 3 hours in total with a distance of 5.6km round trip. The first part of the trail is steep, but after that, the trail is relatively easy with plenty of shade.
It's a good idea to have plenty of water, a hat, sunscreen, and a good map for the Basin Lake Walk. Mobile phone coverage is spotty on K'gari, so an old-school paper map is your best option for navigating. But the trail is straightforward, and you should have no problem reaching this beautiful lake!
---
Do Guided Tours Visit Basin Lake?
Most guided tours on K'gari (Fraser Island) do not visit Basin Lake. With only 1-3 days to see the highlights of the island, most tours prioritize the more famous attractions like Maheno Shipwreck, Eli Creek, 75 Mile Beach, Champagne Pools, and more. Basin Lake is not as visually impressive as Lake McKenzie or Lake Wabby, so tours don't usually include it in their itinerary. Plus, most tours don't have time to include the 3-hour return hike!
However, you can visit Basin Lake if you're visiting K'gari without a tour. If you have your own 4WD, or you've chosen to hire one, you can plan your own itinerary and ensure you complete the epic walk and visit to Basin Lake. Or if you're a true adventurer who has ventured to the island in order to complete the K'gari Great Walk, Basin Lake is right on the way!
---
Ready to plan your trip to K'gari? Check out our ultimate 7 Day Itinerary for more ideas!