Hiking the K'gari (Fraser Island) Great Walk
Updated Wed 07 Dec 2022
The K'gari Great Walk covers 90km of trail and spans from Dilli Village to Happy Valley. Whether you're starting from Dilli Village and heading North to Happy Valley or vice versa, this 6 - 8 day-long adventure is absolutely worth the walk! Trail goers will immerse themselves in the wonders of the natural sand island K'gari, including Central Station, Valley of the Giants, Lake Mackenzie, Lake Wabby and even a few hidden lakes only accessible by walkers.
This moderate walk is recommended for fit adventurers, however, it is still a doable experience for less experienced hikers, as it features only short incline bursts and plentiful facilities at each camp.
---
7 Day K'gari Great Walk Itinerary
There are plenty of ways to tackle the K'gari Great Walk, with shorter variations, path forks to choose from and ample 4WD access for families and hikers that can only squeeze in an overnight hike. However, if you can manage to escape to the bush for a week, here are just a few of the wonders you will see! Please note that campsites require booking via the Queensland National Parks website for a small fee before you embark on your hike.
---
Day 1
Dilli Village - Lake Boomanjin (6.3km)
Starting from Dilli Village after you arrive via barge, a sandy path will take you through the beginnings of your native flora and fauna surroundings. Ease into things on your first day, with only a 6.3km walk to Lake Boomanjin campsite. Lake Boomanjin is the world's largest perched lake and an utterly gorgeous swimming spot. Cool off in the tannin-coloured waters and feel the softest sand in between your toes. Lake Boomanjin is a lesser-known spot on K'gari, and while there is a day-use area and 4WD access, it is a wonderfully quiet gem. Your usually unbusy campsite for the night is fenced for dingo prevention, with dingo-safe boxes and toilets nearby, so set up and stargaze as you let the wonder and peaceful quiet of K'gair amaze you.

Day 2
Lake Boomanjin - Central Station (14.7km)
Wake up to the sunlight through towering eucalypts and a morning swim before setting off on a day of rainforest bliss! Your track is quite sandy as you walk around Lake Boomanjin, but soon turns into an easier rainforest trek with firmer topsoil. On your way to Central Station, renowned for its cool canopies, abundant wildlife and thriving greenery, you will pass not one, not two, but three freshwater lakes! We recommend taking your time to stop at Lake Benaroon for lunch, as there is a day-use area and a divine freshwater lake to cool off in. Lake Jennings, one of the smaller lakes on K'gari, is also a pristine hidden gem, although it will add about 3km onto your walk once you return to the track. Arrive at Central Station, where the walker's camp is completely separate from the 4WD camping area, and enjoy the rainforest woods, taking time to slow down and breathe in your surroundings. Equipped with dingo boxes, toilets and even hot showers (requiring gold coins), nature seems pretty kind at Central Station!



Day 3
Central Station - Lake Boorangoora (Lake Mackenzie) (11.5km through Pile Valley, or 6.6km by Basin Lake)
Choose your own adventure today, as you walk from Central Station to Lake Boorangoora (Mackenzie) through either Pile Valley or Basin Lake. Basin Lake is a quiet, hidden spot ideal for a midday swim, with a short yet steeper walk. Pile Valley is home to towering Satinay trees, historically cut down for timber exports, but now protected under the Heritage listing that envelops all of K'gari. Both options are fantastic and peaceful routes for your third day of K'gari adventuring. Lake Boorangoora (Mackenzie) is truly unbelievable, with its two-tone aquamarine and azure waters and bright white sands! You may think you're at the beach, but this magical site is actually a freshwater lake fringed by lush trees… dive in after a long walk for one of the most divine swims ever! The campsite at Lake Boorangoora is fenced, with food boxes and separate from the day-use area which is equipped with toilets.



Day 4
Lake Boorangoora (Lake Mackenzie) - Lake Wabby (12km)
Today the trail will lead you back towards the East Coast of K'gari, along a path of deep greenery, towering eucalypts and tall blackbutt forest. While you may start to feel the ache in your legs by now, your destination at the end of this stint is a perfect motivator! Lake Wabby is the deepest lake on the island and is a spectacular emerald green in colour. Surrounded by the Hammerstone Blow, a vast desert of golden sands, the aesthetic contrast of this beautiful lake is pretty dreamy. Hang out by the sands of the lake, and explore the blow. Then, check out the lookout that allows you to see the lake, ocean and sands for a naturally wondrous view! Your campsite for the night is a quiet forest-clad hikers camp, with dingo-boxes and toilets. Dig into dinner under the stars as you reflect on your beautiful K'gari walk so far!



Day 5
Lake Wabby - Valley of the Giants (16.1km)
Set off into the forest for another longer day of stunning rainforest exploring! A cool canopy of tall Satinays and Tallowoods provide a shady and scenic route bound to have you breathing easy. Please note, there are some ascents and descents during this leg of the journey. Stop along the quiet trail to enjoy a woodland lunch and follow the signs to see K'gari's ancient, Giant Satinay… simply breathtaking! Arrive at your Valley of the Giants campsite, a quiet, cool forest site, far from the beaten path. Equipped with toilets and dingo-boxes, kick back and recover from your big day of trail adventuring and indulge in any cheeky treats you may have packed for your journey!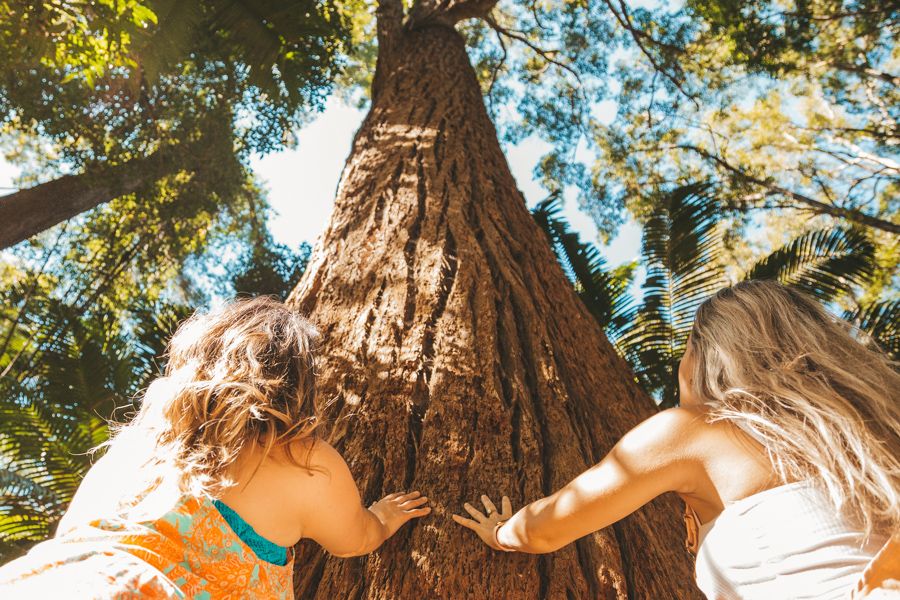 Day 6
Valley of the Giants - Lake Garawongera (13.1km)
Be breath taken as you walk through the Valley of the Giants… these towering trees are grand and absolutely majestic! Indeed, you will feel small and surrounded by natural wisdom in the best of ways. As you leave your campsite, en route to one of your last campsites, don't forget to stop by the Giant Tallowood. This tree is over 1000 years old and has survived many years of adversity, as well as a huge lightning strike. Continue on your path through forests that turn into bush sclerophyll. Keep an eye out for native bush trees, that incredibly flower towards the North first; a navigation trick used by the Butchulla people of K'gari. Arrive at Lake Garawongera, a small and quiet campsite equipped with tables, toilets and food boxes. Mosey down to the freshwater, tannin-stained lake for a refreshing dip and bird watch… it's a truly spectacular stop on the trail.

Day 7
Lake Garawongera - Happy Valley (6.7km)
Home stretch! After a final morning swim in the beautiful Lake Garawongera, pack up your tent one last time before you do a final trek to Happy Valley. This final stint is sandy at times, and also has a few hills. However, power through until you reach the end of the Great Walk, and celebrate with a cold beer and burger at the pub! Seriously, nothing has ever tasted so good! Happy Valley is right on the beach, and if you want one more night on K'gari, there is accommodation or beach camping available (booking beforehand usually required). Please note, that there are no dingo boxes available if you camp on the beach, as campers here usually have a 4WD, however there is accommodation available at Happy Valley. Reflect on the unforgettable trail times with your hiking fam as you appreciate the unmatched experience of K'gari that is the Great Walk!
---
Dingo safety

Wongari (dingoes) on K'gari are iconic, however, these animals need to be treated with caution, respect and most importantly, not like a household dog.
Make sure to follow these dingo-safe practices when hiking K'gari:
Do not feed dingoes
No food at lakes
Always store food in the dingo food boxes, not in tents
Don't walk alone
Never leave your children unattended
Before you depart on your hike, learn and implement the K'gari guide to dingo safety measures. Your safety, and the survival of the K'gari dingo population, depends on it.
---
K'gari Great Walk Tips
---
Day Walk Options
There are plenty of day walk options for those who want to see K'gari on foot. Visit Lake Boorangoora (Mackenzie), Lake Boomanjin, Valley of the Giants, Lake Wabby and more on a day hike. Don't forget to pack a hat, wear comfortable shoes and bring plenty of drinking water! Check out the range of short and long day and overnight walks available to visitors of K'gari.
---
Last but not least, don't forget to soak it all in… K'gari is the Butchulla name for paradise, and it is no mystery why! This island is an absolute natural oasis, so get back to nature and enjoy this adventure of a lifetime.
To book accommodation and tours before or after your Great Walk experience, get in touch with our friendly staff today!


Live chat with us, or call us on +61 7 4128 4479.