Lake Allom on K'gari (Fraser Island)
Updated Wed 12 Jul 2023
K'gari (Fraser Island) is famous for its many unique lakes, and Lake Allom is one of them! Though K'gari is the world's largest sand island, the landscape is filled with diversity, from lakes and creeks to rainforests and sand dunes. This article will focus on Lake Allom, a lesser-known lake on K'gari that is still worth visiting. Why do people visit Lake Allom? Is it worth visiting? Let's dive into everything you may want to know about Lake Allom on K'gari (Fraser Island)!
---
Lake Allom, K'gari (Fraser Island)
Lake Allom is one of the many unique perched lakes on K'gari (Fraser Island). That means the lake is formed entirely of fresh rainwater! A natural depression in the sand dunes becomes compacted over time, creating a natural pool that fills with rainwater. So Lake Allom is incredibly refreshing for a swim!
The Lake Allom Day Use Area has parking spaces and some picnic tables where you can relax for a few hours. Choose to walk the 1.4km circuit walk, or just have some snacks, stroll around the lake's peaceful scenery, go for a swim, and admire the lush satinay, brushbox, kauri pine and hoop pine trees that surround the area. With impressive rainforests that grow out of the sand, K'gari's wilderness provides a sanctuary of natural beauty that attracts nature lovers from all over the world.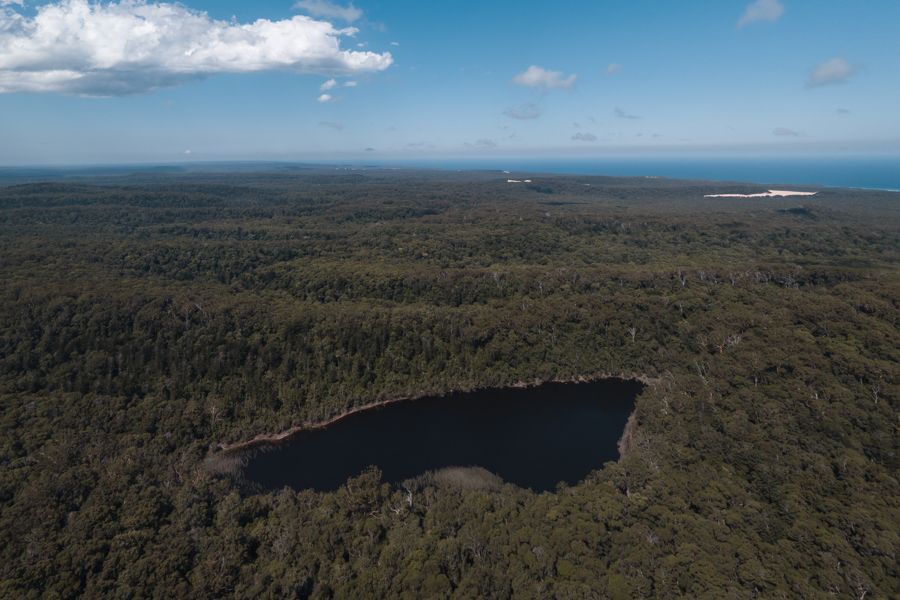 ---
Spotting Turtles In Lake Allom
One of the main reasons why travellers visit Lake Allom is to spot freshwater turtles! Lake Allom is one of the best places to spot turtles on K'gari (Fraser Island) due to the lake's calm surface and spacious viewing platform. The viewing platform was originally built in 2002, as a way to spot wildlife but also as a way to decrease contaminants from polluting the water. K'gari's ecosystem is very unique and fragile, especially the perched lakes which don't filter in and out of any streams or oceans. If you admire the lake from the vantage point of the viewing platform, you may be preventing pollutants like chemical sunscreens or beauty products from entering the water!
But in terms of wildlife spotting, the viewing deck is a fabulous place to spot the adorable freshwater turtles that inhabit Lake Allom. Also keep your eyes peeled for fish, birds, and other fascinating wildlife! Due to the lake's sensitivity, it is strictly prohibited to feed the turtles or other wildlife in or around the lake as it may irreversibly alter the lake and damage its delicate ecosystem. If we want to keep K'gari's landscape protected for generations to come, it is best to look from a distance and respect our surrounding environment!
---
How To Get To Lake Allom
While the lake is undoubtedly beautiful to look at it, half of the adventure to Lake Allom is the pathway leading to it! The inland track that brings you to Lake Allom is a challenging 4WD drive that weaves its way upwards through the bush. You'll eventually reach the short walking path into Lake Allom and the day-use area. Be prepared to take your time and enjoy the ride!
Though Lake Allom isn't as famous as Lake McKenzie or even Lake Birrabeen, it's still a great addition to any K'gari itinerary. Lake Allom proves to be a great place for snapping some photos, escaping the crowds, and spotting some wildlife. It's a lovely, non-touristy location on K'gari, with only Pippies and Fraser Dingo 3-day tag-along tours including a visit here.
---
Ready to plan your trip to K'gari (Fraser Island)? Live chat with us online and we'll help you pick the perfect tour!