Lake Allom on Fraser Island
Lake Allom on Fraser Island is the best turtle spotting place around! It is one of many stunning lakes that are found on this unique sand island. This tucked away lake is found inland from Cathedrals on Fraser and is a nature-watching oasis. The beautiful lake has a viewing platform from which you can sit and turtle watch from the safety of the shoreline, keeping an eye out as they pop their heads above water. The freshwater turtles are often spotted around the viewing deck, vying for food and coming up for air. From here you can also see small fish in the water and enjoy the natural gateway made in the reeds that will give you a view of the lake on a larger scale.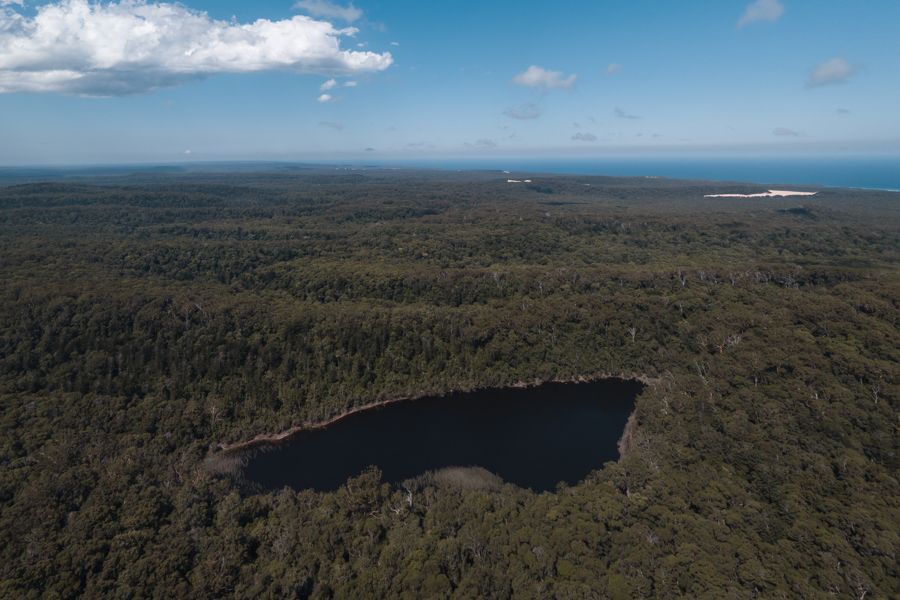 The viewing deck at Lake Allom was established in 2002 in hopes of decreasing outside contaminants from entering the water as well as to provide a great vantage point from which to view the lake and its surroundings. Due to the lake's sensitivity, it is strictly prohibited to feed the turtles or other wildlife in or around the lake as it may irreversibly alter the lake and damage its delicate ecosystem. If we want to keep it around for generations to come, it is best to look from a distance and respect our surrounding environment!
While the lake is undoubtedly beautiful to look at it, half of the adventure to Lake Allom is the pathway leading to it! The inland track that brings you to the lake is a challenging 4WD drive that weaves its way upwards to the walking path into Lake Allom. Be prepared to take your time and enjoy the ride!
Lake Allom proves to be a great place for snapping some photos and enjoying the view, but it's best to stay out away from its inhabitants and take in the natural surroundings of the perched lake.