Fraser Dingo Group 4WD Hire (Multi-Day)
CLOSE
View More Thumbnails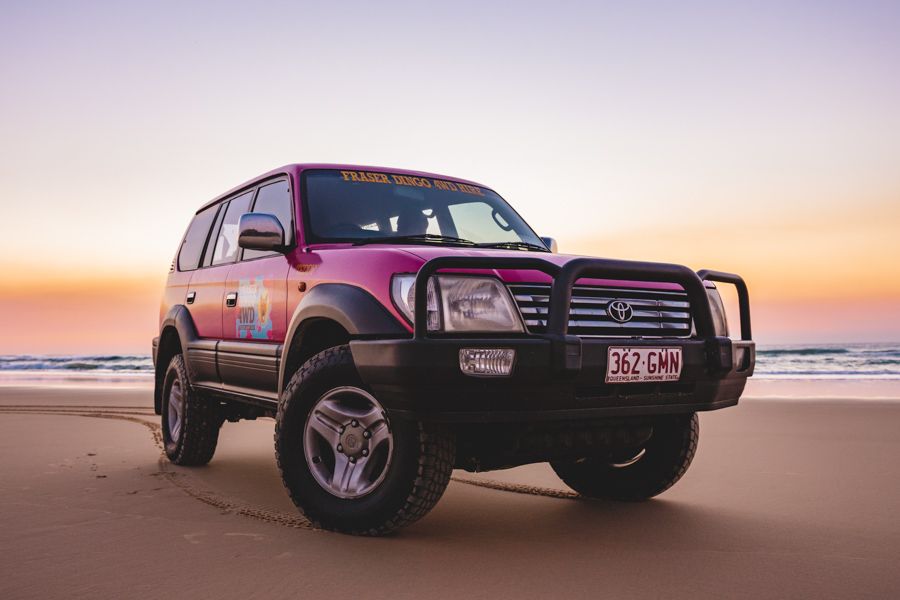 Loading...
Pricing Options
$725 AUD per Vehicle
- 2 Day Hire
(Between: 01 Dec 2019 and 31 Aug 2020)
$890 AUD per Vehicle
- 3 Day Hire
(Between: 01 Dec 2019 and 31 Aug 2020)
$1060 AUD per Vehicle
- 4 Day Hire
(Between: 01 Dec 2019 and 31 Aug 2020)
$35 AUD per Person
- 2 Day Camping Package Add On
(Between: 01 Dec 2019 and 31 Aug 2020)
$60 AUD per Person
- 3 Day Camping Package Add On
(Between: 01 Dec 2019 and 31 Aug 2020)
$90 AUD per Person
- 4 Day Camping Package Add On
(Between: 01 Dec 2019 and 31 Aug 2020)
Choose the length of your trip and explore Fraser Island your way with your own 4WD rental!
Fraser Dingo offers an exciting 4WD multi-day tour from your own vehicle!
Rent a 4WD and tour Fraser with your friends or family
See and experience Fraser Island at your own pace
Make your own itinerary by choosing how many days you want to spend on Fraser Island
Explore all the highlights Fraser Island has to offer away from the crowds
If you want to drive on Fraser Island and enjoy the freedom of your own vehicle, then Fraser Dingo 4WD Hire is for you. This is the best option for a family or group who want to travel around this large sand island in a 4WD. 4WD Hire is the best way to enjoy Fraser Island for as long or as little as you'd like! Short on Time? Why not try our Fraser Dingo 1 Day Hire Package.

---
Features
Stress-free booking process: Tell us your dream itinerary and our team will arrange the rest! There is a lot involved in preparing a Fraser trip and getting to the Island depends on barge availability. Secure your passage by booking in advance!
Automatic 4WD Hire: Get one of our brightly painted Toyota Landcruiser Prados! Seats up to 4 people, or 5 by request (conditions apply).
Barge transfers: Included in our prices, booked for you by our team. After you book, we will take care of organising your barge transfers and briefing time. We will then send you a confirmation email with the schedule of your trip summarised.
Local permits: Vehicle access permit and camping permits are included and booked for you by our team. Please note: The camping permits are included in our camping packages but will be added as extra if you are bringing your own camping equipment ($7 per person per night)
Personalised itinerary: Discovering Fraser Island is an extremely tide and weather-dependant adventure - Leave the headache of preparing the itinerary to us to avoid the unnecessary driving time and maximise your Fraser Island experience! Enjoy the inland hidden treasures of Fraser Island during high tide and get to the Eastern Beach safely for low tide for the drive of your life on the unique 75 Mile Beach.
Mandatory 4WD safety briefing: Let us tell you all you need to know to enjoy your time on Fraser safely. This 1-hour briefing is done prior to departure, please allow at least 2 hours before your preferred barge time choice.
Extensive knowledge of Fraser Island: Our team can provide you with all sorts of special interest information: dingo awareness, short or extended walk/hike options, nature conservation, Fraser Island history… Let us know what you want to know!
Avoid the crowds and create your own personalised trip with Fraser Dingo 4WD Hire. Hire your vehicle, or add camping gear at an extra cost and enjoy the wilderness of Fraser Island!

---
Depart/ Return
Drivers must attend a safety briefing prior to departure (average brief time is 1 hour)
Barge transfer times and briefing times will be confirmed via email after booking

---
Important Information
Driver must be 21+ and hold a current open drivers license
The hirer must be 23 years and over (Hire not available if the entire group is under 23)
Must be able to provide a BOND of $1000, ($2000 bond payable if the group has anyone under 23)
This tour may not be suitable if you have any existing neck or back problems or are pregnant. Check with your agent to make sure this tour is suitable for you.
Hire Distance Limits:


2 day trip - The limit on 75 Mile Beach (Eastern Beach of Fraser Island) is Cathedrals on Fraser, (approx. 170km) and there is not enough time to go further North.
The limit on 3 and 4 day trips is Indian Head and a walk to Champagne Pools.

Vehicles do not have air-conditioning
Group Vehicle Rates are for 4 guests, please enquire for 5.
International Travellers need to be covered by travel insurance
Vehicle to be returned cleaned and re-fueled
Need to Add More People?

For 2 day hire it is $35 per person extra.
For 3 day hire it is $50 per person extra
For 4 day hire it is $65 per person extra

---
BOOK WITH US TODAY! CALL 1800 550 751 OR (07) 4914 2425 IF LOCAL
What's Included
Esky
Personalised Itineraries
Safety Briefing
Vehicle Access Permits
Barge Transfers
What's Extra
$1000 bond payable on arrival, $2000 bond payable if anyone in the group is under 23 (families with children under 21 excluded)
Camping permits not included unless Camping Package Add on is Selected
International travellers need to be covered with travel insurance. This often needs to be organised before travelling to Australia
Must be 23 years or over to hire a 4WD. We do not hire to groups with all participants under 23 years.
Must be 21 or over to be a driver.
Refueling on return
Dingos Clean on return
Terms and Conditions
This tour may not be suitable if you have any existing neck or back problems or are pregnant. Check with your agent to make sure this tour is suitable for you.
All departures and itineraries are subject to weather. Tours may be changed or cancelled for any reason at the discretion of the Tour Operator. It should be noted that adventure travel involves risk. Whilst we make every effort to safeguard clients, we cannot be responsible for personal injury or loss due to actions of our clients which are beyond our control. We recommend that all clients have travel insurance covering illness, injury, loss or damage to personal belongings and not being able to travel on the confirmed date of departure. Please be aware operators pass on credit card merchant fees so there is a non-refundable 1.5% surcharge for VISA, MASTERCARD and AMEX card purchases.
Cancellations
All client cancellations forfeit 25% of total ticket price and all client cancellations made less than 21 days prior to departure will result in complete forfeiture of the full price of the sailing holiday. If the sailing company has to cancel the trip (prior to the boat's departure) and we cannot offer a suitable alternative, then a refund will be given minus card fees. We strongly recommend that you have travel insurance, especially during the wet season.
Thank you for booking with Mr Travel/Sailing Whitsundays. If you would like any advice or assistance in arranging accommodation, transfers or additional tours, please do not hesitate to contact us.