How to get to Fraser Island from Sydney
Fraser Island and Sydney are two of the most popular tourist destinations in Australia. Many people coming to Australia from overseas often find themselves starting their Aussie tour in Sydney, which has a large international airport, and wondering how they can get to other cities, towns and destinations across Australia. Around 1,200km north of Sydney, Fraser Island can only be accessed from the mainland via ferry. Car and passenger ferries launch near the towns of Hervey Bay and Rainbow Beach on the Fraser Coast and depart multiple times per day.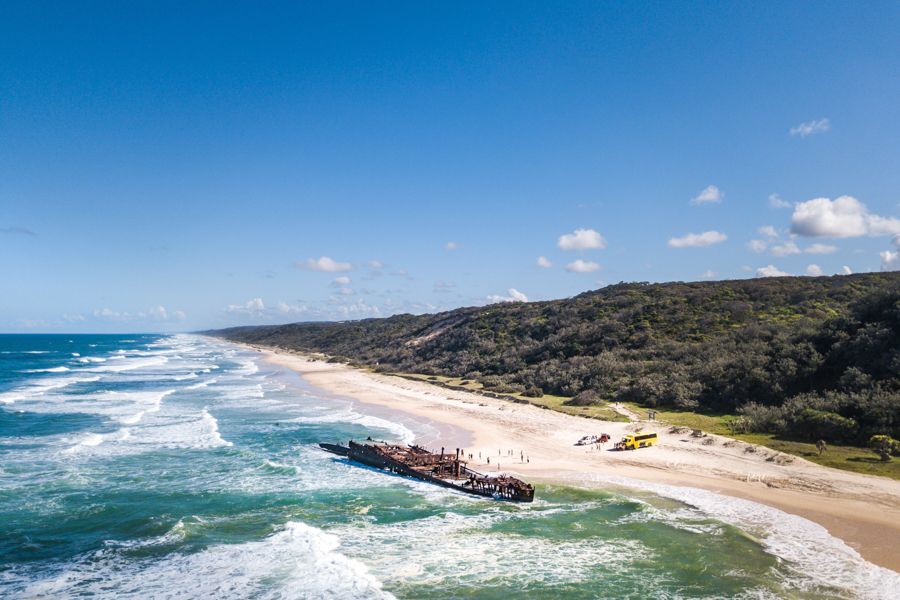 If you are joining a Fraser Island tour you will travel as a group from a pre-arranged departure point to the ferry. Fraser Island tours depart from Brisbane, the Gold Coast, Rainbow Beach, Noosa and Hervey Bay so if you are starting your trip in Sydney, you will need to make your own way to one of these cities or towns. If you plan to explore Fraser Island on your own, there are plenty of ways to travel from Sydney to the Fraser Island ferries - train, car, bus or plane.
Driving
If you opt to drive from Sydney to Fraser Island, you are looking at a 12-14 hour drive to reach the Fraser Coast. Most drivers choose to do this over the course of a few days, taking the time to enjoy the scenery and towns along the way. This is a great option for those who have plenty of time and are comfortable driving on a lengthy road trip. Doing this road trip in a campervan is a popular option as it makes for an adventure in itself!
Train
Travelling by train is another option to travel from Sydney to Fraser Island. You will need to take the NSW TrainLink from Sydney to Brisbane and then a second train from Brisbane to the Fraser Coast with either the Tilt Train or the Spirit of Queensland. Both trains have offer Railbus Coach Connections to bring you right to Hervey Bay. Overall, this journey can take up to 20 hours.
Bus
There are two main bus services that run in Australia; Greyhound and Premier. The travel time from Sydney to the Fraser Coast ranges from 23 - 26 hours and all busses have a layover in Brisbane, where you will have to switch busses.
If you have a bit of extra time, why not purchase a hop-on/hop-off bus pass - this will allow you to explore a bit more of Australia on your way to the iconic Fraser Island! There are several types of hop-on, hop-off passes that vary in length of time as well as the number of uses, so make sure you check the options and choose the one that's right for you. See Greyhound's hop on option here, or Premier's hop on option here.
Flying
Flying from Sydney to the Fraser Coast is easy! There are daily flights from Sydney direct to Hervey Bay with Virgin Australia that will have you there in about 1 hour and 45 minutes. For a cheaper alternative, you could fly from Sydney to Brisbane and then take a bus or train or hire a car to drive up to Hervey Bay which is only an additional 290km.
Best Options
No matter which way you choose to get Sydney to Fraser Island, you can always look forward to the journey. Flying is the fastest and easiest option, while any road (or rail) trip will allow you to see plenty of the countryside and Australian landscape with the option of making plenty of stops along the way. If you are having trouble choosing which method of travelling from Sydney to Fraser Island is best for you, talk to our travel experts when booking your Fraser Island tour and ask them to help you decide.
---
For more information on how to get to Fraser Island, Click Here!