Best Free Things to do in Rainbow Beach
Updated Fri 08 Jul 2022
If you're travelling along the Fraser Coast, a visit to Rainbow Beach should be on your to-do list. This small coastal town is surrounded by the Great Sandy National Park and is well-known for being one of only two places from where you can access Fraser Island but Rainbow Beach is an attraction in its own right. Once you get to Rainbow Beach, there is plenty on offer - here is our pick of the best things to do in Rainbow Beach!
---
1. Enjoy the Surf
Rainbow Beach with its silky sand and rolling surf stretches along 23km of pristine coastline in Wide Bay on the Fraser Coast. This beach is popular among surfers of all levels, but if you didn't bring your own board, the Rainbow Beach Learn to Surf School is a fun way to experience your hundredth surf or your first time! Keep in mind that Rainbow Beach has strong tidal currents which often contain potentially hazardous rips so swimmers and bodyboarders should always stay between the flags where lifeguards patrol all year round.
---
2. Take in the View
Carlo Sand Blow is an impressive 15-hectare sandscape with stunning views of Tin Can Bay, the coloured sands and Double Island Point. From the carpark at the end of Cooloola Drive, the sand blow is only a short 5-minute walk through the dense bushland. For an extra special view of Queensland's coastline, visit Carlo Sand Blow at sunrise or sunset - your reward will be nothing short of spectacular!
---
3. Visit Rainbow Beach's Namesake
The coloured sands of Rainbow Beach are a beautiful natural phenomenon that attracts and amazes thousands of visitors each year. Take a relaxing walk or drive (4WDs only) the 2km along Rainbow Beach from the Surf Lifesaving Club at low tide past caves and freshwater springs to the towering 80 metre coloured sand dunes. There are said to be up to 72 different colours in the sand which has been forming in layers since the last ice age as a result of iron oxide and dyes leaking from the surrounding vegetation. Pack plenty of water and your camera as the photo opportunities are endless, especially after rain when the colours will be most vivid.
---
4. Find the Rainbow Stairs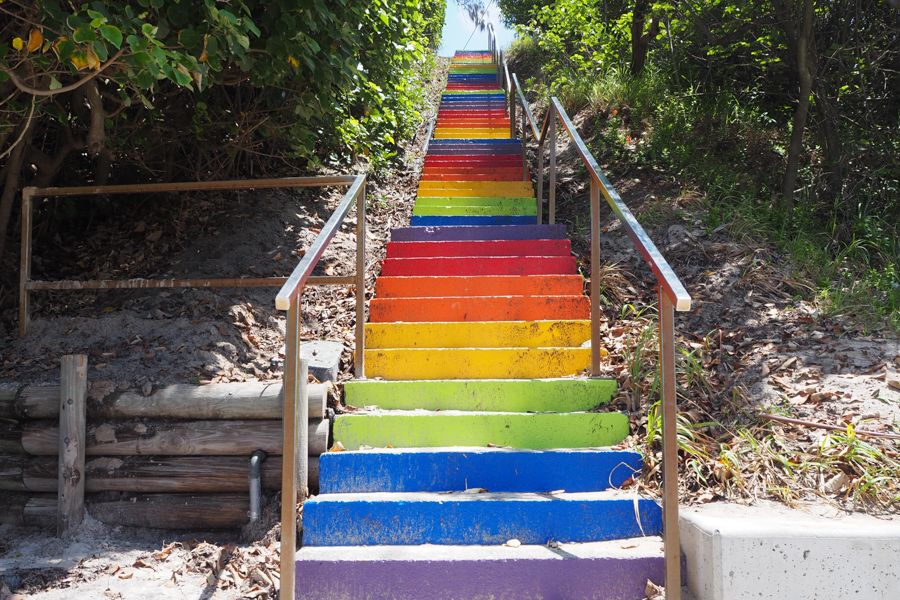 In 2018, as part of the Pride House Commonwealth Games, a well-used set of stairs in Rainbow Beach were painted the six colours of the LGBTIQ pride rainbow. It didn't take long for the stairs to become popular with locals and visitors alike. Soon after, former cage fighter and cancer survivor Bron Noffke visited Rainbow Beach and painted her well-known slogan "How good is living" on the stairs as a message to her children. Expecting to be fined and asked to repaint the stairs, Bron was amazed when photos of her 'graffiti' quickly went viral with thousands of people reaching out to her to express their gratitude for her inspirational message. Perfect Insta spot!
The slogan, loved by many and hated by some, has caused controversy in the local community since it's appearance. Again and again, the four little words have been painted over and then mysteriously reappeared overnight. In an effort to settle the dispute about whether or not the slogan should stay on the rainbow stairs, the Gympie Council has recently put together a questionnaire with four options for consideration; no paint on the stairs, the stairs painted the seven colours of the rainbow with no words, the stairs painted rainbow colours with the words "how good is living" or the stairs painted rainbow colours with the words "Rainbow Beach Queensland" on them. The outcome is yet to be seen. Will the stairs read "How good is living" when you visit?
---
5. Explore nature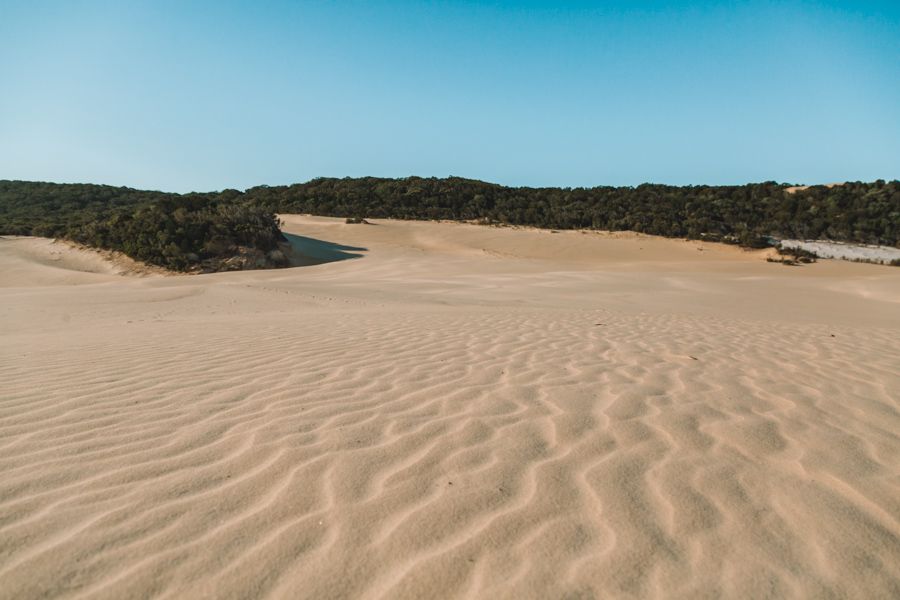 The Great Sandy National Park on the fringe of Rainbow Beach offers pristine freshwater lakes, vast sand blows, ancient rainforests, towering sand cliffs and abundant wildlife. Comprising of both Cooloola and Fraser Island Recreation Areas, visitors to the area can partake in hiking, swimming, fishing, camping and 4WD beach driving in some of the most rugged and picturesque wilderness in all of Australia. National Park permits are required for camping and beach driving and can be obtained from the Queensland Parks and Wildlife Service (QPWS) office in Rainbow Beach or through the QPWS website.
---
6. Catch your dinner
If you're keen on beach fishing Rainbow Beach is a great place to cast a line and show the kids how it's done. Deep holes and gutters with strong tidal currents are common along the beach north of the Surf Lifesaving Club and the deep tidal channel off Inskip Point is a favourite among anglers. Species commonly caught in the area include dart, whiting, tailor and jewfish.
---
Did you know we have tours departing to Fraser Island from Rainbow Beach? Ask our friendly Fraser experts how you can visit the largest sand island in the world by clicking the chatbox!