Driving on Fraser Island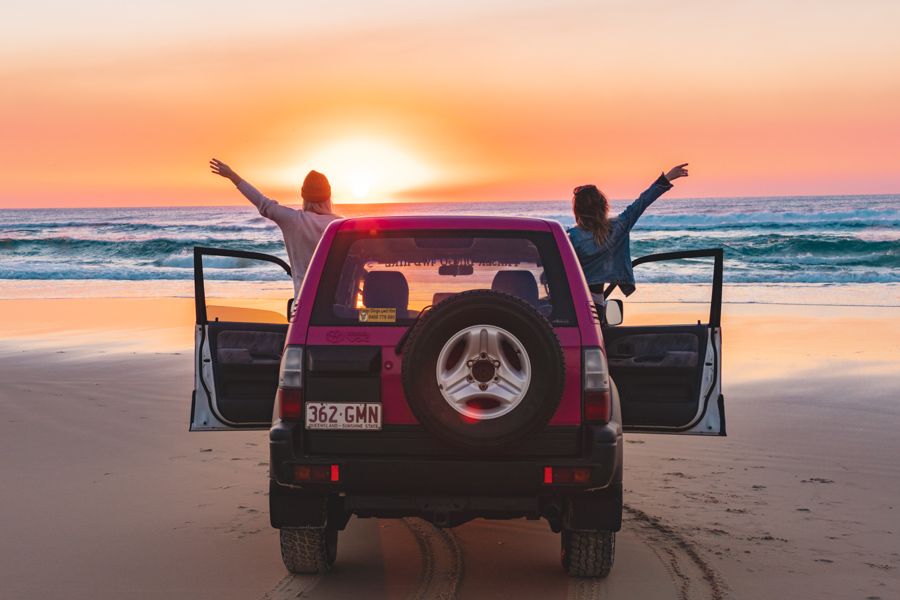 If you are a bit of an adventurer who enjoys challenging terrain when behind the wheel, or are simply just wanting a once-in-a-lifetime experience, then driving along the world's largest sand island is for you! Fraser Island is not only one of the most scenic islands in Australia, but it has one of its most unique highways. This notorious stretch of sand known as 75 Mile Beach is located at Queensland's Fraser Island and people from around the world visit to see its sandy beaches and drive along the shoreline!
There are several ways that you can choose to visit Fraser Island and drive on the sand highway. One option is to book a tag-along tour where you can drive a rented 4WD vehicle with a tour group. There are many tours that offer this option, where you are with a guide who will show you from place to place. Visitors can also choose to rent a 4WD on the mainland or drive their own 4WD to the island.
By purchasing a 'vehicle access permit' high clearance, 4-wheel-drive cars are able to take on Fraser Island's sand tracks known as the famous Seventy-Five Mile Beach. This amazing piece of highway is gazetted and the main access of the island and is famous for its long shoreline and great views! Just make sure you have an appropriate vehicle for the Fraser Island terrain - it can be a challenge at the best of times, so you want to have a reliable vehicle to get you through it, plus there are certain requirements of the types of vehicles they will allow, so check with us before choosing this option.
Regular vehicle barges depart from two locations, either Inskip Point (15 mins drive away from Rainbow beach) or River Heads (east of Maryborough), which can transfer your car to the island. Bookings may be required to ensure your departure time. Once on the island, vehicles have access to the beaches and sandy inland roads which often lead to and have access to scenic drives and walking tracks. For more information on departure and arrival points on Fraser Island, click here.
Vehicles must comply with all signage and directions at all time while on the island and all Queensland road rules apply. If you have any questions before heading to the island, be sure to ask our travel experts. We can help you to choose a tag-along tour that is suited for you or help you book your own 4WD vehicle to take to the island!
You May Also Be Interested In:
Ready to start planning your perfect Fraser Island/K'Gari holiday? Chat to our friendly Fraser experts online or free call anywhere in Australia to find out our current specials!