Getting to Fraser island from the Whitsundays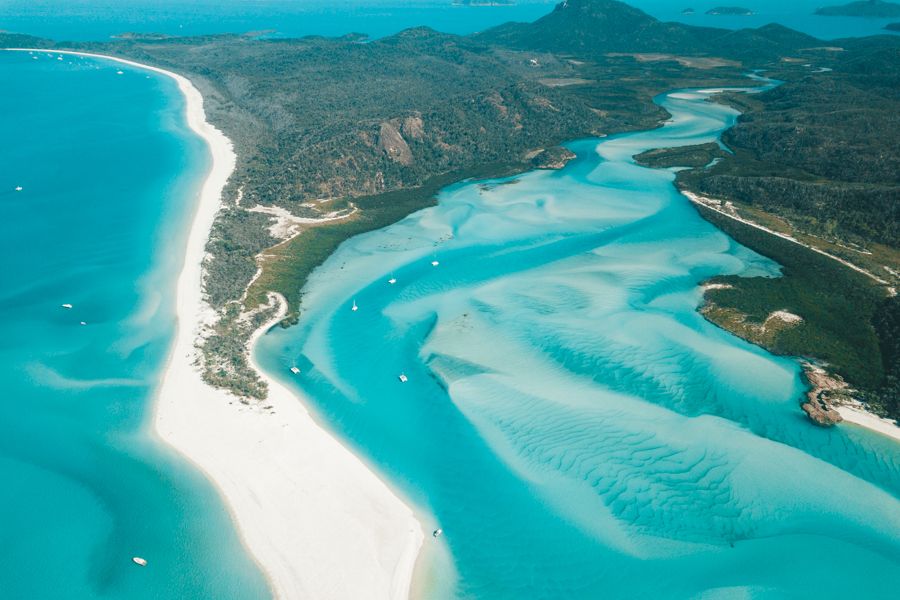 If you are travelling south down the east coast of Australia from the Whitsunday Islands, Fraser Island is a must-see destination you will want to include on your itinerary. The distance between the Whitsunday Islands and Fraser Island is around 1,000km and to reach Fraser Island you must catch a ferry from the mainland. Fraser Island car and passenger ferries depart multiple times daily from the towns of Hervey Bay and Rainbow Beach on the Fraser Coast.
Departure Points to Fraser Island
If you join a Fraser Island tour you will meet at a pre-arranged departure point and travel to the ferry as a group. Depending on the tour you choose, the departure point for your Fraser Island tour may be in Brisbane, the Gold Coast, Noosa, Rainbow Beach or Hervey Bay so if you are starting your trip in the Whitsundays, you will need to make your own way to one of these cities or towns at least one day prior to your tour. For more information on departure and arrival points on Fraser Island, click here.
For those that have decided on a self-drive Fraser Island adventure or a tag-along tour, you will need to travel to Hervey Bay or Rainbow Beach to catch a Fraser Island ferry. Either way, there are multiple transport options available that will get you from the Whitsundays to the Fraser Coast - car, plane, bus or train, the journey is part of the adventure!
Drive:
Driving between Airlie Beach in the Whitsundays and Hervey Bay will take about 12 - 14 hours. Most travellers opt to do this over several days, taking the time to sightsee along the way and this is a great option if you have the freedom of your own car or campervan or a rental vehicle.
Fly:
There are two airports in the Whitsundays; one on Hamilton Island and one in the mainland town of Proserpine about 45 minutes outside of Airlie Beach. Unfortunately, there are no direct flights from either airport to Hervey Bay Airport and passengers will need to transfer to a connecting flight in Brisbane.
If you're looking for a cheaper option, once arriving in Brisbane you could hire a car or take a bus to either Hervey Bay or Rainbow Beach. The drive will take about 3 hours to Rainbow Beach or 3.5 hours to Hervey Bay. There are also several Fraser Island tours that depart from Brisbane, allowing you to start your journey from here.
Bus:
Greyhound and Premier Bus Service offer coach journeys from Airlie Beach to Hervey Bay or Rainbow Beach and can take anywhere from 12 hours to a full day depending on which service you select. This is a great budget-friendly way to travel and, if you're looking to explore more of Australia along the way, you have the option of purchasing a hop-on, hop-off bus pass from either company that will allow for various stops along the way.
Train:
The closest train stations to the Whitsundays and Hervey Bay are found in Proserpine near the Whitsunday Coast and Maryborough West on the Fraser Coast. Travelling by train from Proserpine to Maryborough West will take around 12 hours in total and there are several types of tickets for different levels of comfort and access to the dining car and bar on board. There are several trains that travel the Fraser Coast however the best option is the Spirit of Queensland as it offers FREE RailBus Coach Connections to both Airlie Beach and Hervey Bay taking the hassle out of the connection.
If you are unsure which mode of transport is right for you, ask our Fraser Coast travel experts to help you decide on which option is right for you. We can also help with a package deal to visit both Fraser Island and the Whitsundays and help you plan your journey from beginning to end while saving you money!
For more information on how to get to Fraser Island, click here!