Where to Park in Hervey Bay
Updated Tue 12 Nov 2019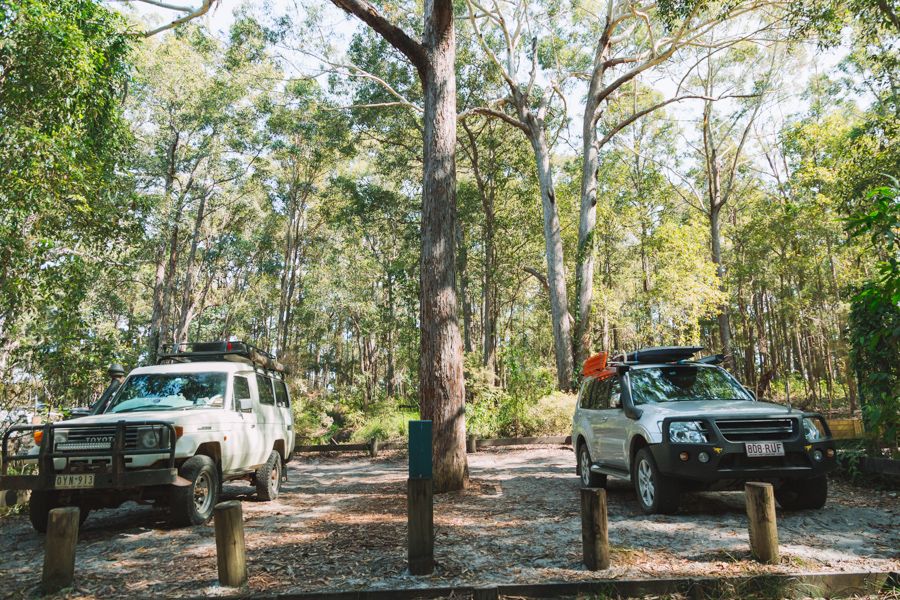 The coastal town of Hervey Bay is not only famous for some of the best whale-watching in the world, but it is also the gateway to Fraser Island. From River Heads near Hervey Bay, car and passenger ferries depart multiple times daily and transport travellers to either Kingfisher Bay or Wanggoolba Creek on Fraser Island.
No matter if you are joining a guided or tag-along tour, or you have decided on a self-drive Fraser Island experience, if you have arrived in Hervey Bay with a car or other vehicle there will be one question on your lips - where can I park in Hervey Bay?
There are multiple options available for day and overnight parking in Hervey Bay. Keep in mind that 4wd vehicles are the only kind allowed on Fraser Island and permits apply so you may need to leave your car behind.
---
Free Parking Options
Everyone loves free parking but it can be tricky to find so here's a list of free parking places in Hervey Bay for you!
Flashpackers Hostel Hervey Bay offers secure parking completely free with a hostel booking in their fully fenced and locked car park. You can even leave your car here for free while on Fraser Island (subject to availability). Flashpackers also have lockers for hire in reception if you are concerned about your valuables.
The Woolshed Backpackers offer free off-street parking while staying at the hostel on a first-come-first-serve basis. Unfortunately, you cannot leave your car here while you go to Fraser Island but there is limited free street parking out the front on Torquay Road. As this is not a secure site, parking here will be at your own risk and it is advisable to take all valuables with you. If you're short on space, or your tour doesn't allow you to bring your luggage, you may also opt to utilise secure luggage storage and leave your car on the street empty as an alternative.
The Beach Motel Hervey Bay is more than happy to provide free off-street parking during your stay and let you leave your car there for a couple of days while on Fraser Island! The motel is also happy to store your luggage for you while you're on a Fraser tour so for peace of mind make sure you take all valuables out of the car before you leave.
Boat Harbour Drive Discovery Park allows small campervans or cars to be left in the car park out the front after their stay. Vehicles can be left for multiple days during low season but be aware that this is not a secure car park.
Windmill Caravan Park has free parking on Elizabeth Street in front. Security cameras do cover the area but parking here is at your own risk.
Another free option is the public car park directly opposite The Boat Club on Miller Street. While this car park has no time limit, parking here will be at your own risk and you will need to check with your tour operator if you can be picked up from here. Most Fraser Island tours will pick you up from your accommodation in Hervey Bay and transport you directly to the Fraser Island ferry but it is always best to check with your tour provider.
---
Paid Parking Options
River Heads Security Parking is conveniently located within walking distance of the Fraser Island Barge and is a great option for those who would like the peace of mind of parking in an indoor secured facility. Rates are $20 per night for single nights or $15 per night for multiple nights with discounts available for parking more than 7 nights.
The Hervey Bay Airport also has a secure gated and monitored long-term car park with 28 car spaces. Parking here is $26.00 per day (or part thereof) or $156.00 per week.
---
Hervey Bay Caravan Park On-site Vehicle Storage*
Many caravan parks in Hervey Bay allow vehicles to be left on-site for a fee if you are staying a night or two before or after your Fraser Island tour. This is a great parking option for travellers however it is subject to availability and usually only during low season. While you will be leaving your vehicle within the caravan park grounds it is important to remember that this is not secure parking and your vehicle will not be monitored so take all valuables with you.
Ingenia Holidays Hervey Bay - $10 per day - can work out a deal if staying at the park. Special runs all year except Christmas - stay 4 pay 3 on a powered site $105
Hervey Bay Caravan Park - From $3.30 per day or $16.50 per week (minimum charges apply).
Big4 Point Vernon Holiday Park - $20 per day powered or $15 per day unpowered. Low season only.
Fraser Coast Beachfront Tourist Parks (Pialba, Scarness, Torquay and Burrum Heads) - $7.50 per day during low season only.
Pier Caravan Park - $10 per day with power if needed.
Lazy Acres Caravan Park - may not charge during low season and prices will vary for high season.
Harbour View Caravan Park - $10 per day.
---
Ask us how we can bundle your tour and accommodation to save-If you are still unsure about where to park in Hervey Bay, let us know when booking your tour or accommodation - we are more than happy to contact the supplier and confirm the parking options for you!
---
*prices subject to change