Where to Park in Rainbow Beach
Updated Wed 13 Nov 2019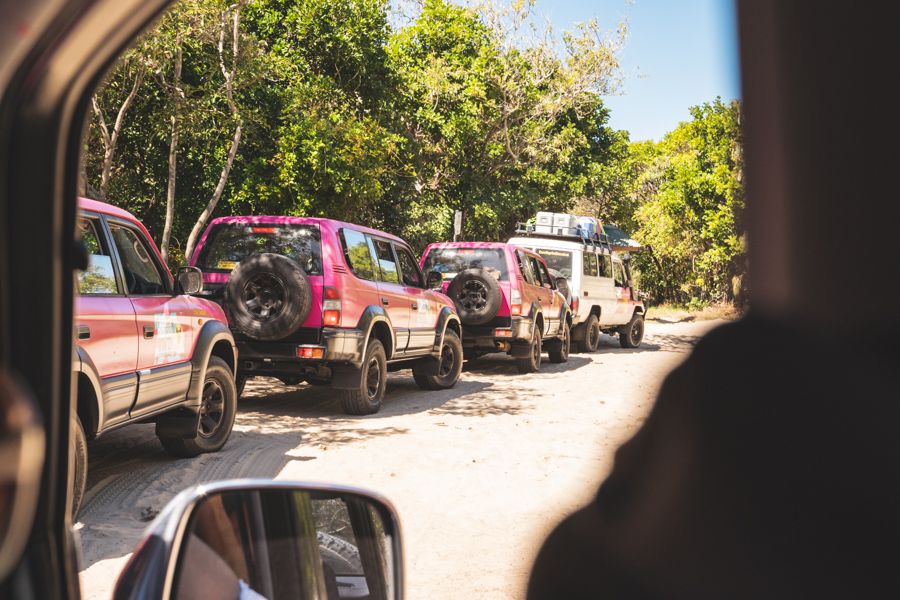 Rainbow Beach is a great starting point for Fraser Island as it has the shortest ferry ride over from Inskip Point. Landing at the most southern end of the island, you will find yourself on the longest sand highway in the world, 75-mile beach. From here, you can make your way up north to enjoy such popular sites as Lake McKenzie, Eli Creek, and the S.S. Maheno shipwreck. If you are planning on joining a guided or tag-along Fraser Island tour, or even hiring a 4WD, you're probably wondering where you can park your car in Rainbow Beach for the day or over overnight. Parking information can be a little hard to find but we've got all the info you need to choose the best parking option for you!
Rainbow Beach hostels such as Freedom Hostels Rainbow Beach and Pippies both offer street parking completely free. However, if you are travelling with electronics or other valuables you may want more peace of mind with secured parking. Freedom Hostels Rainbow Beach offers secure parking in their hostel carpark for $15 per night but spaces are limited so it is strictly on a first come first serve basis. Alternatively, if you choose to park on the street for free, you can take advantage of the hostel's free luggage storage to keep your valuables safe.
Pippies Beach House also offers parking at their hostel for a fee. Alternatively, they also offer street parking on Spectrum St. and free luggage storage while you're on Fraser Island. For a completely worry-free spot for your valuables, lockers are available for hire for $2 per day.
---
Free Parking Options
Most tours will pick up close to the hostel district on Spectrum Street, which has some free parking, or the close by Shell station.
4WD hire places and tag-along tours like Fraser Dingoes offer street parking in an industrial district on your way to the Inskip Point ferry. If you're storing your car here or at a resort, you will need to work out if tours pick up from these places or if you will need to get a bus or taxi to Inskip Point.
Rainbow Beach Surf Life Saving Club also offers ample parking in their lot completely free. The Shell station is only a short 400 metres walk from here.
Finally, if you ask the locals about free parking they will point you towards a designated carpark at the roundabout on the way to Inskip Point. This roundabout is the furthest point you can reach with a 2wd vehicle and the carpark has no time limit but please remember that this is not a secure location.
Remember, if you plan on taking advantage of the free parking in Rainbow Beach you are best taking your valuables with you or utilising your accommodation's luggage storage options. Free parking is not a secure option and will be at your own risk. Check with us which tours will allow you to bring your luggage, as most will only allow a small amount!
---
Accommodation options with luggage storage include:
Rainbow Beach
Rainbow Getaway Holiday Apartments
Rainbow Ocean
Palms Resort
Rainbow Sands Resort
Rainbow Beach Resort
---
Paid Parking Options
Rainbow Sands Resort also offers car storage in a fenced and gated carpark, and only costs $10 per night. This carpark is available for both guests and the public.
Rainbow Beach Holiday Park is another option where you can leave your vehicle on-site for $8 per day or $20 per week however, this is not a secure location.
---
If you still have doubts about where to park in Rainbow Beach, talk to us when booking your tour and accommodation by clicking the chat button, or call +61 74914 2425!