Holiday Here This Year! | Fraser Island
#Holidayherethisyear
Fraser Island is the largest sand island in the world, located off the east coast of Queensland. It's natural beauty and rugged terrain make for some of the most beautiful scenery in the country, and with plenty of attractions like lakes, rainforests and wild dingoes, it's no wonder over 380,000 people visit every year! Here are some of our favourite reasons you should #holidayherethisyear!
---
4 Wheel Driving on the Sand
Undoubtedly one of the most exhilarating things to do on Fraser Island is trekking around the island by 4 wheel drive! From the soft, inland sand, to climbing over rocks and cruising along the famous 75-mile beach, this mode of transportation makes you feel like you're on a safari rather than a tour! Join a tag-along tour for the benefit of local expertise from your guide, or ask us about hiring one to self-drive.
---
The White Shores of Lake McKenzie
The gem of Fraser Island, Lake McKenzie is a must-see when visiting. Picturesque and serene with its clear cerulean waters lapping at pure white sandy shores, and surrounded by lush forests, this perched lake is definitely one you will be sad you missed. Its unique silica sand is similar to Whitehaven Beach, and very accessible by tour bus or 4wd, so everyone can visit!
---
Views from Indian Head Lookout
If you're ready to experience the best vantage point of Fraser Island, get ready for Indian Head Lookout. This stunning and colourful rock formation sits on the northeast coast of Fraser Island and is the most eastern point on the island. Made of rhyolite, this volcanic substance has stunning bold colours against the deep cobalt ocean, and you can spot plenty of marine life from the top, including whales, sharks, stingrays, sea turtles, and large schools of fish.
---
Encounter Wild Pure Dingoes
Fraser Island is home to the purest species of wild dingo in the world, and have easily become one of the icons of the area. Because of their isolated habitat on the island offshore, they haven't been exposed to other wild or domesticated dogs to breed with, keeping their bloodlines pure. Dingoes are considered dangerous, however, they are still incredible creatures to view from your vehicle from a safe distance. Read more here about dingo safety so you can be better prepared to enjoy these animals in their natural habitat.
---
Onshore Fishing at its Finest
While swimming at the beaches on Fraser Island is highly discouraged, the fishing certainly isn't! Fraser Island offers some of the best onshore fishing in Australia, and you'll find plenty of fishermen lined along the shores of 75-mile beach at dawn and dusk. No permits are required, however, there are "no-fishing zones" during certain times of the year - For more information about fishing on Fraser Island, click here.
---
Camping on the Beach
Camping on Fraser Island is an incredible experience, and there are endless options for enjoying all the highlights of this world heritage island by roughing it or glamping! Join a tag-along tour and camp in comfort at one of many campsites with hot showers and campfires or choose a glamping option 4WD for hire and trek out on your own at your own pace. There are plenty of campsites with dingo proof fences to give you peace of mind at night, check out our dingo proof fence map here!
---
Explore Ancient Rainforests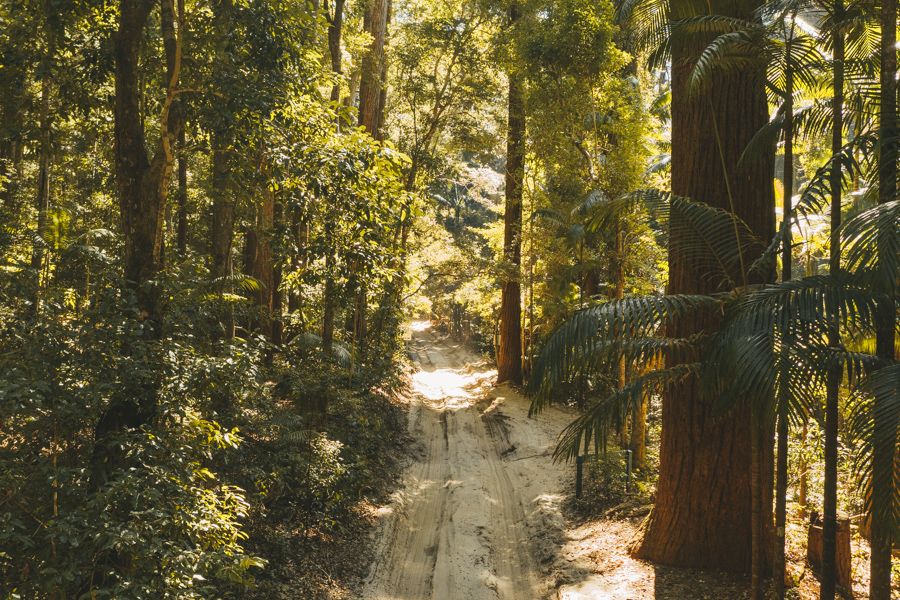 Fraser Island is unique in that it is the largest sand island in the world, and also hosts lush rainforests that grow right out of the sand! Driving inland to places like Central Station and the Valley of the Giants you will feel like you've stepped back in time as emerald green canopies extend as far as the eye can see, and giant 1,200 year old satinays tower over you. You can read more about the rainforests of Fraser Island here.
---
Floating Down Eli Creek
Eli Creek is the perfect spot to stop and cool down, and the freshwater stream is a popular tourist hub. Located on the central east coast of the island, Eli Creek pumps up to 4 million litres of fresh water into the ocean every hour. The water is naturally filtered through the many sand layers, making it some of the cleanest water to take a dip in! Most tours visit Eli Creek, and some tours even provide floaties so you can relax and soak up the serenity!
---
The S.S. Maheno Shipwreck
A piece of history, frozen in time rests right on 75-Mile Beach. The shipwreck of the S.S. Maheno first beached on Fraser Island in 1935, and she's been slowing sinking into the sand ever since. Just north of Eli Creek, the Maheno is one of the easiest attractions to visit, as all it requires is for guests to pull over to the side of the sand highway for some photo opportunities! To learn more about the history of the S.S. Maheno, click here.
---
We Can Help You Get Here!
So what are you waiting for? Chat to our friendly Fraser experts live by clicking the chat button, or call +61 7 4914 2425 to find out how we can help you save on your perfect Fraser Island holiday.
Support Australian tourism and #holidayherethisyear on Fraser Island!