Camping on Fraser Island
Camping on Fraser Island is a camping experience unlike any other. This special part of Australia allows you to immerse yourself into the wild and enjoy what the island has to offer.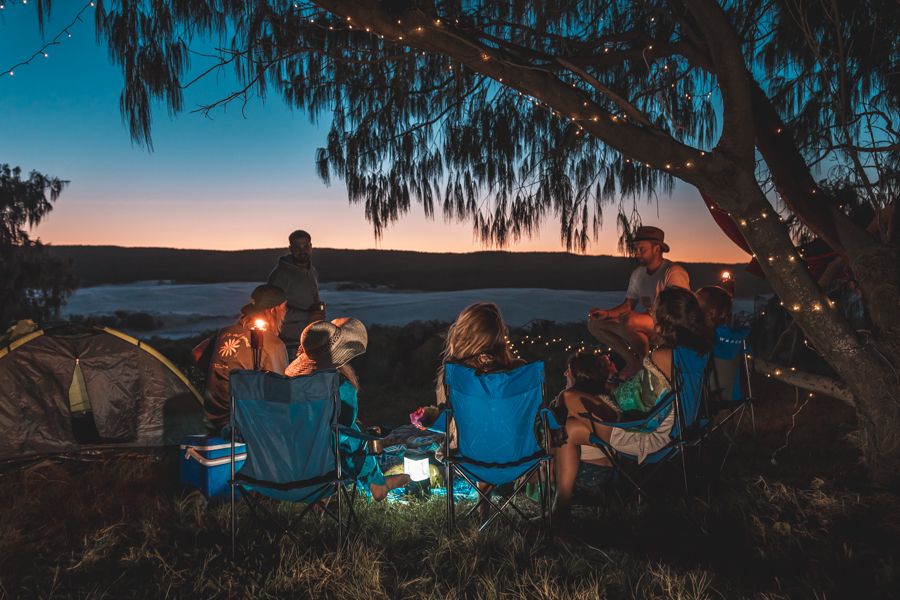 Fraser Island
Fraser Island, or K'gari, is the world's largest sand island and is found off the east coast of Australia. It is a nature reserve that draws tourists and visitors from all over the world where they can see the untouched flora and fauna up close. The island has forests and beaches and many beautiful sites worth seeing. There are resorts on the island as well as several other places that you can rent accommodation, plus several campgrounds.
Camping Options
If you want to camp on Fraser Island you can take one of two opportunities to do so. You can join a camping tour that will take you around the island for 2 or 3 days, or you can choose to camp independently with your own gear and vehicle. This option is only possible if you drive your own 4WD to the island. For information on tours that include your camping permits, read more here.
Camping Tours
Highlights include camping at Wilderness Safari campsite, brand new tents, boomerang throwing, didgeridoo playing and optional upgrade to glamping tent.
Highlights include 2 night at Eurong Beach Resort in a safari-style tent, access to resort extras like a pool and shops and exclusive post-tour party at KB's bar on the mainland.
Highlights include camping at Cathedrals on Fraser a Pippies permanent campsite complete with kitchen and dining area, short walk to cafe and bottle shop and optional sand surfing.
Highlights include our purpose-built campsite on the Eastern Beach, only 2 guests per tent, dingo safe fencing and ability to have a campfire which is rare for Fraser Island
Highlights include camping on the beach, optional scenic flight over the island can be added, great views from the campsite.
Itineraries
All tours will drive to the different sites of Fraser Island visiting locations such as Champagne Pools, Eli Creek, Lake McKenzie, Lake Wabby, Indian Head, Central Station, the Pinnacle and the S.S. Maheno. Each itinerary is different - for a full list of which tours go where, check out our handy guide here!

This is a great option if you're short on time or just simply want everything taken care of. By joining a camping tour, all food and shelter is provided for you, allowing you to have a camping experience without the hassle. If you choose to go on your own camping tour, there is much more preparation needed and a lot more things to think about! By tagging along on a tour of the island, you are still in for the adventure of a lifetime with plenty of peace of mind.
Before You Go

There are several things you need to keep in mind if you choose to make your way to Fraser Island for your own independent camping trip! There are 45 camping options to choose from on Fraser Island. Campers can choose from sites on the eastern beach, western beach, southwestern side, and also dingo-deterrent areas. It is recommended that you book as far in advance as possible as sites can book out!
Each individual site has different rules about what you can and can't do while you're there. Always double check in regards to open fires, generators, phone coverage, essentials to bring and what kind of vehicles can access the site. All vehicles must have a permit before they go to K'gari. If you plan to camp on the island, you will also need to purchase a camping permit.

About Camping Permits
When making your booking, you will need to know the name for the camping zone or area you are booking. You must stipulate the place and dates you intend to camp. You cannot camp elsewhere during that period unless you amend your booking beforehand.
A camping permit booking number must be clearly displayed at your campsite.
Camping bookings can be made up to 6 months in advance, which is strongly advised during peak periods, school holidays and public holidays.
Collect your permit tag and visitor information from one of the Queensland Parks and Wildlife Service offices or permit-issuing agents.
Permits cannot be purchased from rangers on the island.
As mobile phone reception on K'gari can be unreliable QPWS suggests purchasing your camping permit prior to arriving on the island
Tips for Camping on Fraser Island
Plan ahead: driving on Fraser Island can be difficult at times, so give yourself extra time to get from one place to the next. You will want to be at your campground long before dark so you can set up
Bring a cooking stove: Open fires are prohibited except in certain communal areas Dundubara and Waddy Point, so you will need to bring along equipment for cooking. Your stove must use on manufactured fuels, be fully enclosed and be 20 cm off the ground.
Be Dingo Safe: Fraser Island has a large resident dingo population. If you are not camping in a dingo deterred area, you have to be extra aware and vigilant of their presence. Some tips are to never feed or approach dingos, pack away food scraps, dispose of rubbish properly, never run and walk in groups. For our full comprehensive dingo safety guide, click here.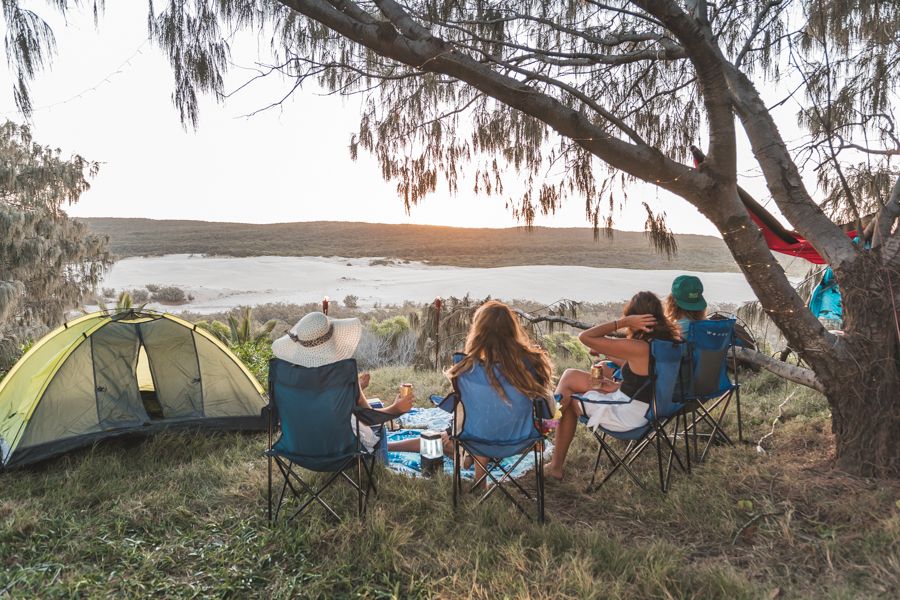 Camping on Fraser Island is a great way to experience the island. You will get to spend the majority of your days outside, enjoying the beautiful sights of the islands and all it has to offer. Whether you choose to go camping on your own or join a camping tour, you will be immersed into the Fraser Island lifestyle that so many have come to know and love! Ask us what kind of tour is right for you to enjoy camping on one of the world's most unique islands!
Ready to plan your perfect Fraser Island camping holiday? Chat to our friendly Fraser experts now!