Essential Packing List for K'gari (Fraser Island)
Updated Fri 08 Jul 2022
If you are heading to K'gari, you will want to bring along everything you'll need for your trip so you're prepared and ready to have the best time possible. What you'll need to bring is dependent on the type of tour you're going on (whether camping or resort, or self-drive or guided), but there are a few essentials you'll need, no matter what type of trip you choose! We've made a list to help you with your packing needs!
---
Packing essentials
Clothes

What type of clothing you bring is dependent on the time of year. If you're coming to visit in summer (December - February), you will want to pack light clothing for hot weather, whereas if you come in the winter (June - August) you'll want to pack layers to bundle up on chilly nights along with your warm weather wear. K'gari sees warm days most of the year (between 21C and 30C), so you'll want to pack breathable clothing and swimwear so you can cool off and dry off easily, no matter when you come. Many of the attractions on K'gari are water-based, so you will want to make sure you're prepared.
Change of clothes
Rain jacket
Swimwear
Jumper for cold weather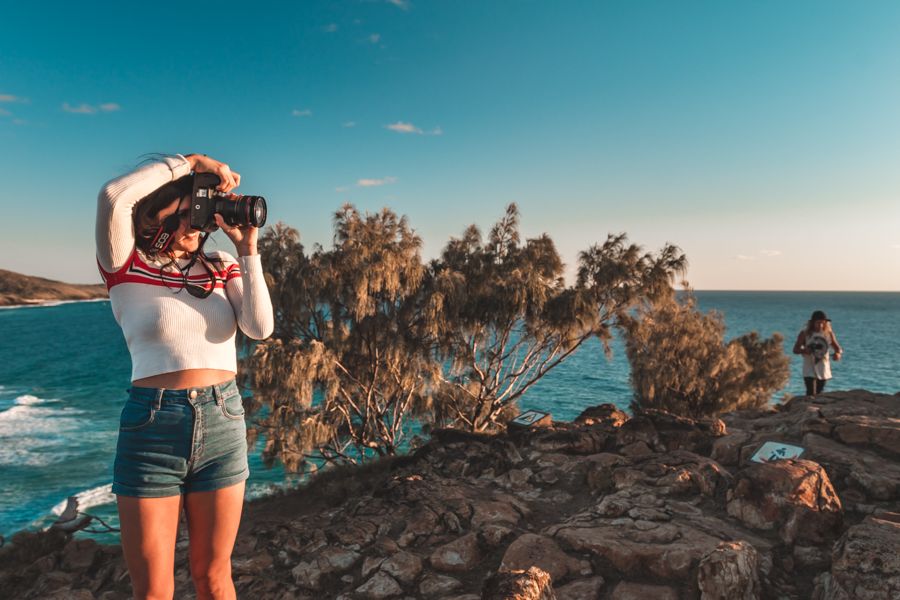 Footwear

You'll want to bring along sandals for your time on K'gari. As it is the world's largest sand island, you'll be trekking around on the sand most of the time and will want shoes that are easy to get sand off of and out of! If you're on an extended trip you might want to bring sneakers or closed in footwear if you want to do any hiking or extensive amounts of walking, but for the most part thongs or other sandals will be fine.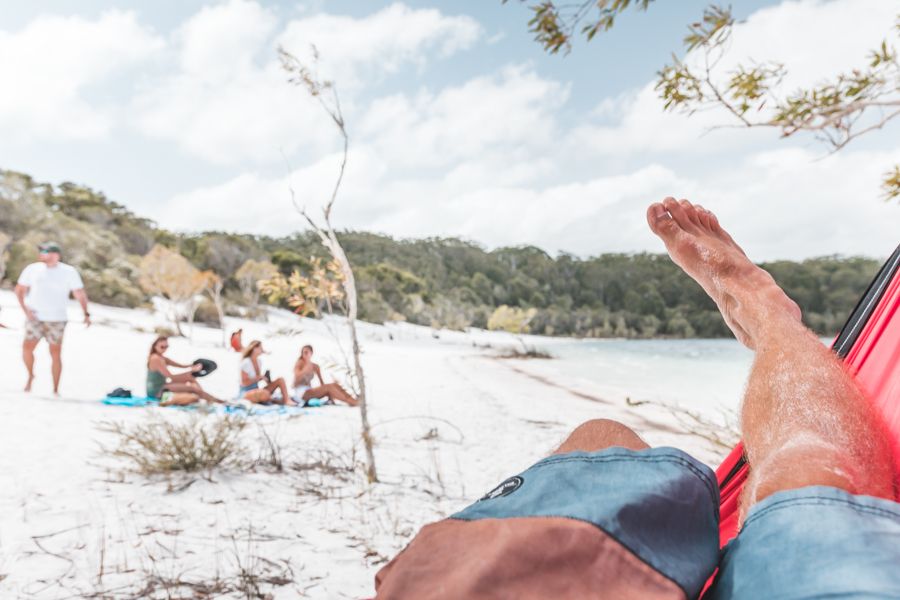 Toiletries

There aren't many stores on K'gari, and the ones they do have tend to have higher prices than stores on the mainland, so you're better off bringing everything you will need with you. Since most tours on K'gari are no more than 3 days, you should just take the essentials, as space is limited for luggage and supplies. The most important thing you should think about is sun care, making sure to bring sunscreen and aloe vera.
Sunscreen (at least SPF 30)
Aloe vera
Painkillers
Insect repellent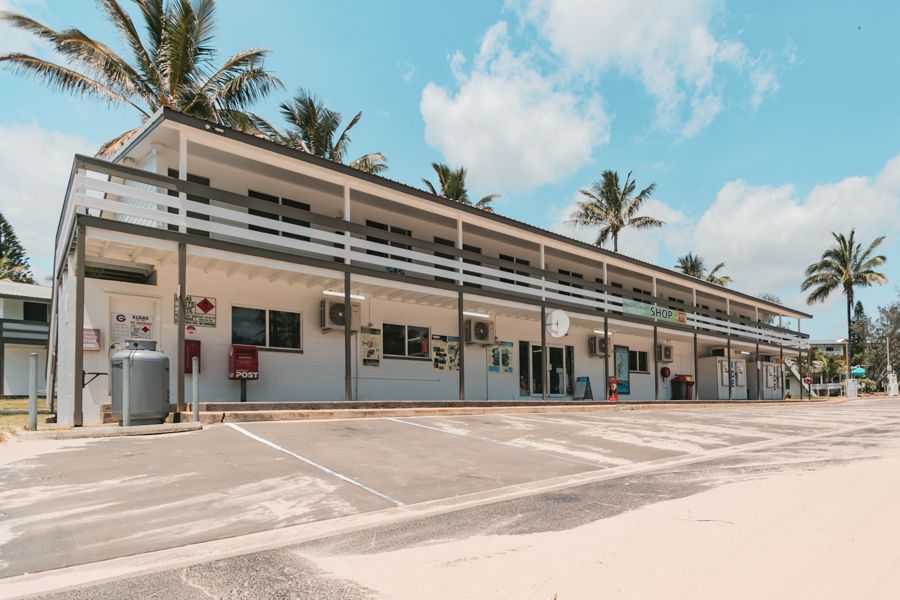 Camera/GoPro

You'll want to take pictures to last a lifetime while on this stunning and unique sand island. Bring along your camera or GoPro to make sure you capture all your memories as you make your way from place to place. As most fun things on the island are water-based, it's a great idea to bring something waterproof if you have it so you can keep your equipment in good shape. A portable battery pack is also recommended, so you don't miss a thing as you move from place to place around the island!
Camera
GoPro
Charger
Waterproof case
Batteries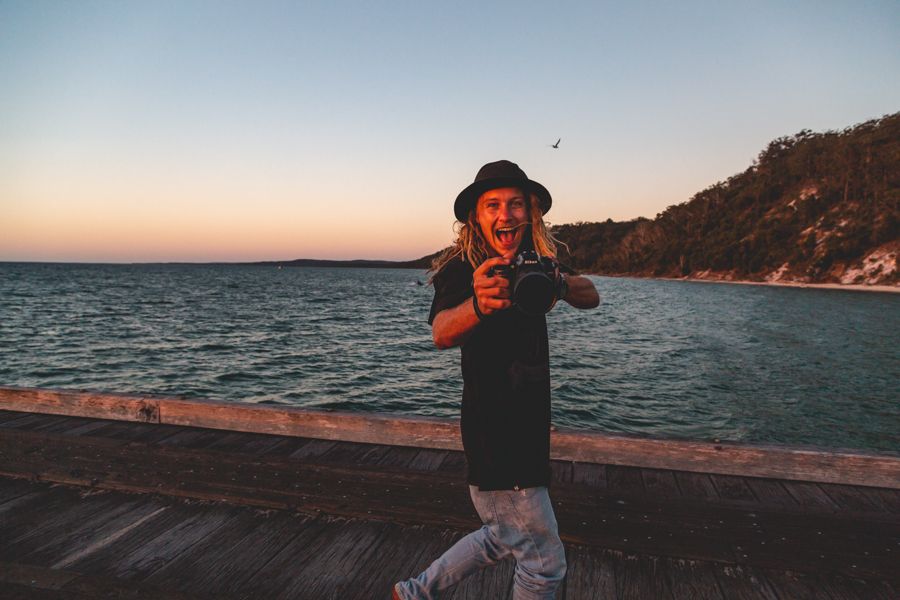 Alcohol

There are several bottle shops on the island, so you can pick up alcohol once you arrive, but it's more economical to pick it up on the mainland since the prices are inflated at shops on Fraser. Some tours are BYO (meaning you can bring your own alcohol with you), while others have licensed bars where you can purchase drinks, so be sure to check which kind of tour you're going on before you head to the bottle shop. If you're renting your own vehicle and doing a self-guided tour, you'll want to bring along your alcohol with you from the mainland and save yourself some money.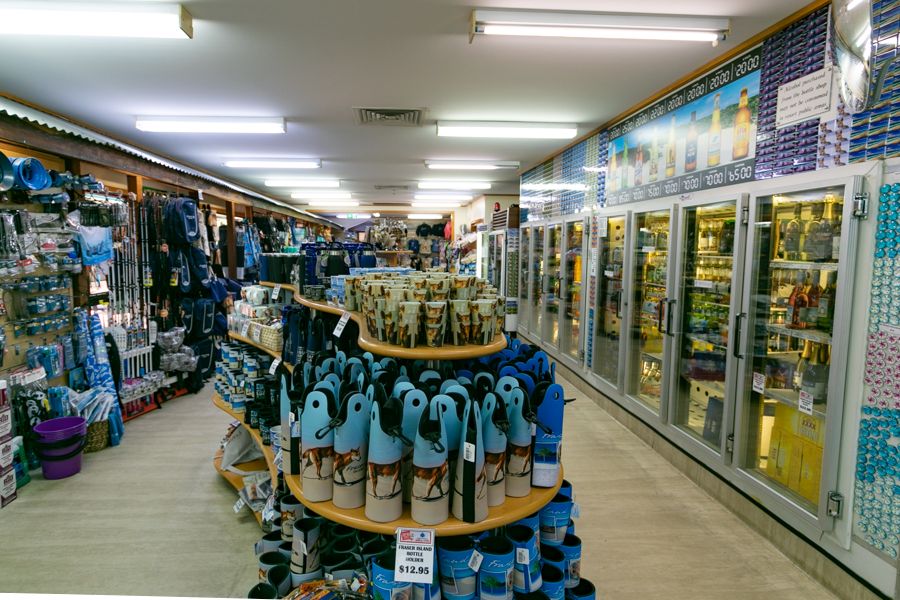 ---
Other essentials
Floatie: This is an important essential if you're heading to Eli Creek (which most tours do). It's an awesome place to relax and enjoy a leisurely float down the creek, but you might have to supply your own floatie! They can be purchased at Big W and other department stores for affordable prices before you head to the island. Our pro tip: bring a small floatie so you don't spend too much time blowing it up!
Hat: Bring along a hat to keep yourself out of the sun as much as you can. The sun in Australia is strong, especially in the summer, and it's easy to burn when you're spending most of your day outside.
Car seat: If you're travelling with children, you will need to bring along your own child seat. All kids need to be in an appropriate seat for the bumpy ride on the 4WD tracks. You can check each individual tour page for their requirements.
Valid driver's license: If you plan to drive on a tag-along tour, you will need to bring your original driver's license (a copy will not suffice).
Extra money: You might want to pick up souvenirs or other extras when you stop at stores and shops on the island and will need cash or credit.
Overnight camping trip: If you're going on a camping trip, the main addition you will want to bring is a sleeping bag and pillow. Some tours supply them, but some may require you to bring along your own. Since you're sleeping in a tent and spending all your time outside, you may also have to bring additional warm clothing. It's also a good idea to bring along a torch for after hours when the sun goes down. Fires are very restricted, so unless you're staying at a designated campground where they're allowed, plan warm clothing and bedding accordingly, especially during the winter months.
Four-wheel drive rental: If you're conducting a self-drive 4WD tour and renting a vehicle, you'll have to bring along a lot more essentials. There are both camping packages and resort packages, which will dictate where you spend the night and if you have to prepare for the elements. The main thing you'll need to account for when packing for your own 4WD rental is food and drinks since you'll have to cook for yourselves. You'll want to plan out meals and prepare properly for the number of days you're staying. Both alcohol and food are available on the island but are much more expensive as compared to the mainland grocery stores. Your selection is also limited, so you're better off picking up what you need ahead of time so you can have the variety you want.
You can check with each individual tour page to see what they suggest you bring for your tour of choice so you can be prepared for your K'gari adventure!