Where does the Fraser island ferry leave from?
Updated Tue 06 Dec 2022
Since Fraser Island is an island with no bridges to and from the mainland, you must get there by alternative means, such as by ferry, barge or plane! The most popular way is by ferry or barge, with most people either driving their own four-wheel-drive vehicle or by joining a tour to the island that supplies 4WD in a tagalong tour, or by hopping on a 4WD bus.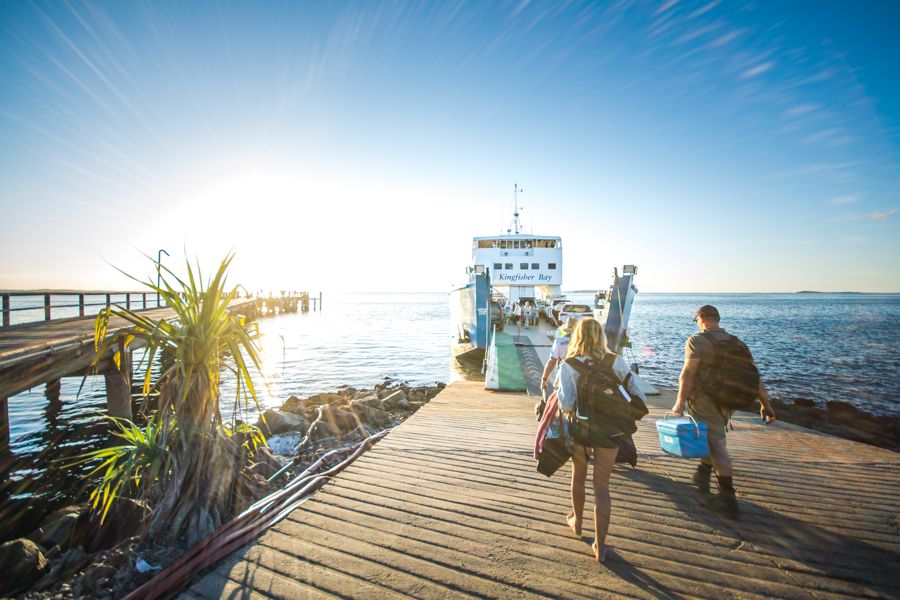 There are 2 departure points to Fraser Island: River Heads near Hervey Bay, or Inskip Point near Rainbow Beach. There are 3 places you can go to on the island from these departure points - either Hook Point on the southern coast, Kingfisher Bay on the west coast or Wanggoolba Creek on the west coast.
River Heads departure point is approximately 20 minutes southeast of Hervey Bay while Inskip Point is about a 10 minute drive North of Rainbow Beach. Below we have listed ferry times to get to Fraser Island. Please note this schedule may change seasonally. If you are taking your own vehicle to the island, make sure you have all the proper permits and are prepared for the journey, packing what you will need and ensuring you are aware of the rules of the road and tides. If you are joining a guided or tagalong tour, your guide will take care of all of this for you!
Hervey Bay - Kingfisher Bay departures:
Daily at 6:45am, 9:00am, 12:30pm, 3:30pm and 6:45pm
Kingfisher Bay - Hervey Bay departures:
Daily at 7:50 am, 10:30am, 2:00pm, 5:00pm and 8:30pm
Hervey Bay - Wanggoolba Creek departures:
Daily at 8:30am, 10:15am and 4:00pm
Wanggoolba Creek - Hervey Bay departures:
Daily at 9:00am, 3:00pm and 5:00pm
Rainbow Beach - Hook Point departures:
Operates daily from 6:00am - 5:15pm
2 ferries run back and forth every 30 minutes
Hook Point - Rainbow Beach departures:
Operates daily from 6:00am - 5:15pm
2 ferries run back and forth every 30 minutes